A new Barbie movie trailer has dropped, and it reveals Margot Robbie and Ryan Gosling in an out-of-their world adventure beyond their pink fantasyland. From Oscar-nominated writer/director Greta Gerwig, Barbie is this summer's highly anticipated movie, and it's the most unique, wild, colourful, and of course, star-studded!
Our Barbie is on a mission to discover much more of whom she truly is, so here is our breakdown of the new Barbie movie trailer.
It's Barbie…but with an existential crisis
We get a little more of Margot Robbie and Ryan Gosling's Barbie and Ken in this trailer. Much like the previous teaser trailers, this new Barbie trailer showcases all the Barbie glamour. Barbie wears pink heels, a pink dress, and flies down from above her dream house. (Yes, I said flies.) She discusses with Ken her plans for a giant blowout party with all the Barbies, planned choreography, and bespoke song.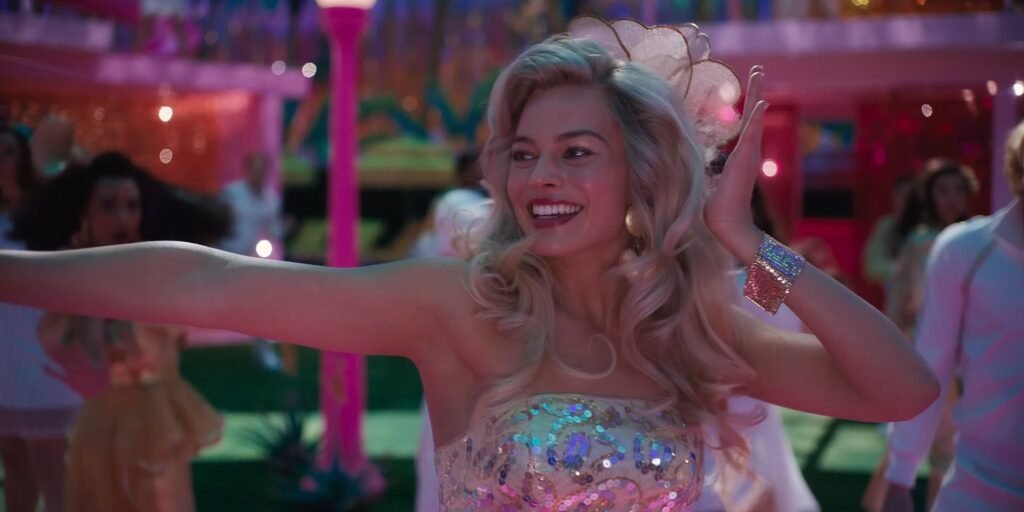 It's all fun and dancing at the party with Barbie praising all the fun she's been having, but that's until she breaks and asks the crowd "do you guys ever think about dying?" That line is the first indication that this Barbie movie is much more than a story about plastic dolls wearing fancy outfits and living their best life.
Barbie struggles to come to terms that her world is changing in this new Barbie movie trailer, even down to her heels becoming flat feet and a cold shower. A bit of convincing from Kate McKinnon's Barbie variant leads Robbie's Barbie and Gosling's Ken, who hid in the backseat of her pink car, to go on a discovery to a world beyond their universe.
"Wow, this is the real world!"

The Barbie movie trailer showcases a series of captivating montages, providing glimpses into Barbie and Ken's adventures in the "real world." As they navigate unfamiliar territory, such as rollerblading through Venice Beach in their ironically vibrant outfits, Barbie and Ken find themselves in a series of unexpected and comical situations.
One such situation involves a comical run-in with the police, leading to hilarious mugshots that epitomize the whimsical nature of the film. These misadventures playfully highlight the contrast between Barbie's iconic charm and the amusing challenges she faces in the unfamiliar "real world" setting.
In another noteworthy scene from the Barbie trailer, Barbie addresses a group of young girls who, to her surprise, are no longer as interested in her as they once were. This introspective moment adds depth to Barbie's character, exploring themes of change and evolving interests.
Furthermore, the trailer promises a full-blown, "catastrophic" chase sequence involving the Mattel toy company and its CEO, played by the Will Ferrell. This high-energy pursuit adds an element of excitement and suspense to the film, propelling the narrative forward while injecting it with Ferrell's trademark comedic prowess.
These snippets from the Barbie trailer highlight the film's ability to blend humour, adventure, and relatable moments, showcasing Barbie and Ken in unconventional situations that both entertain and engage audiences.
"Humans only have one ending. Ideas live forever."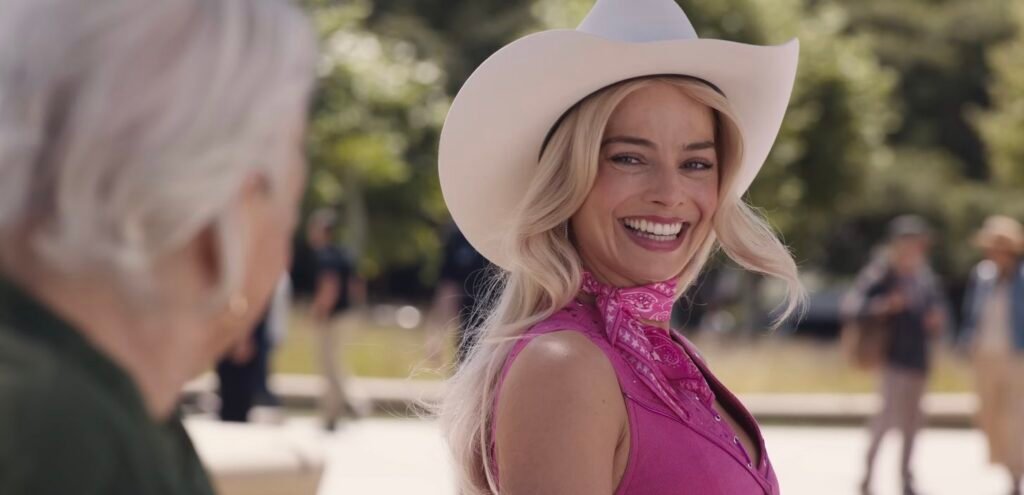 There was a moment in the Barbie trailer that struck me, and it's when the character, who according to the trailer's subtitles is named Ruth, tells Barbie that "humans only have one ending. Ideas live forever." Not only is this line significant on its own, but it's the name of the character who says the line that makes it special.
Ruth is a reference to Ruth Handler, the creator of the Barbie doll, who passed away in 2002. This not only gives a special moment for the Handler family, but also with the movie giving a heartwarming nod to the woman who invented the iconic doll.
Barbie: The Album is bound to be a hit!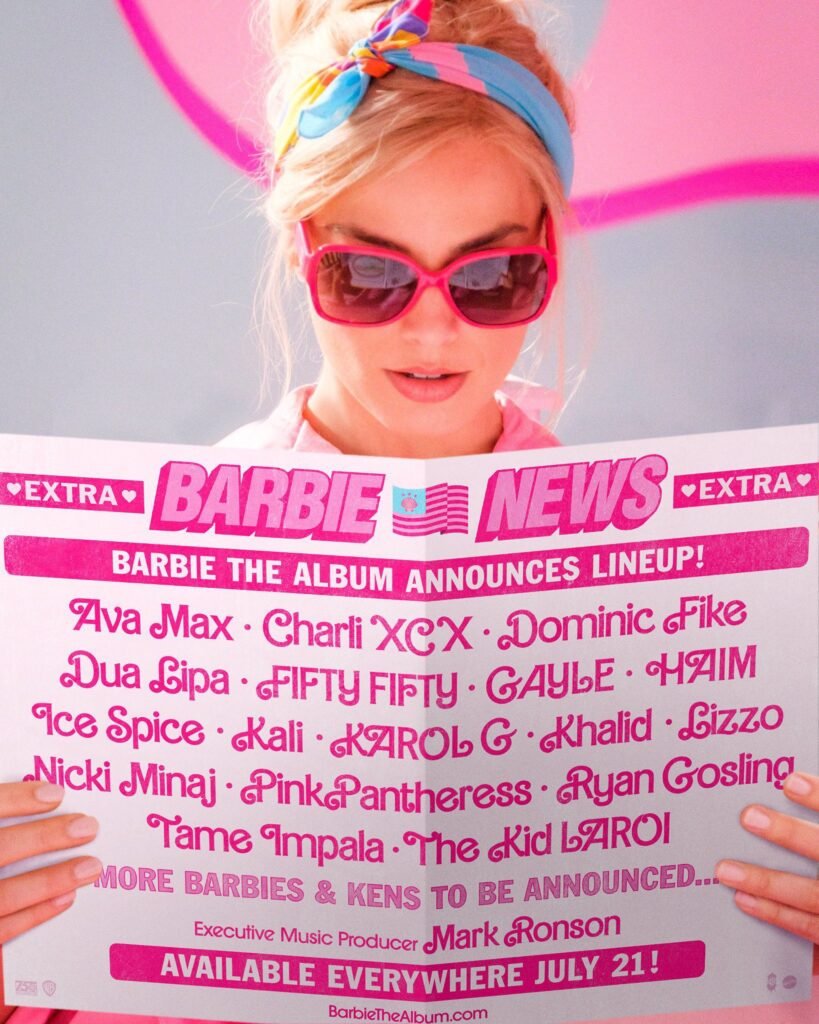 The Barbie trailer opens and closes with teases of songs from the upcoming Barbie album. The album features artists like Dua Lipa, who also stars in the film as Mermaid Barbie. Other artists include Nicki Minaj, Ice Spice, Lizzo, HAIM, Ava Max, Charli XCX, Dominic Fike, FIFTY FIFTY, GAYLE, The Kid LAROI, KAROL G, Khalid, PinkPantheress, Tame Impala; even Ryan Gosling performs a song that's unique to his character, called "I'm Just Ken."
Nicki Minaj, Ice Spice, and Aqua unite to remake Aqua's "Barbie Girl" now called "Barbie World," which you can hear a snippet of at the end of the trailer.
Mark Ronson, best known for producing the Oscar-winning song "Shallows" by Lady Gaga, is credited as an executive music producer for the album.
We already know this album is about to become the soundtrack of the summer just off of this incredible lineup of talented musicians. There are still two songs yet to be revealed on the album. Many fans hope Taylor Swift will fill in one of those spots!
When does the Barbie movie release?
Peak cinema is on its way from Barbie! With an all-star cast led by Margot Robbie and Ryan Gosling, audiences are in for an adventure-filled movie with hyped parties, summer vibes, iconic outfits, upbeat music, and a Barbie in complete existential crisis.

Barbie releases exclusively in theatres this summer on July 21! Follow the Agents of Fandom socials for all the latest news, reviews, and trailer breakdowns!