2023 might be the year of movies! The stacked number of projects releasing this year is electric! However, movies coming this summer are quite extravagant. Even so, two of the biggest movies of the year are releasing on the same day! There's much to cover, but we narrowed down a list of the highly anticipated movies of summer 2023.
1. 'Fast X' (May 19)
"FasTen" your seatbelts! The tenth instalment in the Fast and Furious franchise expands with a stacked cast, including multiple Oscar-winning actresses! Fast X follows Dom Toretto and his family, who have since driven past their foes, but now once again have to face a new threat. That threat emerges from the shadows of the past and is determined to shatter Dom's family and destroy everything and everyone.
The "family's" tenth film is directed by Louis Leterrier (Now You See Me, The Incredible Hulk) with a cast consisting of Vin Diesel, Michelle Rodriguez, Tyrese Gibson, Chris "Ludacris" Bridges, Jason Momoa, Nathalie Emmaunel, Jordana Brewster, John Cena, Jason Statham, Sung Kang, Alan Ritchson, Daniela Melchior, Scott Eastwood, with Helen Mirren, Charlize Theron, Brie Larson, and Rita Moreno.
2. 'The Little Mermaid' (May 26)
She's been part of our world in animation, but now it's in live-action! The live-action remake of the story of our beloved Disney mermaid Ariel splashes into theaters in May. What makes this particular film special compared to other Disney live-action remakes, which include 2015's Cinderella and 2017's Beauty and the Beast, is that we're getting an actor of color in the lead role.
Halle Bailey takes on the role of Ariel and her stunning vocals, first heard singing "Part of Your World" in the official teaser for the movie, proves that she was meant to play Ariel. From just viewing the trailers, the movie is visually stunning, and we cannot wait till we see the movie dive into theaters soon.
The Little Mermaid is directed by Rob Marshall (Chicago, Mary Poppins Returns) and joining Bailey in the cast are Jonah Hauer-King as Prince Eric, Javier Bardem as King Triton, Jacob Tremblay as the voice of Flounder, Daveed Diggs as the voice of Sebastian, Awkwafina as the voice of Scuttle, and Melissa McCarthy as the purple, villainous soul Ursula.
3. 'Spider-Man: Across the Spider-Verse' (June 2)
The sequel to the 2018 Oscar-winning global phenomenon, Spider-Man: Into the Spider-Verse is arguably the most anticipated superhero film and animated film of the year. Spider-Man: Across the Spider-Verse further explores the adventures of the beloved African-American Puerto Rican Spider-Man, Miles Morales.
From the trailers, we see Miles reunited with Gwen Stacy as they travel farther into the Spider-Verse and encounter even more Spider-People. However, the duo will clash with a new threat where Miles finds himself going against the Spider-People and having to redefine what it means to be a hero to save the people he loves most. Just in terms of the plot and the use of various animation styles, the five-year production of the film will be worth the wait.
Spider-Man: Across the Spider-Verse is directed by Joaquim Dos Santos, Kemp Powers, and Justin K. Thompson. With a new and returning voice cast including Shameik Moore as Miles Morales, Hailee Steinfeld as Gwen Stacy/Spider-Gwen, Jake Johnson as Peter B. Parker/Spider-Man, Issa Rae as Jessica Drew/Spider-Woman, Daniel Kaluuya as Hobart 'Hobie' Brown/Spider-Punk, Karan Soni as Pavitr Prabhakar/Spider-Man India, Jason Schwartzman as Spot, Brian Tyree Henry as Jefferson Davis, Jorma Taccone as Rio Morales, and Oscar Issac as Miguel O'Hara/Spider-Man 2099.
4. 'Transformers: Rise of the Beasts' (June 9)
Since the many years of Transformers films from Michael Bay, including the most recent 2018's Bumblebee starring Hailee Steinfeld and John Cena, comes a new movie in the Autobots franchise. Transformers: Rise of the Beasts takes place in the 1990s, when there is now a new breed of Transformers: the Maximals, that exist within the world between Autobots and Decepticons.
The movie is directed by Steven Caple Jr. (Creed II) and it stars Anthony Ramos, Dominique Fishback, Michelle Yeoh, Pete Davidson, Liza Koshy, Peter Dinklage, Cristo Frenández, MJ Rodriguez, Ron Perlman, and Peter Cullen as the voice of Optimus Prime.
5. 'Asteroid City' (June 16)
Wes Anderson returns with his unique and quirky characters! After his hit films, The French Dispatch and The Grand Budapest Hotel comes Asteroid City with potentially the most all-star cast Anderson has had in his film discography.
Set around the 1950s, Asteroid City is the story of world-changing events that disrupt a Junior Stargazer/Space Cadet convention that is organized to bring together families from across the country for a scholarly competition. Sounds interesting right? We can only find out what happens next when the movie rockets into theaters in June.
Anderson helmed the science fiction romantic comedy-drama film, with the mentioned all-star cast that includes Jason Schwartzman, Scarlett Johansson, Tom Hanks, Jeffrey Wright, Tilda Swinton, Bryan Cranston, Edward Norton, Adrien Brody, Liev Scheriber, Hope Davis, Stephen Park, Rupert Friend, Maya Hawke, Steve Carell, Matt Dillon, Hong Chau, Willen Dafoe, Margot Robbie, Tony Revolori, Jake Ryan, and Jeff Goldblum.
6. 'The Flash' (June 16)
Well folks, after everything that has happened, The Flash movie is still coming out. After countless delays for various reasons and, of course, with James Gunn and Peter Safran acquiring leadership roles for DC Studios, The Flash is the studio's most determined project to be released. Even if we don't know where the movie will take us in the DC Universe, as DC has since hit the reset button.
The movie follows Barry Allen using his superpowers to travel back in time to change the events of the past, most critically the death of his mother, Nora. However, when that attempt to save his family alters the timeline, he becomes trapped in a reality where General Zod (last seen in 2013's Man of Steel) threatens complete annihilation. With the Justice League no way in sight, Barry seeks out different variants of Batman in the hope of helping him and rescuing an imprisoned Kryptonian—Supergirl.
The Flash is directed by Andy Muschietti (It, It Chapter 2) with a cast led by Ezra Miller as Barry Allen/The Flash, along with Kiersey Clemmons as Iris West, Sasha Calle as Kara Zor-El/Supergirl, Michael Shannon as General Zod, Ron Livingston as Henry Allen, Antje Traue as Faora-Ul, Maribel Verdú as Nora Allen, with Michael Keaton back as Tim Burton's Bruce Wayne/Batman, and Ben Affleck returning as the DCEU's Bruce Wayne/Batman.
7. 'Indiana Jones and the Dial of Destiny' (June 30)
Grab your fedora, leather jacket, and bullwhip, because Indy is back! It's been 15 years since audiences have seen Harrison Ford as the iconic Indiana Jones. As this might be the fifth and final movie in the Indy franchise, fans remain excited to see James Mangold deliver a film filled with action, adventure, and certainly, more Indy. The movie's score is composed by the legendary John Williams, which will ensure fans this movie is just as special as they'd think.
Mangold (Ford V Ferrari, Logan) directs the movie, with a cast starring the legend himself Ford, with Phoebe Waller-Bridge, Antonio Banderas, John Rjys-Davies, Tony Jones, Boyd Holbrook, and Mads Mikkelsen.
8. 'Mission: Impossible – Dead Reckoning Part One' (July 12)
When will the mission end, Mr. Cruise? Never, it's impossible! Coming from the massively successful Top Gun: Maverick, Tom Cruise returns to his espionage action franchise, Mission: Impossible. The seventh installment is a two-part story with many of the plot details currently left under wraps, but from the teaser trailer released in May 2022 (yes, almost a year ago) the movie will explore even more of the stories of IMF Agent Ethan Hunt and his team.
Mission: Impossible – Dead Reckoning Part One is directed by Christopher McQuarrie (Mission: Impossible – Fallout) and it stars Cruise with Ving Rhames, Simon Pegg, Rebecca Ferguson, and Vanessa Kirby returning, as well as newcomers to the franchise including Hayley Atwell, Pom Klementiff, Rob Delaney, and Shea Whigham. Fans of the franchise will be pleased to learn that Henry Czerny returns as IMF Director, Eugene Kittridge, last seen in the first Mission: Impossible movie.
9. 'Barbie' (July 21)
She's everything. He's just Ken. Everyone and their grandma is excited about Barbie. The glamorous, gleeful, and pastel-colored (mostly pink) movie based on the dolls by Mattel is bound to be the hottest movie of the year, and that's not just from looking at the star-studded A-List cast.
Barbie takes us to a Barbie Land where a bunch of Barbies and Kens are just living their best life, but it seems like our main Barbie and Ken will be exploring "The Real World" outside their dreamhouse, seen from the official trailer for the movie. We just know this movie is about to be one hilarious, joyful, and upbeat party! Give them all the Oscars already!
Barbie is directed by the talented Greta Gerwig (Lady Bird, Little Women), and the star-studded cast is led by Margot Robbie and Ryan Gosling as our lead Barbie and Ken, alongside, America Ferrera, Kate McKinnon, Issa Rae, Rhea Perlman, Hari Hef, Alexandra Shipp, Emma Mackey, Connor Swindells, Michael Cera, Sharon Rooney, John Cena, Kingsley Ben-Adir, Simu Liu, Ariana Greenblatt, Scott Evans, Jamie Demetiou, Dua Lipa, Ncuti Gatwa, Nicola Coughlan, Emerald Fennell, Ana Cruz Kayne, with Helen Mirren and Will Ferrell.
10. 'Oppenheimer' (July 21)
Guess what? Barbie isn't the only movie coming out July 21 with an A-List cast. Christopher Nolan is here with Oppenheimer, about physicist J. Robert Oppenheimer, who worked with a team of scientists on the Manhattan Project, which led to the development of the atomic bomb. So there's a great deal of tragedy set from just the description of the movie alone.
Nolan, being as uniquely creative as he is, opted out of CGI special effects and used real explosives to recreate nuclear tests. This sounds completely insane, and it's unlikely that this Nolan movie will bomb. (Get it?)
The drama-war movie is helmed as mentioned by Nolan (The Dark Knight trilogy, Interstellar) with an A-List cast starring Cillian Murphy, Emily Blunt, Robert Downey Jr, Matt Damon, Florence Pugh, Rami Malek, Gary Oldman, Josh Hartnett, Jack Quaid, Josh Peck, David Dastmalchian, Alden Ehrenreich, Dane DeHaan, Matthew Modine, Benny Safdie, Kenneth Branagh, and Michael Caine.
11. 'Blue Beetle' (August 18)
DC Studios introduces its first Latinx-led superhero, Blue Beetle! In this movie we find Jamie Reyes, a Mexican-American college graduate from Palmera City who gains superpowers from a mysterious ancient scarab shaped like a beetle, which provides him with a powerful suit of blue alien armor, transforming him into the hero Blue Beetle. The trailer shows a family dynamic involved in the storyline, so not only is this a superhero origin story, it's a movie with a family at its heart.
The film is directed by Angel Manuel Soto, and it stars Xolo Maridueña (Cobra Kai) as Jamie Reyes, with a cast that includes, Bruna Marquezine, Adriana Barraza, Damían Alcázar, Elpidia Carrilo, Belissa Escobedo, Raoul Max Trujillo, Harvey Guillén, Susan Sarandon, and George Lopez.
The movies of summer 2023 are surfing this way!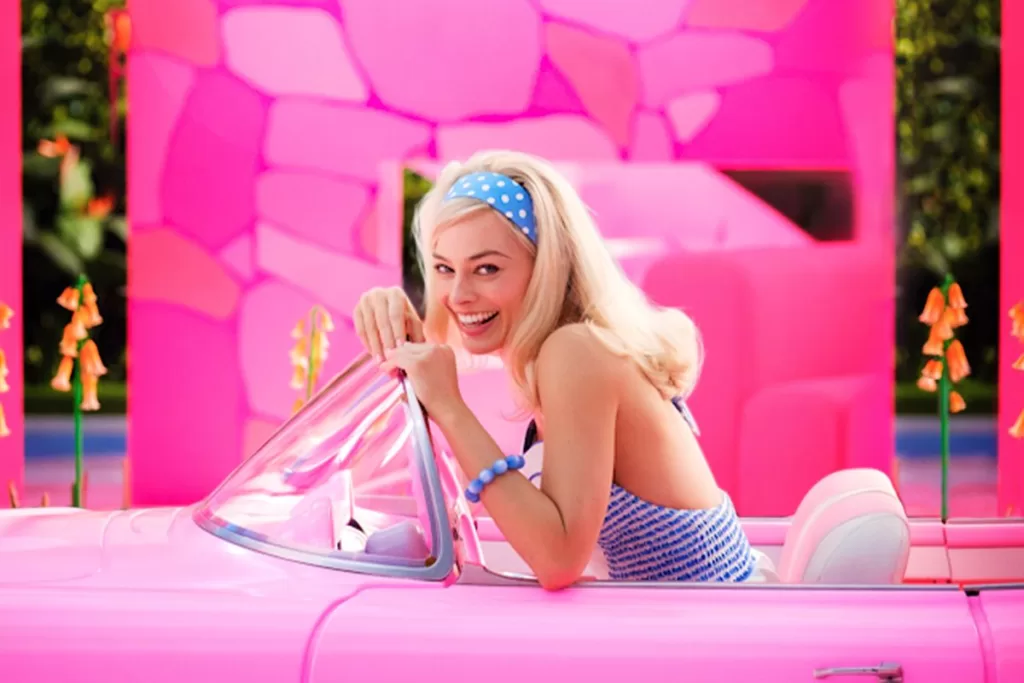 There are a ton of summer movies coming out this year, but these are the few we believe will hit the box office in big numbers. From Spider-Man: Across the Spider-Verse to Barbie, we're in for a beachy ride during this upcoming warm and hot season. I know many of us will be spending most of our summer in and out of the theaters to watch the movies we're anxiously anticipating.
What movie of summer 2023 are you excited about? Is there one that didn't make the list? Let us know on our Agents of Fandom socials!