It's a new era on Smackdown, and they loaded up the card in a big way! With the Smackdown side of the World Heavyweight Championship Tournament commencing, a Women's Tag Team Championship match and the return of the Tribal Chief, did Smackdown deliver? Here is our full Smackdown results for May 12 in Knoxville, Tennessee!
Round 1!
Smackdown kicks off the show this week with the Smackdown side of the first round of the World Heavyweight Championship Tournament! The first of which was between Edge, Rey Mysterio and AJ Styles.
With two Hall of Famers and one of the best to ever do it, you know this match delivered in fantastic form. Starting off hot and never slowing down, this fight had many memorable spots, including a 619 into an Edgeucator, and an attempted spear out of midair. However, this match ended when AJ Styles nailed Edge with a Phenomenal Forearm, ending the match. For his first match back from injury, AJ Styles transitioned back into the ring seamlessly, securing his spot in the night's main event.
Immediately following came the next triple threat featuring Bobby Lashley, Sheamus, and United States Champion Austin Theory. Much like the first, this match was fast-paced and brought a new sense of brutality to its style. Though it had moments that allowed everyone to shine, Bobby Lashley pinned Austin Theory to earn the win and punch his ticket to face AJ Styles in tournament semi-finals. Bloodied and bruised, this showcase works wonders for Lashley and makes him look like an absolute monster heading into the main event.
Friday's new faces
Following the WWE Draft, Smackdown loaded up on new talent coming from NXT—and tonight a couple made their presence felt! Grayson Waller showed up backstage, where he was granted the opportunity to debut The Grayson Waller Effect (the talk show that made him famous during his time on NXT) next week on Smackdown! His first guest is a big one, as he will welcome the winner of Bobby Lashley and AJ Styles.
Up next was Cameron Grimes, who requested a match with Baron Corbin after being called Mr. Irrelevant. He won the match in five seconds, immediately hitting the Cave In and pinning Corbin, making his presence on Smackdown known.
There were also some new additions to the tag divisions, as the NXT Women's Tag Team Champs Isla Dawn and Alba Fyre showed up backstage during the Women's Tag Team Championship. Pretty Deadly followed and made their Smackdown debut by confronting the Brawling Brutes backstage, setting up a match for next week.
Family affair
For the first time since WrestleMania, the Tribal Chief and Undisputed Universal Champion Roman Reigns returned to Smackdown, and he was not happy. After retaining his titles against Cody Rhodes at WrestleMania, Reigns was furious about the performance of the Usos following the big show.
After losing their titles in Hollywood and then losing the rematch, Reigns expressed his disappointment in the Usos and their inability to bring tag team gold to The Bloodline. His solution to this was not to grant the Usos another opportunity, but to take matters into his own hands. He shockingly announced that he will be teaming with Solo Sikoa at Night of Champions to face the Tag Team Champs Kevin Owens and Sami Zayn.
The tension between The Bloodline throughout this segment could be cut with a knife, and it definitely seems like we are headed towards a split, potentially even in Saudi Arabia.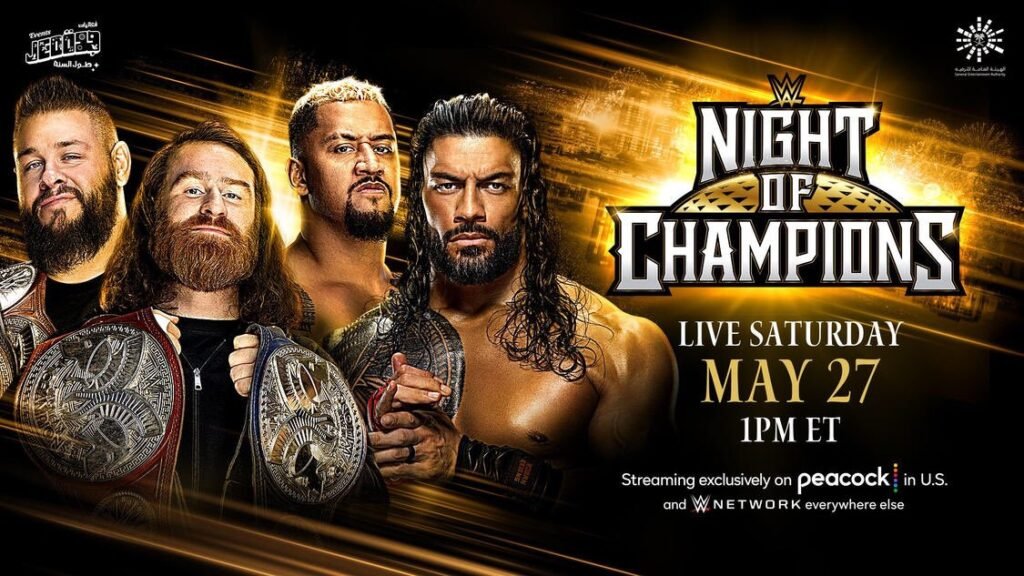 All damage, no control
Bayley, Iyo Sky, and Dakota Kai had the opportunity to leave their past of losses behind and regain the Women's Tag Team Championship by beating Raquel Rodriguez and Liv Morgan. However, after a failed intervention from Iyo Sky, Morgan was able to roll Bayley up for the 1-2-3 and the win.
Overall this segment was pretty short on time, limiting its capabilities, but it was a fine match. Playing off the history of Raquel and Kai worked well, and the match included a storyline ending that made sense. Much like The Bloodline, Damage Ctrl seems primed for a breakup and I can't image it' being's long before we see Iyo Sky vs. Bayley one-on-one.
Old rivals return
Coming off her victory at Backlash last week, Bianca Belair became the longest-reigning women's champion of the modern era. So naturally, she returned to her hometown of Knoxville to celebrate her accomplishment. But as most WWE celebrations go, she was interrupted by her WrestleMania opponent Asuka.
Asuka ran to the ring, offering a handshake to Belair before spitting the poison mist in her face, blinding her and sending a message to the Raw Women's Champion. After a definitive win from Belair, I'm curious to see where they go with this feud and a potential second match down the line.
Tournament semi-finals
After winning their respective triple threats earlier in the night, AJ Styles and Bobby Lashley met in the Main Event to see who will face Seth Rollins for the World Heavyweight Championship at Night of Champions.
A great physical battle with great technical storytelling, this match paced itself well and allowed AJ Styles to show why he is in the spotlight upon his return. Styles survived loads of impact from a banged-up Lashley before hitting a Phenomenal Forearm to send himself to the finals of the tournament.
With this win, the finals of the tournament are set, and in two weeks at Night of Champions we will see Seth Rollins vs. AJ Styles go head-to-head for WWE's newest title. If you know anything about the work of Rollins and Styles, you know this match will deliver and start the new title off in great form.
Full Smackdown Results
Overall, this is a strong Smackdown and a fun way to kick off the new era in WWE. With a strong rebuilding night for AJ Styles, the debut of some new faces, the beginning of the end for The Bloodline, and some overall great wrestling, there is a lot to love with this show.
Full Smackdown Results
Full Smackdown Results
What did you think about Smackdown this week? Let me know on Twitter and make sure to come back for next week's Smackdown review, where we'll cover AJ Styles on The Grayson Waller Effect and the face off between The Bloodline and Sami Zayn and Kevin Owens.