Guardians of the Galaxy Vol. 3 blew fans away with its great action and lasting emotional blows. As we all say goodbye to many of our favorite Guardians, MCU fans are also greeted to some newcomers who may have a lasting impact on Marvel Studios' upcoming projects. With the introduction of the new golden himbo, the question of the Adam Warlock future now creates an interesting canvas in the MCU.
Adam Warlock is a character many have been waiting a long time to see on screen. Will Poulter puts on a surprisingly humorous version of the golden cosmic entity that has received a mostly positive response. However, Warlock is not the only comic creation to make their MCU debut in the blockbuster film. Phyla-Vell also makes her silver screen debut, played by child actress Kai Zen. But what does the future hold for these characters in the Marvel Cinematic Universe?
Adam Warlock future in the MCU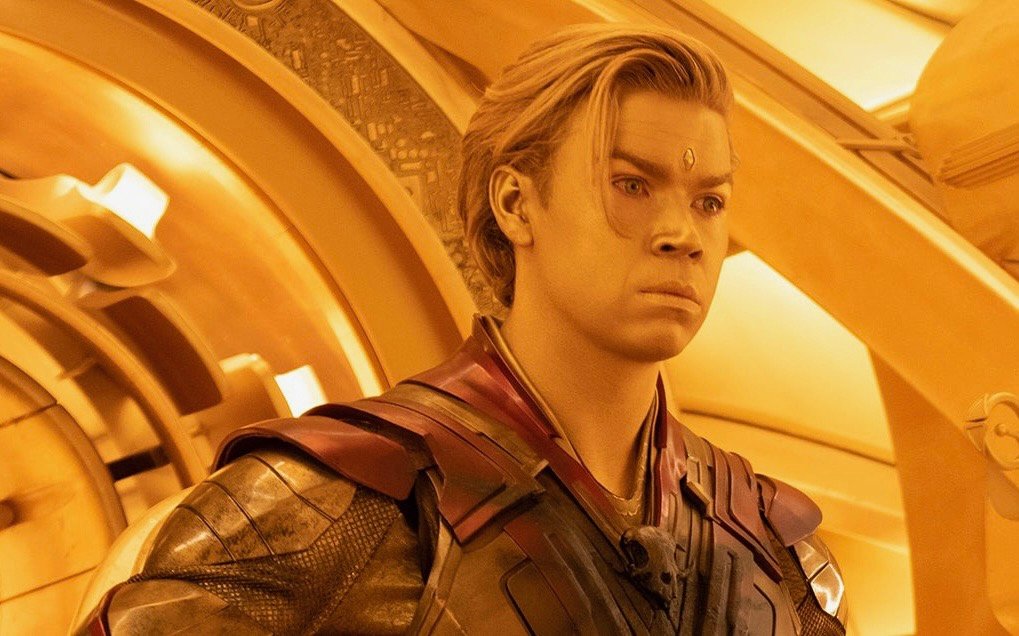 Adam Warlock is a relatively unknown Marvel character to non-comic book fans. Prior to his tease in Guardians of the Galaxy Vol. 2, the Roy Thomas creation was not brought up as somebody people wanted to see on the screen.
This iteration of Adam Warlock is certainly a much younger view of the character. He has not experienced much of anything, as he had been taken out of his cocoon "too early." In short, Warlock acts much like a child in a superhero's body—similar to that of another Captain Marvel, Shazam.
With that being said, MCU Adam Warlock still has much to tell regarding his comic book lore. The most prevalent story will be familiar to those who played the Guardians of the Galaxy game, is his alter ego—Magus.
In Strange Tales #178-181, Warlock is on a quest to learn more about himself—meeting up with characters like Gamora and Pip the Troll along his travels. While on his journey, Warlock learns that the Magus (an evil future version of himself) has returned to try to take over the universe.
The Guardians game offers a different take on the Magus, making him a corrupted form of Adam Warlock that eventually serves as the game's final boss.
A blending of the original tale, told by Thanos creator Jim Starlin, and the games adaptation would make for an interesting Disney+ series about finding oneself while overcoming personal demons, expectations, and destiny.
Who is Phyla-Vell?
Despite rumors leading up to the new Guardians movie, Phyla-Vell makes her surprise debut. While the name-drop does not happen until the mid-credit scene, Rocket ends up calling the foundling "Phyla".
In the comics, Phyla-Vell is a relatively newer character making her debut in Captain Marvel #16 (2004). Phyla is the daughter of Mar-Vell, the original Captain Marvel. She also has a connection with a character that has been brought up in the Marvel fan base—Quasar. Phyla uses her iconic Quantum Sword along with the Quantum Bands to create force fields.
We do see Phyla use some sort of cosmic energy very quickly in the mid-credit scene, similar to that of Carol Danvers. On paper, it makes sense to see Phyla again in The Marvels, though it seems unlikely. If anything, maybe she could have some sort of connection with Ms. Marvel as Carol builds her squad around her.
Phyla has the potential to be a powerhouse if Marvel Studios wants to continue that character's arc.
What other stories can Marvel tell?
In the movie, we are introduced (and eventually heart broken) to the likes of Floor, Lylla and Teefs. While we may not see this adorable group again, it raises the question of other stories Marvel can tell with outcasts or products of the High Evolutionary (Chukwudi Iwuji).
Teefs, Floor and Lylla's design remind me of one of Marvels most forgotten, and visually insane, comics of all time—Brute Force.
A mechanical suit dolphin with a blaster, a cyborg lion, and a kangaroo who rides a 3-wheeled vehicle—what is there not to love! The Brute Force comic series did not last very long, only managing a four issue run in 1990. But their failure three decades ago may not stop the possibility of an MCU Brute Force.
Marvel has been toying with the idea of bringing back Brute Force in a string of Marvel Unlimited teases, they were even featured in Disney+ Marvel 616 show from 2020. Paul Scheer attempted to bring Brute Force to the mainstay, with a pitch of an animated series, but unfortunately nothing came of it.
The High Evolutionary's horrid tactics now introduces us to the possibility of seeing this team for real. It could be as an episode ofWhat If…?, or potentially a continued series of what remains on Counter Earth. Either way, Brute Force fans will be happy with anything.
Though we may have said goodbye to some of our favorite Guardians, it doesn't mean we have to say goodbye to the world that James Gunn had a major hand in creating. There are still so many elements and stories to tell that the possibilities, on paper, are endless in this vast galaxy!
Keep updated with all the latest on the Agents of Fandom socials.