Succession episode 6 uses a television format seen many times in the past, but with the classic Succession spin to make it a near perfect entry into a thus-far flawless season. It serves as a palate cleanser to leave behind the death of Logan Roy (Brian Cox), and plunge us into the second half of the season to focus on the next generation poised for takeover at Waystar Royco. Not only does this episode execute this concept to perfection, but it sprinkles in some familiar and fresh humor to mold one of the funnier episodes in the entire series.
*Warning: Spoilers ahead for Succession season four, episode six*
The CE-Bro's are an interesting duo in Succession episode 6
"Big shoes. Big, big shoes."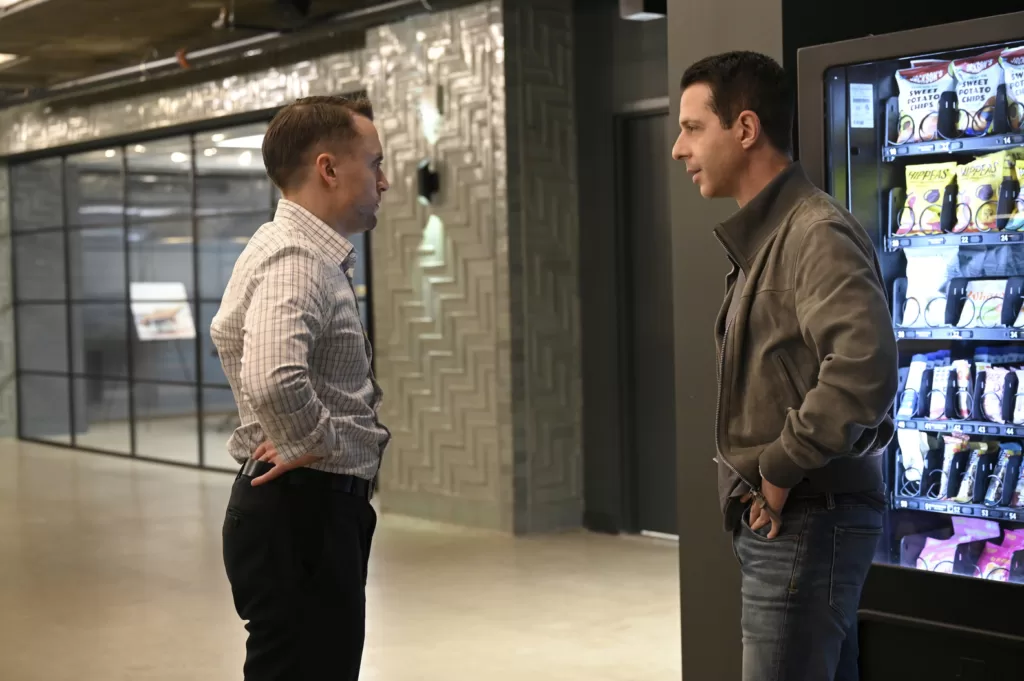 It's finally time for the Roy brothers, Kendall (Jeremy Strong) and Roman (Kieran Culkin), to step into their father's shoes, and it's been somewhat of an adjustment for them. Although they get a taste of the responsibility in last week's episode, the corporate getaway offers a form of retreat that simply isn't available here. The team still isn't on their home turf as they attend a product launch in Los Angeles, but the need for them to step up has never been more prevalent.
Things are discombobulated, there's a severe lack of communication between the pair, and they can't decide whether they want to follow in their father's footsteps or forge their own path. Kieran fires Gerri (J. Smith-Cameron) and Joy (Annabeth Gish) without consulting with Kendall, and Kendall jumps head first into a business deal with Living+, despite everyone telling him to hold off and explore other options. Ken's always been about what could be, not what is. Show him some good numbers and projections, and he'll be eating out of the palm of your hand.
Living+ is the outlet to feature a "product launch" episode, which showrunner and creator Jesse Armstrong tags as something he'd been eyeing since the early seasons. Kendall saves face and turns the presentation around after some of the worst second-hand embarrassment in television history; but it doesn't change the fact that it's still a bad investment. The brothers actually share a few really touching moments, but it's not in correlation with good business decisions or a logical sense of direction for the company.
Succession episode 6 rekindles an old flame
If I could only pull one thing from Succession episode 6 to talk about, it would undoubtedly be the revival of Tom Wambsgans (Matthew Macfadyen) and Shiv's (Sarah Snook) relationship. These two are one of the most quintessential couples on television today, if not ever. The bond and chemistry they share is incredibly unique—in the sense that you're forced to root for them, but you're almost disgusted with yourself for doing it.
What's so interesting about Shiv and Tom sparking things up again is that after last week, it seemed like we were heading in a totally different direction. Shiv has always been a master at playing any angle she deems appropriate, but her chemistry with Lukas Matsson (Alexander Skarsgård) seemed to point to a potential Shiv/Lukas romance. However, this can likely be attributed to the fact that Sarah Snook can essentially dial up the chemistry to whatever level she wants with whoever she wants.
Shiv and Tom share a bond unlike any other, the deepest affinity comes from the imperfection of their relationship. They don't always get along, but the sense of disgust they often have for one another is embedded with something that always leaves you wondering whether they're ready to tear into each other passionately at any moment. They both know Shiv is too good for Tom, but it's the acknowledgement of the discrepancy that makes the impossible hunt for a stable relationship that much more compelling.
Small shakeups in the race to the top in Succession episode 6
The developments in this week's race to the top are subtle, but if you take a look through multiple angles, you can see that some climb and some fall. I wish I could say it was a great episode for Kendall and Roman, but there's a cloud of incompetence following them throughout every corridor. Roman is in so much pain he can't make sense of up or down, and Kendall seems to think one good performance on stage reconciles every mishap.
Shiv is a climber yet again, with her husband Tom making a sneaky run up the leaderboard. Shiv's ability to feel out a situation and her instincts in knowing when to play her cards leave her a formidable option heading into the second half of the season. However, Tom isn't someone to turn a blind eye to, as his revitalized relationship with Shiv now gives him a foot in both camps. Shiv and Tom both stand to gain position if they're able to mend their relationship even a little bit.
What few fans Matsson had left after his recent run are sure to jump ship after an incredibly insensitive and unnecessary tweet in response to the Living+ acquisition. He is still unequivocally a force to be reckoned with given the sheer magnitude of his power and influence, but with the show setting him up as a clear antagonist, I fear no amount of gravitas can bring him to the level of serious contender.
Succession episode 6 continues the season's run of tremendous form
When we look back on this season at its conclusion, this will unquestionably be seen as the divider in the pre/post-Logan Roy era. Logan is a major player through the first five episodes—whether in his direct influence in earlier episodes or his postmortem presence in the more recent ones—but it's time for his children to make this story their own.
Between generational performances and superb storytelling, this show has something to offer everyone. Our only available option is to sit back and bask in the entertainment this show is bound to deliver in its final four episodes.
Succession episode 6 is now streaming on HBO Max. Follow the Agents of Fandom socials for all the latest Succession news and coverage.
'Succession' Episode 6 Review
'Succession' Episode 6 Review
The Good
One of the funnier episodes in the entire series
We see characters change as a result of their previous actions
Product launch is an incredibly fun template for an episode
Top notch performances from the entire cast yet again