Star Wars Celebration returned to London last weekend, and I was lucky enough to join! As a massive Star Wars fan, attending the event had been a bucket list item for several years, and I practically jumped at the chance to go when the tickets released last year. But was Celebration worth the years of waiting? Read about my Star Wars Celebration Europe experience and decide for yourself!
Star Wars + Comic Con = Celebration
Starting in April 1999, Star Wars Celebration is a fan convention often hosted annually to celebrate the Star Wars franchise. It regularly changes location, traveling from America to Japan and everywhere in between for all fans to enjoy. Celebration allows fan to watch panels with cast and crew from the movies and TV shows, see props, buy apparel, action figures, Legos, and so much more!
A little boy's dream
Star Wars, like most people, has been in my life for as long as I can remember. My first encounter with a Galaxy Far, Far Away is the original Lego Star Wars game that released in 2005. Although made of digital plastic, I was immediately entranced by the worlds and characters I encountered, which led to me borrowing my grandads VHS copies of the original trilogy.
My love for this franchise continued to grow; attending each sequel trilogy movie on opening night, collecting action figures, buying the Lego UCS Millennium Falcon and dressing up as my favourite characters.
In 2015, this love peaked with the release of The Force Awakens. In the summer of that year, Star Wars Celebration was held in Anaheim. I vividly remember watching the Force Awakens panel and telling myself that I would attend a Celebration one year.
Nearly eight years and a whole trilogy later, I was able to attend and, safe to say, it was a dream come true!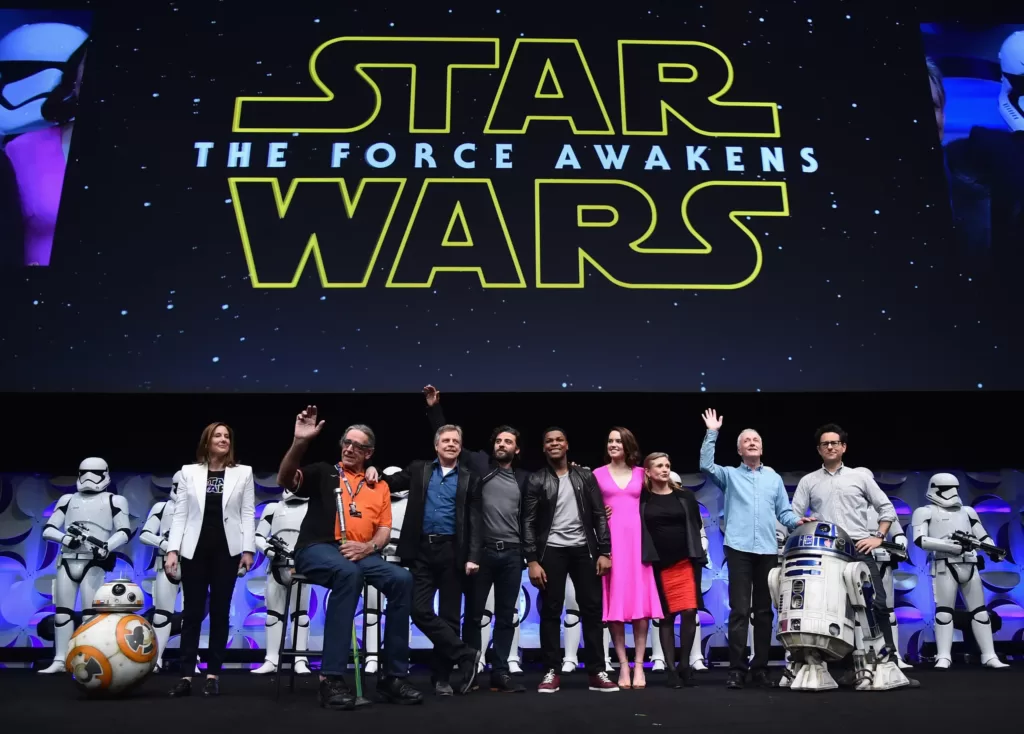 Scum and villainy
When arriving at the Excel Centre, fans were immediately transported to the Star Wars galaxy. Characters parade the entrance to the location, ranging all Star Wars projects—both canon and Legends (pre-Disney Star Wars extended universe projects).
Whilst in the queue, I spotted multiple Ahsokas, several Clone Troopers, and dozens of Mandalorians. Jedi and Sith waited patiently whilst couples dressed as Han and Leia or Anakin and Padme strolled past. The tops of Wookie heads and a rainbow of lightsabers could be seen over the sea of people.
Easily one of the highlights of the day was seeing all of these cosplayers and their amazing costumes. The effort and love they put into the costumes is insane; there were several that made me feel like a 10-year-old again.
Seeing Darth Vader approach you is just as scary as you think it would be. A moment I will never forget is talking to a pair of Stormtroopers and accidentally mentioning the Force, only for them to point their blasters and begin to interrogate me.
Watching some of my favourite characters doing normal, human activities also allowed for some hilarious moments. I can confirm that you will not find anything more amusing than seeing Chewbacca eat lunch with Darth Maul and Bo Katan, or bumping into a Kylo Ren and hearing a small "sorry" from underneath the mask.
Star Wars Celebration Ahsoka panel
I was lucky enough to attend a live screening of the Ahsoka panel, the upcoming Disney+ show starring Rosario Dawson as Anakin Skywalker's ex-Padawan who is first introduced in 2008's Star Wars: The Clone Wars movie.
Entering the Galaxy Stage, I was met by dozens of Ahsoka cosplayers, who were eventually brought on stage for everyone to see. Seeing a whole range of people dressed up as the beloved character was incredibly sweet and made me reminisce on the journey over the past fifteen years, spanning animation, books, and now live-action.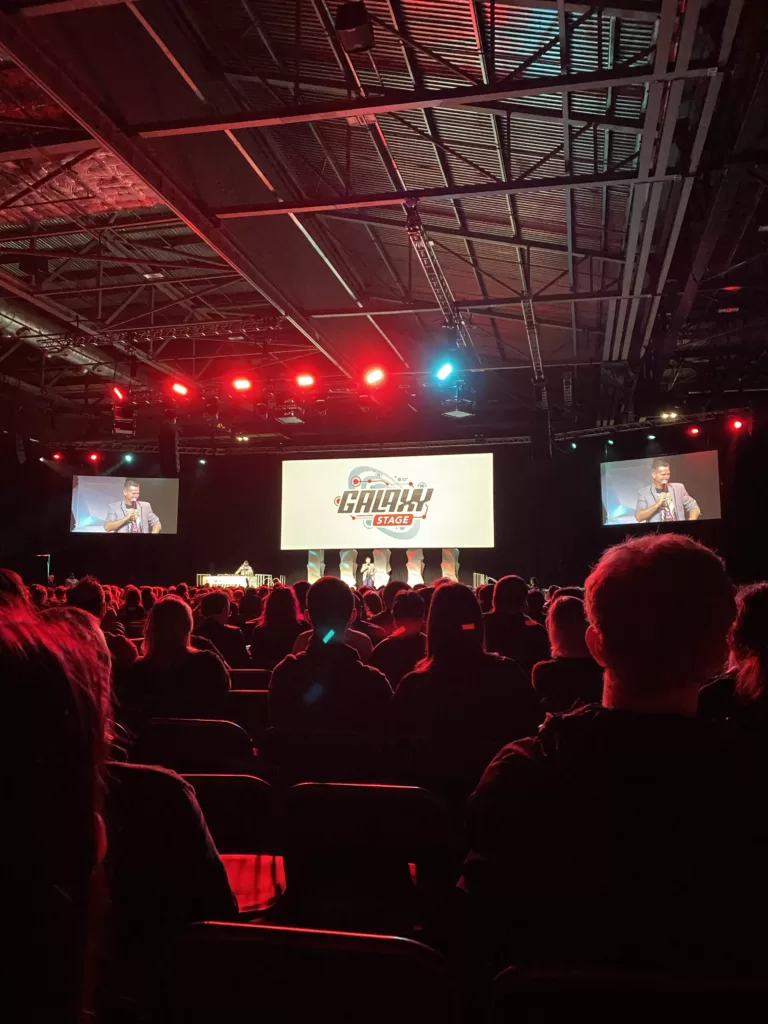 The panel consisted of interviews with the cast, as well as Dave Filoni and Jon Favreau giving fans an insight into the creation of the show and what to expect. At the end of the panel, a trailer was shown only for attendees. It included new shots as well as the reveal of Lars Mikkelsen reprising his role as Grand Admiral Thrawn, a villain from the animated Star Wars: Rebels that originated in Timothy Zahn's Heir to the Empire book.
The atmosphere from the audience was amazing to witness and gave me goosebumps. I couldn't help but watch different Ahsoka's reactions to the announcements as they cried, laughed and cheered.
Spending Imperial credits
After the Ahsoka panel, I explored the Excel Centre to see what cool things I could find. There were an overwhelming amount of stalls selling different types of merchandise, from Funko Pops to original '70s action figures.
As a huge fan of Star Wars, it became increasingly difficult not to buy something. The dark side tempted me, but unlike a certain Jedi that turned, I managed to refrain from buying a Babu Frik t-shirt.
Eventually, I made my way into the Star Wars Celebration store, a small fenced off section where official Celebration merchandise was being sold. Badge art of different Star Wars characters covered the walls of this section—as a big Rey fan, I had to get a photo.
I knew I wanted to get something Celebration related and had a lot of options to choose from like branded t-shirts, character pins, and even a Max Reebo plushy. After a while, I decided to buy a cap (although the pins were very tempting).
Due to the massive wait time to get into the Funko and Lego stores, I did not manage to get in. When walking past the Funko store, I did have a brief look inside and saw that most of the shelves had been emptied throughout the day—I'm still mad I was not able to get the Jar Jar Binks Funko.
The galaxy is real
The amount of immersive props and sets scattered around the event was an absolute joy to see. A life-sized TIE Fighter stood at one end of the Excel. A quick walk from the TIE was a not-quite-life-sized AT-AT; still very big. People swarmed around both props to get photos with machines they had only seen on a screen.
In one of the halls was a replica of the Rebels crew. I am still yet to finish Rebels, but the mural makes an appearance in the Ashoka trailer, so it was still fun to see! There were a lot of fans of the animated show in this area, and watching them take photos and react to the large prop was heartwarming.
Also in one of the halls was an AT-ST which looked very similar to the one from season one of The Mandalorian. The top of the model peaked out above everything else in the hall, making it pretty easy to find wherever you were.
Several times throughout the day, an Imperial probe droid would hover past me, and the sense of fear I felt was amazing. I knew I had done nothing wrong, yet I was waiting for the droid to start shooting at me (I turned into an absolute child at this event, if you could not tell).
There were also lots of mini-sets to take photos with, like the Endor bunker, the Emperor's throne room from Return of the Jedi, a Tantive IV hallway from A New Hope, and part of Cloud City from The Empire Strikes Back. I could not pass on the opportunity to grab a lightsaber and beat my friend in a duel…I lost.
My Star Wars Celebration experience was a dream come true
My Star Wars Celebration Europe experience was a dream come true. Although I only attended for one day, I experienced so much joy and love for a franchise that has been part of my life since I was a kid. Getting to spend the day with my friends was the cherry on top, but getting to geek out with some of my favourite people is an experience I will never forget.
Star Wars Celebration is an event I will never forget. It returns to Tokyo in April 2025, and I hope to make my way across the world to celebrate a galaxy I adore.
Follow the Agents of Fandom socials for the latest Star Wars news and reviews.