*Warning: The following review contains spoilers for Ted Lasso episode 11 "Mom City"*
---
Ted Lasso season 3 continues to tug on our heartstrings. I don't think I've cried this much watching a television show since…the first season. When Ted had his first panic attack in season one, it hit such a personal chord for me, I couldn't help but break down. Since then, the incredible storytelling has often brought me to tears. However, nothing can compare to the emotional turmoil I felt throughout Ted Lasso episode 11 "Mom City."
Jamie Tartt's redemption arc has been a crucial story point throughout Ted Lasso season 3. Fans who have been clamoring for more Phil Dunster screen time get their prayers answered in a big way this episode. While we're all aware of Jamie's struggles with his father, we've never really checked back in with the superstar since he punched his dad square in the face. The hug immediately following launched a serious bromance between Roy Kent (Brett Goldstein) and Jamie, but it also came along with some unresolved feelings.
Jamie's not the only one who has worked through a lot of the issues with his father—it's been a trend for his coach as well. Although Ted has also shared about his fatherhood trauma in the past, this week's episode focuses on the mothers of the family. We've never heard Ted or Jamie talk much about their moms in the past, but now they take center stage. After Coach Lasso's morning walk is noticeably more pleasant than at the beginning of the series, it takes a very sudden turn when he is surprised by his mother.
Ted Lasso episode 11 is a belated Mother's Day treat
Ted hilariously reverts back to a teenage boy for the first half of the episode. He's moody, his eyes are rolling, and I half expected to hear him say "Mom! You're embarrassing me in front of my friends!" Thankfully, after a nice pep talk with Rebecca (Hannah Waddingham), he doesn't let it affect him too much, as AFC Richmond have a massive game upcoming against Manchester City.
While the club is on the road, Nate (Nick Mohammed) is still finding his way after quitting his job managing West Ham United. Although his new job as a server at Taste of Athens is going well, it's clear he's meant for bigger and better things—with a potential return to AFC Richmond hopefully on the horizon. Some team members come to visit him and request his return, however Nate needs to hear it from Ted himself, as he's still ashamed of how he left.
A game against Manchester City is huge for AFC Richmond, but it's even bigger for Jamie Tartt. A return to the home club that he previously left to pursue reality TV would be tough on its own, however it's also where his sometimes-absent-sometimes-abusive father would likely be shouting at him.
Although Jamie has grown immensely as a human being this season, Ted Lasso episode 11 is a perfect example of how it's often the loudest, happiest-looking people who struggle the most on the inside. Thankfully, Jamie isn't alone while he struggles through his depression, as Roy and Keeley join him on a trip home to visit his mother.
While Roy has been a phenomenal friend to Jamie recently, and would be there regardless, this is a trip he is thankful he doesn't miss. Fresh off last week's episode where Jamie made jokes about his best friend's sister being fit, Roy is immediately infatuated with Jamie's gorgeous mom.
I couldn't totally tell if he was spending the entire time checking her out, or if he was thrown off by the close, lovey-dovey nature between Jamie and his mom. To add to Roy's confusion about their relationship, he hilariously notices posters of both himself and Keeley in Jamie's childhood room.
However, even though being a sexy baby clearly runs in Jamie's family, it's not enough to distract Roy away from Keeley. He opens up and finally bears his soul, telling her he wants a relationship, before Jamie interrupts. This isn't your episode, you two! Chill, save it for the finale.
Finally, the game takes place and delivers one of the most action-packed, football-filled sequences we've received to date. Although Jamie is showered with boos from the crowd and gets roughed up by the opposing team, it doesn't stop him from beautifully assisting Colin Hughes (Billy Harris) to a goal en route to a 1-0 lead.
While Jamie can't help but be a little rattled by the absence of his father in the stands, it doesn't deter him, as he plays his best game of the season. If his offense isn't enough, he even makes one of the best defensive plays of the season, keeping the incredible Van Damme (Moe Jeudy-Lamour) shutout alive. Unfortunately, the sacrificial bicycle kick causes a relatively serious injury.
With Jamie on the sidelines, Coach Lasso makes one of his boldest moves of the season, playing 10-on-11 until they can get more information about Jamie's injury. Thankfully, Van Damme quite literally saves the day throughout their disadvantage, carrying the team on his back with one spectacular save after another. The time on the sideline allows for one of the most heartfelt moments of the season between Ted and Jamie, where Ted uses his own growth as a teaching moment and convinces Jamie to move on and forgive his father.
A combination of Ted's speech, painkillers, and some adrenaline have Jamie ready to return, rewarding Coach Lasso's decision to play a man down and wait for his potential re-entrance into the game. It takes nearly no time at all for Jamie to score the game-clinching goal before the crowd that previously booed him all game showers him with cheers while he exits. However, if you blinked, you may have missed one of the most emotional moments of Ted Lasso episode 11.
All we can do is keep playing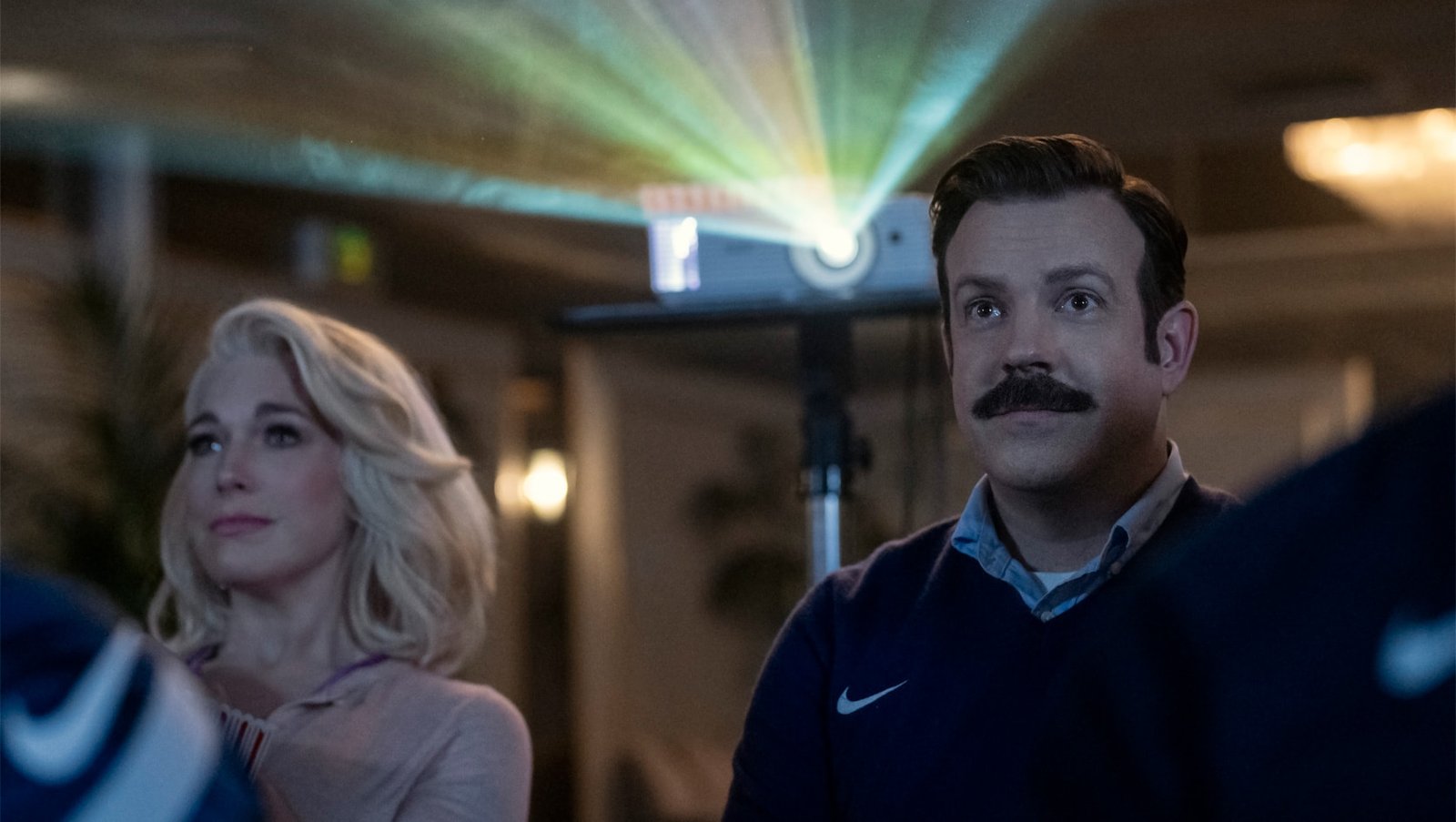 I mentioned in last week's review how there's one thing every child yearns to hear from their parents: I'm sorry. I was wrong, they did it even better this week. No parent is perfect—we could never expect that—but that doesn't change that for many, their parents' actions leave them with serious trauma that they struggle to unravel throughout their lives. Jamie's dad has been a hell of a lot worse than most parents. But, we saw him doing the one thing that's better than the words I'm sorry.
It's no secret Jamie's dad has struggled mightily with substance abuse, and a quick shot of him in rehab proudly cheering for his son caused me to break down into tears. I'm not talking about a light stream out of the corner of my eyes. I mean an uncontrollable emotional breakdown at the sight. The writing surrounding Jamie's journey has been nothing short of remarkable.
After the game finishes, the emotional gut punches continue like they are Van Damme saving Manchester City shots on goal. After Ted drops some absolute bars on Coach Beard (Brendan Hunt), he hturns heel on his comment describing Nate as "Judas" and heads to his house. My tears still weren't dry from crying about Jamie's dad when Beard unveiled the shocking origin behind his friendship with Ted.
"I hope none of us are judged by our weakest moments, but by the strength we show if and when we receive a second chance."

—Ted Lasso in season 3, episode 11
Everyone deserves a second chance, which is what Ted showed Beard early on in their friendship. The two played college football together as backups. While Ted moved on to marriage and a career, Beard transitioned to prison. He was addicted to meth and got caught stealing some. After he was released, he reached out to the one person he knew who hadn't already given up on him, Ted Lasso. His old friend gave him clothes, shelter and food, and he thanked him by stealing his car.
After he was immediately caught by police, Ted convinced them not to arrest him, stating he allowed Beard to borrow it. Beard confirms what we've known about Ted since the beginning of the series; he's the absolute salt of the Earth. Nate understands the lesson his former colleague is trying to teach him and vows to make the most of his second chance. My prediction of Ted going home after the season and Nate taking over as coach of AFC Richmond is looking more and more likely.
Thank you and fuck you
Ha! You thought you were done with crying for the episode? You assumed there was nothing left in your tear ducts? You, like me, are a silly, silly fool. Never underestimate the writers of Ted Lasso.
Upon returning to a nice home-cooked meal from his mom, Ted unloads his feelings, and they have a conversation every child should be able to have with their parents. Thank you, for all the amazing things you did for me. Thank you for all the times you sacrificed for me to get ahead. But also, fuck you. Fuck you most importantly for never acknowledging your own trauma, never going to therapy, and instead, taking it out on me.
Additionally, it opened the door for his mom to finally speak her own truth. After she reminds Ted that he has his own son at home who misses him dearly, they sit down for a nice meal closer than they've ever been.
A biscuit a day
The relationship between Ted and Rebecca has been the most important in the entire show. While much of the season has focused on other characters, the finale is clearly setting up to feature the two of them, in addition to Roy and Keeley.
Although we don't see much from Rebecca in this episode, her limited screen time is wonderfully utilized. The flirty eyes with Sam throughout keep us interested in their relationship, but it's her ex-husband Rupert in which this episode leaves us interested, as his new wife Bex (Keeley Hazell) and Rupert's former assistant show up at Rebecca's house; likely to discuss the "inappropriate workplace environment" described in the previous episode.
It is tradition for Rebecca to unleash a secret upon Ted in Ted Lasso's penultimate episodes, yet she anticlimactically reveals she has no spicy news. Ted Lasso episode 11 ends on a cliffhanger, however, as Ted reveals he has something important to tell her—hinting that this may be his last season with AFC Richmond.
After you're done wiping your tears, comment below or follow the Agents of Fandom socials to join the discussion!
'Ted Lasso' Episode 11 "Mom City" Review
'Ted Lasso' Episode 11 "Mom City" Review
The Good
Phenomenal writing in season 3 continues
Wrapping up character storylines satisfyingly
Perfect emphasis on family just in time for 'Fast X'
The Bad
Spent too much $ on tissues (in this economy?)