*Warning: The following review contains spoilers for Ted Lasso episode 10*
---
It's international break for AFC Richmond and the team has a bye. However, it's not all rest and relaxation, as certain players have been asked to represent their national teams throughout the week. While many team members are set to jet off to different countries, the majority of the drama in Ted Lasso episode 10 takes place in London.
Pressure makes diamonds
When life is going well, it's a lot easier to form positive habits and demonstrate personal growth. However, when shit hits the fan, people often revert to the unhealthy coping mechanisms that have plagued them throughout their lives. Flying with the wind at your back is a lot easier than flying with the wind in your face.
When chaos ensues in the lives of Keeley Jones (Juno Temple), Rebecca Welton (Hannah Waddingham), Nathan Shelley (Nick Mohammed) and Sam Obisanya (Toheeb Jimo), their growth is tested in a big way.
Coach Ted Lasso himself is barely in this episode, as Jason Sudeikis graces the screen only for the introduction and the conclusion. Interestingly, the titular character isn't really missed. The writers have done such an incredible job developing the supporting cast of the show through three seasons of Ted Lasso, and "International Break" is no different.
Nate the Great faces his fate
Although we knew from his encounter with Rupert (Anthony Head) last week that Nate would be in for a difficult ride going forward, the bomb Ted Lasso episode 10 drops in the first few minutes still comes as a major shock.
Nathan Shelley has been let go as manager of West Ham United. While Rupert describes the reason for his firing as "not being ready for the big stage," it is clear the reason is that Nate doesn't have any interest in partaking in Rupert's crude activities.
Nate obviously takes the news as a shock, but he handles it pretty damn well. With reporters outside his flat, he understandably needs some space from the real world. As many do when struggling with depression, Nate decides he needs to go home and be with his parents. Sometimes, there's no cure like your own bed.
After some time grieving his lost dream, Nate rediscovers his childhood passion for the violin, leading to the most emotional moment in Ted Lasso episode 10. Nearly all of Nate's trauma and struggles have come from his relationship with his father. When Nate's beautiful music draw's his dad to his room, we finally see a different side of him; the father who has constantly been on his ass opens up.
It's unfortunate it takes Nate hitting rock bottom for his dad to provide the support he needs, however, it leads to Nate hearing the two words anyone with parental trauma has yearned for their entire lives: I'm sorry.
The moment is absolutely beautiful, and I couldn't keep the tears behind closed doors. If I had to guess, Nate's unemployment could lead to his AFC Richmond return before the season's conclusion and a role as Ted's successor when he retires after the year.
Television's best-supporting cast shines brightly in 'Ted Lasso' episode 10
Jamie Tartt's (Phil Dunster) redemption arc continues in a big way in this episode. On the field, things couldn't be better. In the midst of AFC Richmond's 10-game winning streak, his efforts are recognized worldwide as he joins England's national team over the international break.
Off the field, his relationships with Roy Kent (Brett Goldstein) and Sam continue to blossom. If there's a moment that rivals Nate's interaction with his dad as the episode's top scene, Jamie gifting Roy his old England jersey from the World Cup is definitely the biggest contender. Roy also receives a gift from his niece—a tie-dye t-shirt. In a fun cameo appearance, one of the AFC Richmond employees that watch Roy walk by wearing this shirt is former USMNT and MLS Cup Champion Jimmy Conrad.
In addition to Roy, Sam is also becoming much closer to Jamie. This is such a fun dynamic to see take place, as Roy and Sam were obviously the two biggest Jamie haters earlier on in the series. Luckily, Jamie's growth has allowed him to become a much better friend to Sam while he really needs someone to lean on. Though Jamie, Van Damme (Mo Jeudy-Lamour) and Danny Rojas (Cristo Fernandez) among others on the team will be representing their countries, Sam doesn't make the cut.
Obviously, this has nothing to do with Sam's talent. However, Ted Lasso episode 10 marks the return of Edwin Akufo (Sam Richardson). As Edwin is in London recruiting various clubs for the new Super League he intends to create, he also reveals to Sam he paid the Nigerian National Team to keep him off the club. Thankfully, Sam has a great support system and is as resilient as they come.
The funniest side plot of the episode belongs to Danny and Van Damme. Apparently, when Danny plays for Team Mexico, he becomes an entirely different beast. He tosses his pleasant demeanor out the door, and friendship is off the table, antagonizing Van Damme throughout Ted Lasso episode 10.
All hail Queen Rebecca Welton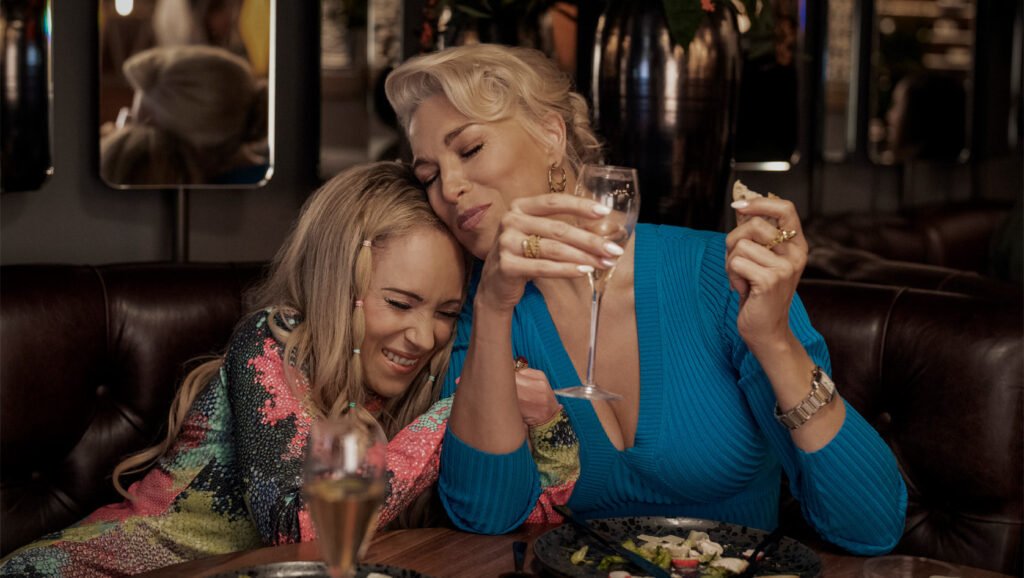 Whether it be as a friend or in her own endeavors, Rebecca is in her bag in this episode. From a friendship standpoint, she is an absolute rock for Keeley in her time of need. In typical Jack fashion, Keeley's boss pulls funding from her business after their relationship ends.
After Keeley understandably ghosts Rebecca because she is afraid to talk about it, Rebecca shares her feelings with Keeley and then is immediately there to support her. Thankfully, the money for Keeley's business is "pocket change" for Rebecca, and she offers to continue the funding Keeley needs. Their friendship has been a beautiful constant in Ted Lasso season 3.
Being a phenomenal friend doesn't take all of Rebecca's energy, as she slays her Super League meeting with Rupert, Edwin, and a bunch of other rich (white) snobs. After multiple nods throughout the episode to Ted's impact on Rebecca, she summons the courage to go to the meeting despite the invite coming from Rupert and absolutely knocks it out of the park. She appeals to the other owners' compassion, telling the story of a young Rupert and his AFC Richmond fandom. Although these men may financially own their teams, the clubs really belong to the fans.
After Rebecca gives an all-time speech, all hell breaks loose. Edwin gives one of his classic temper tantrums and covers all the attendees in the food he throws at them. Afterward, Rupert is so impressed by Rebecca that he comes on to her, even attempting a kiss. She pushes him away without a second thought, providing further evidence of her growth throughout the series.
As the episode comes to a close and Ted returns to the screen, things really come full circle between him and Rebecca. The two bond while Rebecca sips a cup of tea, and she spits it in Ted's face similarly to what he does to her upon the series' debut. All the storylines set up throughout the season have been wrapped up in a neat bow, and Ted Lasso episode 10 sets the stage for an epic final two episodes of the season.
Ted Lasso episode 10 is now streaming on AppleTV+. Follow the Agents of Fandom socials for the latest TV news and reviews.
'Ted Lasso' Episode 10 "International Break"
'Ted Lasso' Episode 10 "International Break"
The Good
Wraps up the season's character arcs neatly in a bow
Sets the stage for an epic final two episodes
Hilarious side quest between Danny and Van Damme
REBECCA! QUEEN SHIT!
Nate the Great's redemption arc continues
Jamie's relationships with Roy and Sam are so wildly wholesome