*This review contains spoilers for That '90s Show*
The 1990s and early 2000s had the sitcom genre in a chokehold. Iconic shows like The Office, Fresh Prince of Bel Air, How I Met Your Mother, Malcolm in the Middle, and Modern Family shaped a generation. Among these series is That '70s Show. It quickly became a classic and one of my all-time favorite shows by giving us '90s kids a mirror into what our parents lives were like in the '70s.
So, you can imagine my excitement when 17 years after That '70s Show ended, a sequel was announced! Following the recent trend of sitcom spinoffs and reboots with shows like How I Met Your Father and Bel-Air, That '90s Show has a lot to live up to. As a long time fan of the original series, I was not disappointed.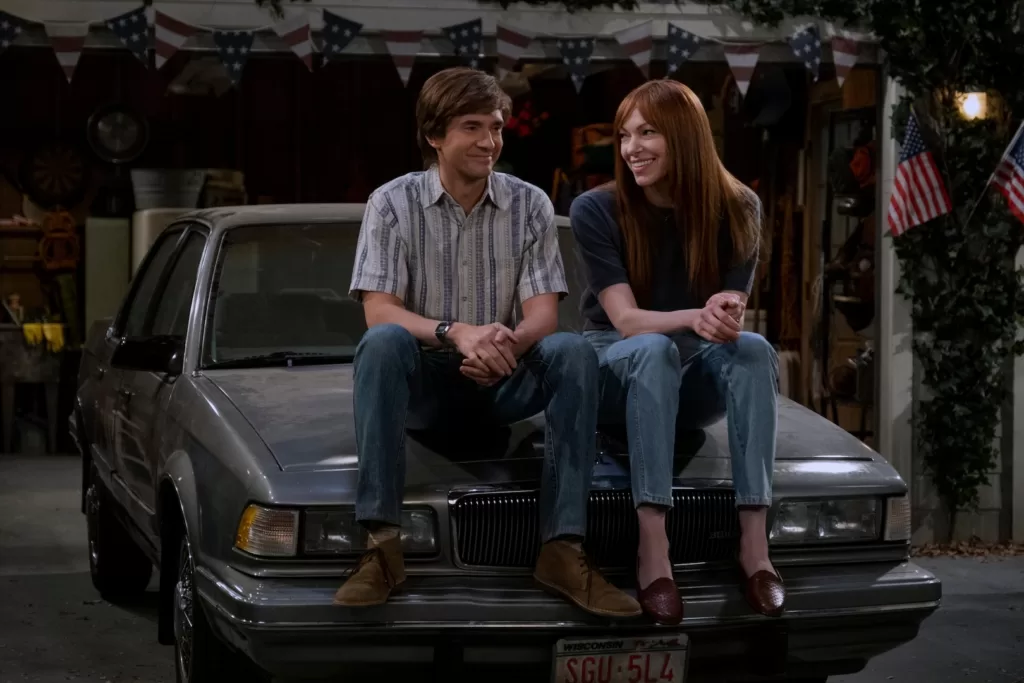 The kids are alright
That '90s Show brings us back to the Formans' basement in the summer of 1995. It follows Leia Forman (Callie Haverda), daughter of Eric Forman (Topher Grace) and Donna Pinciotti (Laura Prepon), as she attempts to have the best summer ever with her new friends under the watchful eye of America's favorite parents, Red and Kitty Forman (Kurtwood Smith and Debra Jo Rupp).
Somewhat mirroring the original series, Leia and her friends experience the typical teenage angst surrounding dating and friendships while getting into various shenanigans—except now, the kids go to a rave instead of a disco. While some humor doesn't hit in the same way as the original series, most of the jokes made me laugh out loud. We even get a full circle moment where Eric channels his father and makes a "foot in your ass" comment.
Hello (again) Wisconsin!
Probably the biggest question fans had going into this is, "where is the original gang now?" While a show centering around the Point Place kids all grown up would be fun, that is not what That '90s Show is, and the writers and producers do a great job balancing the nostalgia with telling a fresh new story. However, we do get some exciting cameos from many of the original cast with hilarious nods and easter eggs. During one entertaining and nostalgic moment, we find out Jay (Mace Coronel) is Michael Kelso's (Ashton Kutcher) son after he enters the Forman house and yells "BURN," as he famously does in the original series.
I would have loved to have seen more of Eric, Kelso, and Jackie (Mila Kunis), who only show up in the first episode, however Donna makes a few appearances throughout the season and Fez (Wilmer Valderrama) gets his own storyline. Red and Kitty, however, are standouts. Their dynamic was always one of my favorite things about the original series, and they don't miss a beat in That '90s Show. Kitty is still the adoring mother (now grandmother) treating the kids as her own, and Red is still cranky but loving, and delivers a few of his biting but comical insults. What more could you want?
That '90s Show brings us into a new generation
Cameos and easter eggs aside, at its heart, That '90s Show is about a new generation of teenagers navigating life in 1995. There are clearly parallels between this group of kids (Leia is basically Eric incarnate) and the original gang, but I love that they are unique with their own personalities. After episode 1, the new cast hits their stride and by the end I was fully invested in their storylines. I also appreciate the diverse cast, distinguishing itself from the mostly white Point Place in That '70s Show. Additionally, one of the new characters, Ozzie (Reyn Doi) comes out as gay to Kitty in a heartwarming moment that fits well within the storyline and provides much needed representation that the original series lacks.
The biggest thing that made That '70s Show such a hit was how it truly felt like it took place in the '70s. That '90s Show is no exception. They nail the '90s references with the denim and flannel-laden outfits, dial-up internet, 90210 flashback scenes, references to President Bill Clinton, and the amazing soundtrack featuring songs from Alanis Morrisette and Blind Melon. It is surreal watching this show and actually understanding the decade-based references first hand—a nostalgic feeling our parents must have had when catching us watching the original series. While it makes me feel slightly old, I am happy that 2000s and 2010s kids now have their own That '70s Show.
That '90s Show is a hit!
For a spin-off sequel of a classic show to succeed, it needs two things. First, it needs to maintain clear continuity between the original series and new series. Additionally, there needs to be a healthy balance between callbacks and the introduction of new and distinct storylines that keep the viewers engaged. That '90s Show succeeds in finding that balance. It satisfyingly brings unresolved storylines to fruition and gives us nostalgic cameos, while standing on its own in a new decade with a new cast of characters.
That '90s Show is a fun and entertaining coming-of-age show. Even with only 10 episodes in season 1, I felt invested in the characters and stories. However, I would love to see a season 2 with more episodes to give us the same classic sitcom feel as That '70s Show. I am ready to revisit Point Place again and see which '90s references they pack in for the future.
All episodes of That 90s Show are now streaming on Netflix. If you want to talk more sitcoms and That 90s Show, hit me up on Twitter!