The Mandalorian Chapter 22 is here, and with only two installments left this season, we still have a lot more questions than answers. That isn't inherently a bad thing, but this episode definitely has some problems. Despite a mostly fun side plot and some cool cameos, this journey to Plazir-15 feels like something we should've done weeks ago.
The Mandalorian Chapter 22 feels out of place in the overarching season, but still provides a bit of entertainment to boost its value.
*Warning: Spoilers ahead for The Mandalorian Chapter 22 "Guns for Hire"*
What are we doing on Plazir-15?
The logic behind the choice to spend almost an entire episode on a "do this for me, and I'll give you a meeting" side quest this late in the season is beyond me. With only two episodes remaining, and the Moff Gideon tease coming at the end of last week, most fans thought we were poised to see an important piece of the story this week. However, this is not the case, at least not until the final five minutes.
You can sum up the entire plot of this side quest with one sentence: "They have to take care of some droids to earn a meeting with the actual people they need to talk to." This episode does feature some really cool cameos, including Harry Holland as Mon Calamari Romeo Christopher Lloyd as Commissioner Helgait, Jack Black as Captain Bombardier, and Lizzo as The Duchess.
These surprise appearances are fun, and they provide some comedic relief, but they don't do enough to elevate the plot out of forgettable territory. The problem here is similar to the one back in episode three. If this episode existed outside a season of The Mandalorian, it would be a fun little Star Wars journey. But it doesn't—it exists as part of a larger story, and that's where it fails.
If you put this into the episode three slot, it works infinitely better. I know Bo-Katan (Katee Sackhoff) is in a different spot, and the whole reason they're here is to look for other Mandalorians, but this entire side quest just feels out of place.
What's going on with Grogu in The Mandalorian chapter 22?
This brings us to another issue that's not only present in this episode, but in the season as a whole. After everything we've seen from Grogu in the first two seasons of The Mandalorian and in The Book of Boba Fett, why hasn't he had a chance to contribute more?
During episode two, we're asked to believe in Grogu's capability to act as the hero. He leaves Mandalore and heads to Concordia to fetch help for Din, almost completely on his own. He shines as the absolutely adorable superstar he is, throwing Alamites out of his way and navigating back to the ship with ease (dad taught him well). Since then, he's done nothing of any substance, and is used only to pull a guaranteed smile three times per episode.
For anyone invested in Grogu's arc, this is incredibly frustrating. He spends two years training with the most notable Jedi ever, and the early episodes prepare the audience to really see him flourish, and he just…hasn't. I know Grogu is only a measly 50 years through his 900+ year life cycle, which means he's still just a little baby, but he's capable of more than we've seen from him thus far. Grogu's underutilization is this season's biggest failure thus far.
Bo and Grogu now share more moments together than Din and Grogu. Don't get me wrong, the Bo and Grogu connection is adorable; but I miss our lone wolf and cub dynamic from previous seasons.
Whose show is it anyway?
The dynamic between Bo-Katan and Din Djarin (Pedro Pascal) this season is wildly entertaining, but out of balance. It's undeniably fun to watch the pair partake in missions together—they make for one of the best "buddy cop" duos in all of Star Wars. It's an indictment on the show, however, when Bo-Katan feels more like the titular character than Din.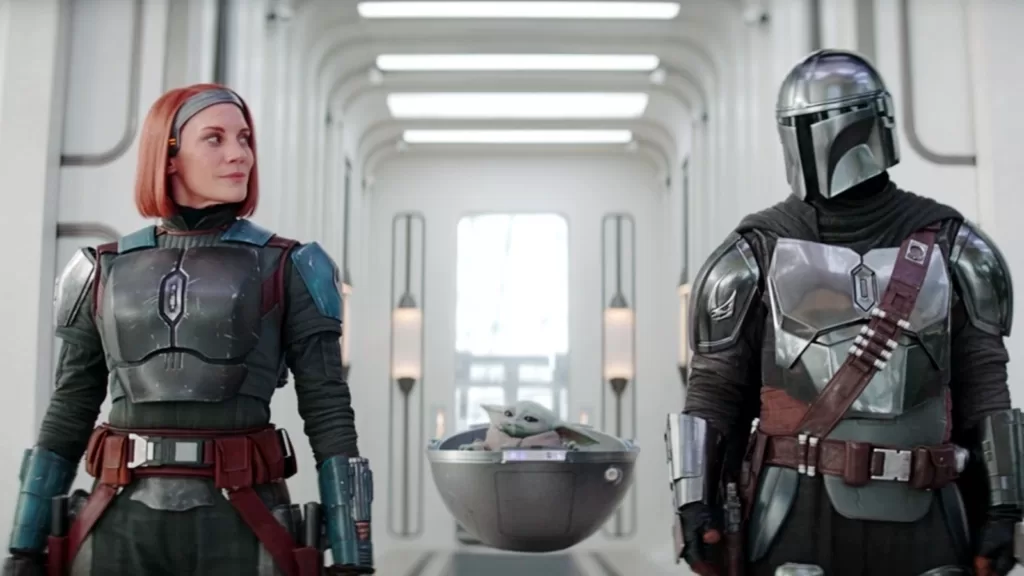 Bo-Katan is a fascinating character, loved by almost everyone (despite her history of domestic terrorism, but hey, people can change), and this criticism is aimed at the show, not her. Audiences initially fell in love with the show because of the Din Djarin and Grogu dynamic, which is now back seat to Bo-Katan's quest to rule Mandalore.
There's nothing wrong with introducing more characters and giving them important tasks, that's what all good television shows do. But when it's at the expense of our beloved main characters, it's not an easy pill to swallow. We still have a few episodes to get back on track—Din and Grogu surely have essential roles to play—but to see them fade into the background like they have, is disappointing nonetheless.
The Mandalorian Chapter 22 leaves a lot to be desired
As we close this episode, Bo-Katan reclaims the Darksaber in a very forgettable moment. Din raises the point that Bo defeats the droid that defeated Din, so by right, the sword belongs to her. No objections, anyone?
If it was that simple all along, why not bring that up as soon as it happens? Maybe Bo has to find her clarity, but to claim the sword that has so much blood in its history after telling her fellow Mandalorian "enough Mandalorian blood has been spilled by our own hands" seems counterintuitive.
What will The Armorer (Emily Swallow) think about this? What role will Din play now that he's conceded the Darksaber? Will Bo-Katan use the sword to reclaim Mandalore and everyone live happily ever after? Hopefully the last two episodes answer these questions.
At it's core, The Mandalorian Chapter 22 is a fun episode of television, even if its placement is frustrating. If you watch this in a vacuum without the attachment to the rest of the story, it's fine. But when you place it this close to the end of a season sure to be rife with massive consequences, it fails to live up to expectations.
The Mandalorian Chapter 22 is now streaming exclusively on Disney+. Follow the Agents of Fandom socials for the latest Mandalorian news.
The Mandalorian Chapter 22 "Guns for Hire" Review
The Mandalorian Chapter 22 "Guns for Hire" Review
The Good
The Din and Bo dynamic continues to entertain
Amazing fight scene at the end
Overall a fine, fun episode
The Bad
Too late in the season to be going on these side quests
Grogu doesn't have enough important things to do
Din and Grogu have receded into the background of their own show