Victoria Alonso, the longtime Marvel Studios executive, is first reported by The Hollywood Reporter to have shockingly parted ways with the studio. It was later clarified by Variety that she was ultimately fired by executives at Disney.
The main cause of her termination still remains unclear, but according to insiders, its said that Disney Entertainment Co-Chairman Alan Bergman was involved, while Marvel Studios' President Kevin Feige chose not to intervene but felt stuck in the impossible decision.
Is Victoria Alonso's termination beneficial or a complete disaster for the studio? VFX artists seem to be on two sides and outside factors, such as creative control disputes and a contract breach, also come into play.
The Good, The Bad, and The VFX
The VFX industry has been in intense overload since the launch of Disney+. The delivery of content from all of Disney's owned companies, especially Marvel Studios, has been crucial towards the justification of the streaming service. As Marvel is in high demand due to its popularity and mass amount of releases over the last several years, VFX artists find themselves working overtime on countless projects. This has reportedly caused a mixture of reactions towards the leadership within the VFX department, mainly in the past two years.
And if you're wondering who was in charge of the VFX department at Marvel Studios? That's right, Victoria Alonso.
Victoria Alonso was promoted to Marvel Studios' president of physical and post-production, VFX, and animation in 2021. Following her promotion, Marvel released a whopping 17 projects between 2021 and 2022; including seven movies, eight Disney+ series, and two TV specials. This doesn't include the projects prior to Avengers: Endgame that were released before Alonso's promotion, and it was her job to get those projects through Marvel's already massive and chaotic post-production process.
VFX artists found it straining to work for Marvel. Some shared that Victoria Alonso was the cause of Marvel's toxic work environment and called her "a kingmaker who rewarded unquestioning fealty with an avalanche of work, but who also maintained the blacklist that kept FX pros wild eyed with fear."
From there, some VFX artists claimed to be quite scared of Victoria Alonso saying, "if she likes you, you're going to get work and you're going to move up in the industry. If you have pissed her off in any way, you're going to get frozen out."
Although this might seem rather dark, there is light at the end of the tunnel. Professionals within the industry seem to have differing opinions on the situation. The Ringer's Joanna Robinson calls the report by Vulture senior reporter Chris Lee a "gross mischaracterization" and debunks the notion that all VFX artists have severe complaints against Victoria Alonso.
Despite the divided belief in Victoria Alonso's leadership, the key takeaway when it comes to VFX artists and Alonso is the steady rise of criticism for the VFX in Marvel films and TV series since 2021.
| Project Year | Project Title |
| --- | --- |
| 2021 | WandaVision, The Falcon and the Winter Soldier, Loki, Black Widow, What If…? Shang-Chi and The Legend of the Ten Rings, Eternals, Hawkeye, Spider-Man: No Way Home |
| 2022 | Moon Knight, Doctor Strange in the Multiverse of Madness, Ms. Marvel, Thor: Love and Thunder, She-Hulk: Attorney at Law, Werewolf by Night, Black Panther: Wakanda Forever, The Guardians of the Galaxy Holiday Special |
Marvel Studios' project releases in 2021-2022
Though the release of Marvel Studios' Ant-Man and the Wasp: Quantumania did not spark the rise of criticism on Marvel's VFX, it might be the project that ends it. The film has been repeatedly criticized for its visual effects—even after completing production over a year before releasing theatrically this past February.
Crucially, the film also bombed at the box office, cementing it as the worst performing entry in the Ant-Man franchise and on the lower end of the MCU as a whole. This causes a major shakeup for the House of Mouse, which is known to make the big bucks with help from big studio franchises like the Marvel Cinematic Universe.
According to the same report by Variety, insiders shared that Marvel Studios has shifted some of the nine projects that were originally slated to launch in 2023 to 2024—reducing the number of 2023 releases to five. Comparatively, nine projects were released in 2021, and eight were released in 2022.
With former Disney CEO Bob Iger returning to the big seat, there has been an immense amount of cost-cutting towards VFX expenses—affecting Alonso's leadership. With Victoria Alonso's absence and the decision to cut down the amount of content released per year, it is expected to reduce the intense pressure during the post-production process for VFX artists.
The battle for creative control: Marvel Studios vs. Directors
It's been reported that MCU directors don't have creative control over their movies. Days after the claims in his tweet thread were disputed, Chris Lee appeared on an episode of The Town with Matthew Belloni and criticized Marvel Studios' actions of hiring directors that lack knowledge in the VFX department. He shared that the studio does this in order to exacerbate creative control of their MCU projects.
Lee, when discussing Marvel's choice of filmmakers to hire in regard to VFX aspects for their films, compares Shang-Chi and the Legend of the Ten Rings' Destin Daniel Cretton and Avatar's James Cameron:
"In your comparison of, let's just say Avatar 2 to Shang-Chi, in comparing James Cameron to Deston Daniel Cretton, you're not comparing apple to apples, because James Cameron has infinite amounts of computer-generated imagery experiences."
The reporter continues by claiming Marvel find their directors from film festivals (notably Sundance Film Festival), that receive high acclaim for their movies:
"They harvest directors from the Sundance Film Festival, somebody who has directed some cheapo movie that got a lot of buzz, that has a lot of heart, a lot of originality, and then they suddenly prop them up with a nine-figure budget for the first time."
He also calls out some of Marvel's biggest directors by name, including Black Panther's Ryan Coogler, Eternals' Chloé Zhao and Thor: Love and Thunder's Taika Waititi, as the few who are inexperienced with VFX:
"These people, by and large, do not have any experience with VFX. And I'm talking about Taika Waititi, I'm talking about Chloé Zhao, Ryan Coogler…"
In connection with Victoria Alonso, Lee shared that an unnamed Marvel filmmaker was allegedly told by Alonso that even though the studio hires the directors, Marvel directs the movies:
"Around the time of Victoria Alonso's dismissal, I was DM'ing with an extremely well-known director who had worked on a Marvel film, and she was relating some remarks that Victoria had said to her about another filmmaker, who directed, let's just say, it was one of the biggest movies Marvel's ever put out. And (Alonso) was talking about this guy and (Alonso) said, 'They don't direct the movies. We direct the movies.' Meaning that the filmmakers don't have creative control over the look of the films that Marvel does."
Given these accusations by Lee, Marvel Studios has been going the route of hiring directors without giving them any creative control—especially for a component they may be inexperienced in.
With Victoria Alonso now formerly the head of VFX, creative control in that department comes into frame. It alludes to the studio limiting their directors' potential in their projects that heavily rely on visual effects—and ultimately does the VFX themselves. This leads to directors taking the lion's share of criticism, though they reportedly lack the experience—leaving MCU fans unimpressed by their projects.
The Mouse blipped Victoria Alonso…after a contract breach?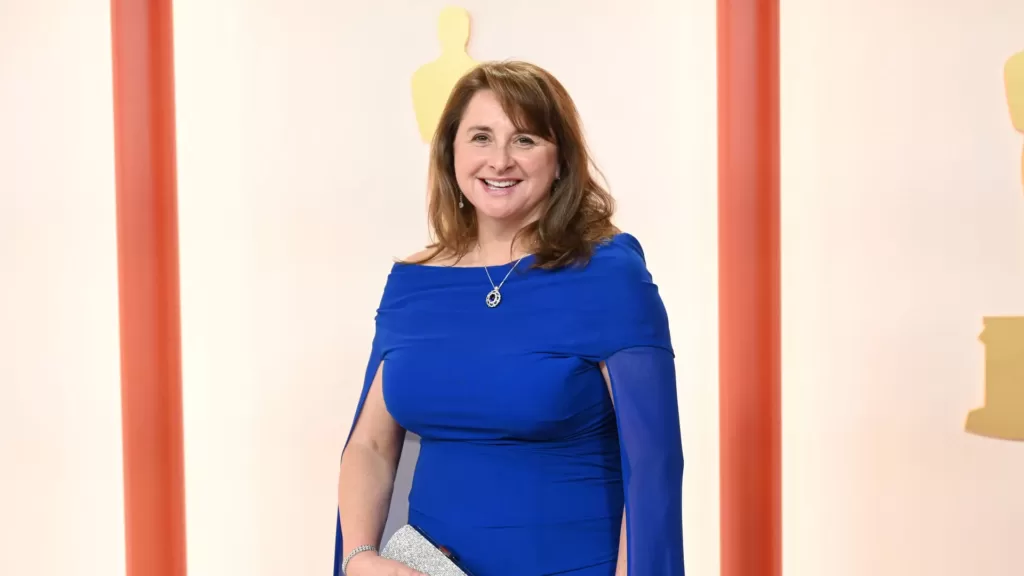 The complaints from VFX artists of Victoria Alonso's leadership within Marvel Studios isn't the only potential cause leading to her termination. A breach of contract is also said to be at the center of her sudden firing.
Alonso is credited as a producer in the Oscar-nominated film Argentina, 1985, distributed by Amazon Studios. According to sources interviewed by The Hollywood Reporter, with the assumptions of her role in producing that film, it is said she breached her contract several times.
So what exactly was the contract breach?
Victoria Alonso's 2018 agreement with Disney included the company's standards of business conduct, which state that "employees cannot work for competing studios." In this case, Alonso's collaboration with Amazon Studios violates those standards.
As shared by the same sources, Alonso didn't ask for permission to work on the film Argentina, 1985, though, an article published by IndieWire reports otherwise. When Disney found out about Alonso's role in the project, it is said they gave her a warning on the condition she stopped further work on the film.
It is noted that though the producer didn't promote Argentina, 1985 in any way, her many public appearances for the film—and most crucially her appearance at the 2023 Oscars (she was not there as a representative for Black Panther: Wakanda Forever, a film nominated for multiple awards that night)—are reportedly the breaking point for Disney's ultimate decision.
Even though her Oscars appearance is allegedly the bomb that detonated her termination, she appeared on other outlets to support the film, including Variety's FYC Fest: The Producers. In the virtual panel, she discusses with other producers the importance of telling true stories (in connection to Argentina, 1985) and her Argentinian heritage.
Patty Glaser, Alonso's attorney, released a statement to The Hollywood Reporter regarding Alonso's departure from Disney:
"The idea that Victoria was fired over a handful of press interviews relating to a personal passion project about human rights and democracy that was nominated for an Oscar and which she got Disney's blessing to work on is absolutely ridiculous. Victoria, a gay Latina who had the courage to criticize Disney, was silenced. Then she was terminated when she refused to do something she believed was reprehensible. Disney and Marvel made a really poor decision that will have serious consequences. There is a lot more to this story and Victoria will be telling it shortly—in one forum or another."

Patty Glaser, Victoria Alonso's attorney
Her attorney pushed back on the claims of her termination from Marvel Studios on the grounds of working on Argentina, 1985, stating that Disney "silenced" the executive—even after giving her a "blessing" to work on personal passion projects. *
*For clarification, Victoria Alonso was "silenced" after a speech at the 2022 GLAAD Awards (she is an openly gay Latina) where she called out Disney's then-CEO Bob Chapek by name for his treatment of Florida's "Don't Say Gay" bill.
The Hollywood Reporter shared that insiders believed that the "reprehensible" act cited by Alonso's attorney is in reference to Marvel executives requesting to censor a gay pride reference in Ant-Man and The Wasp: Quantumania for the film to be released in Kuwait, a country that has restricted anti-LGBTQIA+ laws. Alonso received the request and refused to let her team make the edit, which led Marvel to seek an outside vendor.
As mentioned above, despite not overtly promoting the film, Alonso did make frequent appearances to support the film. A former Disney film executive spoke to Variety on the conditions of Alonso's termination, saying, "the idea that Disney both knew and approved her ability to work on [Argentina, 1985], then ostensibly say they have cause to fire her over an interview or two in support of that film, seems crazy."
Victoria Alonso will address her termination as stated by her attorney; however, details about the time of her address are not known at this time.
Note: The Hollywood Reporter first reported Alonso's exit was tied to her work on Argentina, 1985.
What happens next for Marvel Studios?
Victoria Alonso is said to be blindsided by Disney's decision to fire her. It's a significant forfeit for the company to lose someone whose journey has been truly impactful since the first Iron Man movie.
Her continued commitment to diversity and inclusion has helped make the studio's films more representative of the world we live in—most visibly for women and LGBTQ+ representation.
So what happens next? Disney hasn't announced a replacement for her position. Alonso's position as an architect in the entertainment industry has been vital for Marvel Studios' growth; it will take big shoes to fill her role, or possibly a team of executives. This means the hunt to find a replacement will take some time, especially for a successor to helm the "representation aspect" for the future of the Marvel Universe, which Alonso had notably been contributing to.
Victoria Alonso has a memoir coming out later this year called Possibility Is Your Superpower, that is said to encapsulate her story from growing up in Argentina, to becoming one of the foremost producers in Hollywood. She is still listed as an executive producer for the upcoming Marvel Studios' films Guardians of the Galaxy Vol. 3 and The Marvels.
Stay tuned to Agents of Fandom as this story continues to develop.