She-Hulk has taken over the internet with its natural jocularity and weekly cameos. Each week seems to open another door of opportunity; and where there's opportunity, Kevin Feige strikes. When the Thunderbolts title was officially revealed at San Diego Comic Con, Feige announced that we have not yet been introduced to every member. We still have well over a year until this film comes to fruition. However, She-Hulk would seem like the perfect series to give fans more on the incoming Thunderbolts team.
The Thunderbolt Draft So Far
Phase Four of the MCU introduces a solid start to the potential Thunderbolts line-up. So far there's Baron Zemo (Daniel Bruhl), Yelena Belova (Florence Pugh), and US Agent (Wyatt Russell). Some speculation arises already in She-Hulk with the appearance of Emil Blonsky (Tim Roth), otherwise known as The Abomination.
There are other candidates for the Thunderbolts that we have met, like Ghost (Hannah John-Kamen), Taskmaster (Olga Kurylenko), and Swordsman (Tony Dalton). It's not even far off base to throw some of our heroes in the mix as well, like Hawkeye (Jeremy Renner) or the Winter Soldier (Sebastian Stan). Is it possible for She-Hulk to bring in more potential candidates via criminal cameo?
Which Thunderbolt Is In She-Hulk?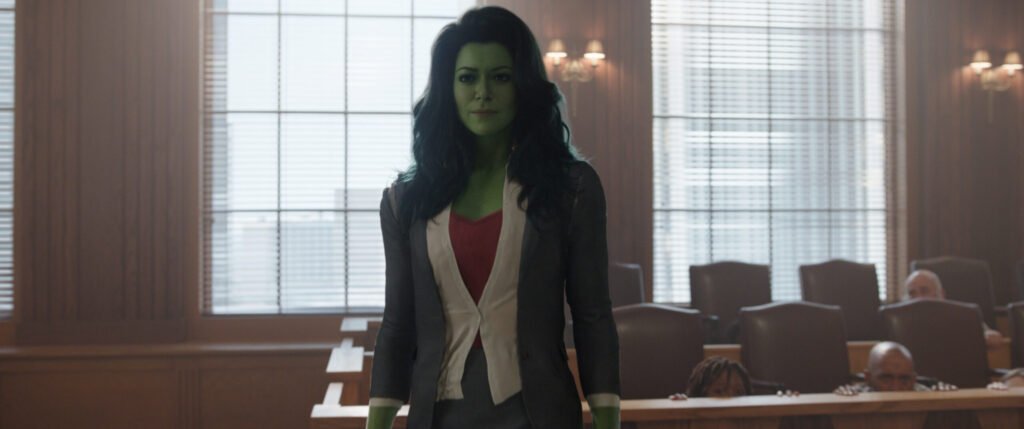 It's clear how good Jennifer Walters is at her job, hence getting the likes of Emil Blonsky out on parole. However, the question isn't how well Jen can do her job, it's about who else she allows a second chance, because of how well she does her job. The Thunderbolts are a group of antiheroes, some with quite a colorful history; and not the good kind of colorful. Some would call it a band of misfits with a second chance at doing the right thing… sort of. Due to the roster being extensive, it's hard to pinpoint which characters could show up in She-Hulk's courtroom.
Maybe the Punisher turns up in LA, and it explains Daredevil's appearance. Or maybe Juggernaut, which would be a wild turn of events as the X-Men seem to be just around the corner. Or, Feige goes crazy and just throws in completely unfamiliar characters like Speed Demon or Lady Deathstrike. I would even say there's a possibility of seeing Jameela Jamil's Titania get roped into the team. Regardless, the roster of characters to choose from is lengthy, so I have no doubts Marvel Studios will put together the absolute best Thunderbolts team.