This piece was written during the 2023 WGA and SAG-AFTRA strikes. Without the labor of the writers and actors currently on strike, the movie being covered here wouldn't exist.
---
Woman of the Hour is the first time Anna Kendrick expands her craft behind the camera, as she is known for starring in the Pitch Perfect films, the Twilight saga, and the Trolls franchise. This movie delves into a factual account of Cheryl Bradshaw, who appeared on the hit TV program The Dating Game in the 1970s. One of the eligible bachelors was Rodney Alcala who, unknown to all involved in the production, was concurrently engaged in a spree of horrifying murders.
In her first outing as a director, Kendrick presents a perceptive, thoughtfully executed, and innovative approach to the thriller/true crime genre by not glorifying the killer, and instead giving a voice to the victims. Fans of hers are familiar with her sharp-witted personality from her previous works. Despite the unsettling subject of this new project, her impeccable comedic timing is utilized to provide a well-rounded balance to the film.
'Woman of the Hour' review: a powerful and unsettling exploration of gender-based violence and misogyny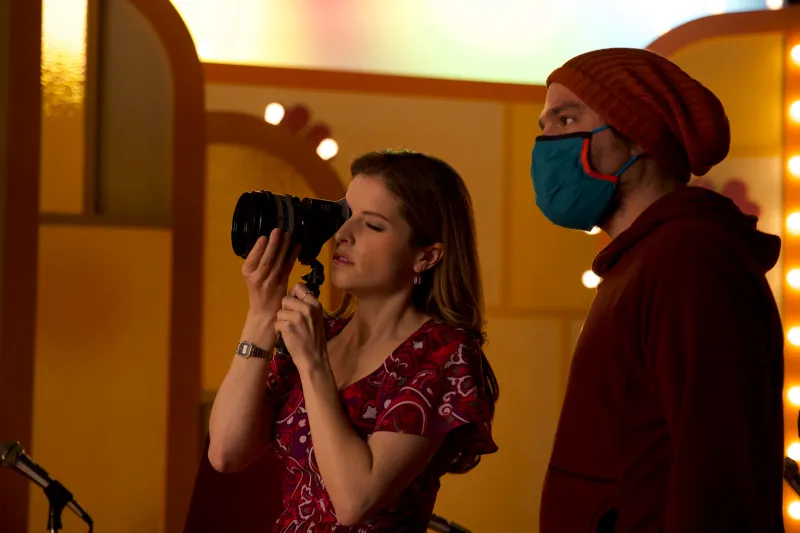 Kendrick plays Bradshaw, a hopeful actress in Los Angeles struggling to land roles due to sexist casting directors. The way Kendrick inserts her humor in Bradshaw's exchanges with toxic men landed the most laughs from both press and industry viewers at the Toronto International Film Festival (TIFF). However, the comedic aspect of the film is not just for entertainment, but also as a reflection of the prevalent misogyny that occurs in society today. Ian MacAllister McDonald's writing during these moments holds up a mirror to its viewers, similar to Greta Gerwig and Noah Baumbach's screenplay in Barbie.
The film mainly focuses on two different viewpoints: Bradshaw landing the gig for The Dating Show, and Alcala's (Daniel Zovatto) heinous crimes over many years. Kendrick uses Bradshaw's uneasiness when confronted with a live audience to draw a parallel between the film audience's discomfort as they begin to witness Bradshaw's growing affection towards Alcala.
Each scene with Alcala is chilling, as he effortlessly wields his position as a man in order to exert power over women. Even if his victims exhibit any hesitation towards him, he manages to charm them with ease, luring them to a secluded area where he takes advantage of them, and ultimately ends their lives with his bare hands. Thankfully, Woman of the Hour doesn't take the time to explain his motives or show how he became this way. Nor does it make the viewers want to ask these questions, which is refreshing at a time when prolific criminals are getting projects glorifying them.
While Woman of the Hour is undeniably gripping, one of its flaws is the continuous jumping back and forth between The Dating Game scene and Alcala's numerous victims throughout the years, which aren't shown in chronological order. This constant shifting of the narrative tension hardly gives the audience any room to breathe or process the events as they are happening. In the end, the film's brief runtime of only 89 minutes culminates in an abrupt ending that fails to deliver a satisfying resolution equal to the overall tone of the movie.
The 'Woman of the Hour' cast gives mesmerizing performances
Zovatto gives an exceptionally unnerving and unforgettable performance in Woman of the Hour. His charisma is inviting, making it easy to believe how Alcala drew in his victims while evading police who thought of him as a suspect. Zovatto skillfully transitions from a charming presence to one that is entirely devoid of any emotion. His performance deserves to earn him an award nomination.
Tony Hale plays the misogynistic host of The Dating Game, requesting Bradshaw wear a revealing dress, and reminding her to act dumb when interacting with the bachelors. Kendrick's comedic timing shines during these scenes, as Bradshaw shifts away from the pre-arranged reductive questions and keeps the bachelors on their toes by asking highbrow or feminist questions along the lines of "What is a woman's purpose?" This interrogation tactic causes the contestants, besides Alcala, to either fail to provide a coherent answer or accidentally reveal their chauvinism through their responses.
The exchange between Bradshaw and Alcala in these scenes is riveting to witness; they are both toying with one another but hindered by a screen as per The Dating Game rules. For Alcala, he can't rely on his appearance and body language to win over Bradshaw. For Bradshaw, her ability to interpret Alcala's behavior is constrained, as she can't see how he's grappling to keep up with her questions and adapting his answers to lure her as his next potential prey.
While Woman of the Hour struggles when it comes to pacing and narrative structure, this is still an incredible start for Kendrick's directorial work due to its clever dialogue, excellent balance of comedy and suspense, and captivating performances. It will be exciting when general audiences are able to watch this true crime thriller, with the hopes that positive word-of-mouth will make it a rousing success, and Kendrick continues to grow her directing experience.
Where can I watch 'Woman of the Hour'?
Woman of the Hour premiered at the Toronto International Film Festival (TIFF) on September 8, 2023. Netflix acquired the distribution rights for about $11 million, but no release date has been shared just yet.
Keep it locked to the Agents of Fandom socials for the streaming date of Woman of the Hour, and for more TIFF coverage!
'Woman of the Hour' Review
'Woman of the Hour' Review
The Good
Daniel Zovatto's chilling and charming performance
Anna Kendrick's humor lightens the film
Reflective look at toxic masculinity and misogyny
Impressive cinematography and set pieces
The Bad
Odd narrative structure
Abrupt ending