Who wants to play Bodies Bodies Bodies? A24's new comedy-slasher-whodunnit takes a smart look at what happens to a group of Wifi-bound people when the internet, and lights, go out.
Electrifying Intimacy
It's evident from the moment this movie begins that it is designed to be intimate, electric, and in your face. A make-out session between two young women in which the camera denies your ability to focus on anything other than their immense passion and love. It's proceeded by an "I love you" from one girl to the other, yet the crucial return of that weighty sentence never seems to find a way to the other's lips. A hint, among many throughout the movie, that self-identity can be solely wrapped up in others' approval and praise of you.
Bodies, Bodies, Bodies feels like a mix between an out-and-out comedy, 'Knives Out', and the previous A24 horror film 'X', this movie instantly puts you to ease with countless laughs (mostly at the expense of Pete Davidson) while also giving you a true sense that there is always more to the story. One that we won't truly understand until the dying moments of the movie itself. While this movie is substantially funnier than I anticipated it to be, it is also much smarter than I thought it would be.
The beautiful thing about this movie, one that delivers laughs, slashes, and horrendous truths about Gen-Z's (and society at large's) dependence on social media, is that it serves two similar yet distinctly different audiences. An audience member going to the theater for the "vibe", some laughs, and a murder mystery will not be disappointed in the slightest. It fulfills every need for a great summer flick. But an audience member diving deeper into the themes of these main characters' constant need for outside validation and a harsh reality that coping with yourself, without the distraction of social media, is a brutal life to live, will be just as satisfied.
Cast Performance
A small but stacked cast includes some iconic faces in Pete Davidson (David) and Lee Pace (Greg), and an electric mix of up-and-comers like Rachel Sennott (Alice – go watch her in Shiva Baby if you haven't yet!), Maria Bakalova (Bee), Amandla Stenberg (Sophie), Myha'la Herrold (Jordan), and Chase Sui Wonders (Emma) that bring a true sense of fear to the screen. Not just in trying to find out who the mysterious killer is that is going around the house offing people one by one, but fear in that a true 26 years-old-and-under cast is the core group coming to grips with their true IRL identities.
Rachel Sennott in particular brings a range of emotions that caught me off guard as her performance was the best of the bunch. Towards the end of the film, there is a reckoning between this group of girls that their adoration for each may be strictly surface level, with one calling out how she hate listens to her friend's podcast and the friend, in return, mentioning how hard it is to actually run a podcast (this one hit home for us!). I wasn't prepared to grapple with this style of fear.
Pacing
The short 95-minute run-time only lends itself to this movie getting progressively more nerve-wracking and frightful until the final moments. In a world of consistent 2+ hour films, a tight and well-paced movie that places you at the edge of your seat for the final 30 minutes is a breath of fresh air. And this movie is smart with its pacing. It has the alluring ability to lull you into laughs and intrigue and then spark you with aggressive monologues that reveal harsh feelings between friends. A juxtaposition that uses the satirical and dark nature, both literally and figuratively, of the film efficiently. The movie continues to dive deeper and deeper into analyzing a 24/7 social-media-dependent generation while raising the stakes of the slasher elements of the movie.
A24 Supremecy – Bodies, Bodies, Bodies Overall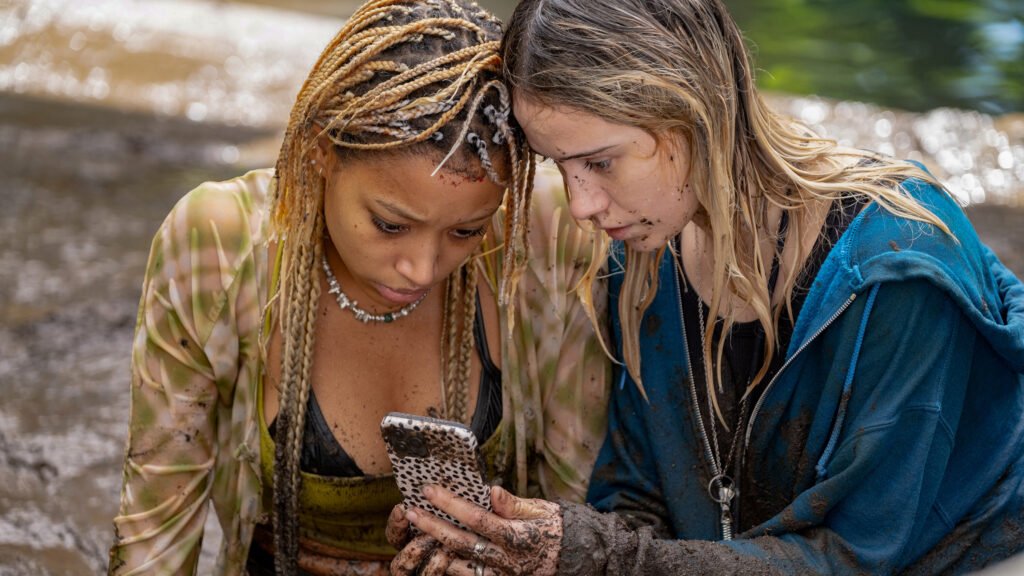 With the year A24 has had so far (After Yang, X, Everything Everywhere All At Once, Men, Marcel the Shell with Shoes On), it's easy to see why it's so damn difficult to stop a moving train. And with movies such as Pearl, The Whale, and When You Finish Saving The World (Jesse Eisenberg's directorial debut) among others still slated for the back half of the year, the production studio is firmly cementing their place at the big kid's table of movies. With an already strong community following, I expect Bodies Bodies Bodies to become an instant cult classic among A24 lovers and slasher fans alike.
A crafty, well-scored, comedy-slasher that offers more than what appears, I would absolutely recommend checking this one out! But next time you find yourself in someone's home for a hurricane party and they ask if you want to play Bodies Bodies Bodies, you should probably just watch this movie instead.