Glass Onion: A Knives Out Mystery arrived in theaters over the Thanksgiving holiday before a December 23rd Netflix release. It's little surprise this movie is such a hit, given the star-studded cast and success of the prerequisite film. Glass Onion feels less like a direct sequel and more like a standalone project set in the same world, yet it's still able to capture all the mysterious charm and cunning humor that captivated viewers in the initial installment.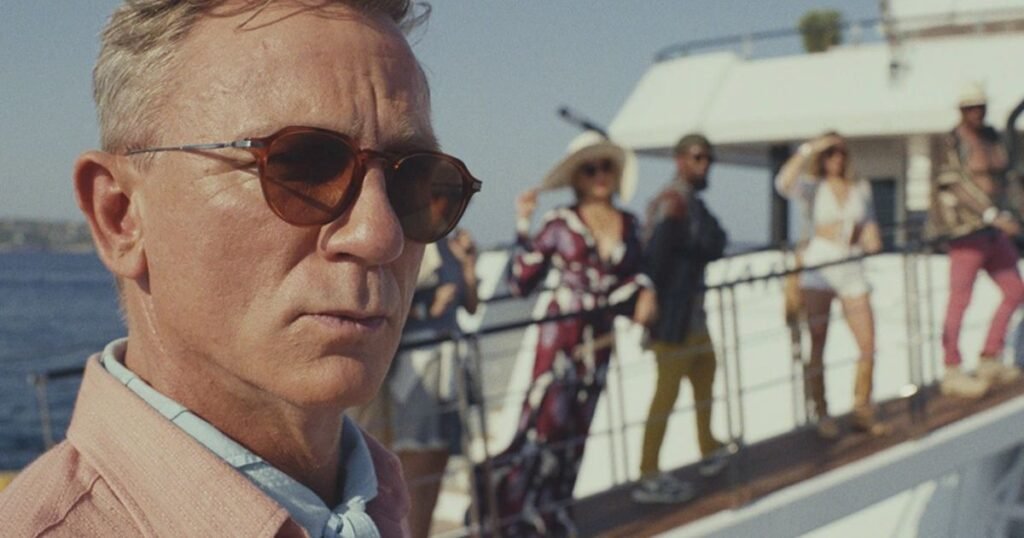 New Setting and New Cast for the Glass Onion
Glass Onion is a delightful return to the Knives Out franchise with a familiar feel, but fresh faces and a new setting allow it to stand apart from the original. Rian Johnson returns to write and direct, following up an all-timer with another meticulously crafted murder mystery. It's rare in Hollywood for sequels to return only one character. Knives Out featured a brilliant cast of unbelievable star power, including the likes of Jaimie Lee Curtis, Chris Evans, and LaKeith Stanfield. Daniel Craig is the only returning cast member, but the new ensemble fits together even more seamlessly, which is something I didn't think was possible.
Every member of this cast deserves an entire column dedicated to their performance, but for the sake of readability, I'll narrow it down to a few. I'd like to personally lobby for Janelle Monáe to win an Oscar for her performance in Glass Onion. Never in my life have I checked the cast DURING THE MOVIE to see if multiple actors were playing a character, until now. Her performance in this movie is absolutely breathtaking, and she deserves all the recognition coming her way. Kate Hudson and Edward Norton bring tremendous charisma and gut-busting humor, earning more audible notes of laughter from my theater than I can count on both hands.
Favorite Detective and Familiar Story Returns
The only thing that truly makes this movie a sequel is the return of our beloved detective, Benoit Blanc. It's incredibly uncommon that I enjoy such a ridiculous accent, but I could listen to Daniel Craig talk in, as Ransom Drysdale described it, a "Kentucky-fried Foghorn Leghorn drawl" for hours on end. Blanc opens up the movie in a bit of a downward spiral, and the only thing that can get him out of his funk is a new case to solve. He receives an invitation from Miles Bron to attend his murder mystery party and help solve the case. However, upon arrival, learns that Bron didn't invite him and is unsure who did.
It seems improbable that director Rian Johnson would be able to capture the same mysterious, mind-twisting magic that he struck in the first installment, but he does exactly that. Glass Onion provides a meticulously crafted story infused with jokes that land every single time. I was fortunate enough to watch this in a packed out theater, with a very engaged audience laughing and gasping, and this certainly enhanced my experience. There's a twist around every corner, and the cast bounces one-liners off each other in a way that makes you believe they've been friends for years. The "murder-mystery" aspect of the story feels familiar, but it's so unique in its setting and style in a manner that really sets it apart.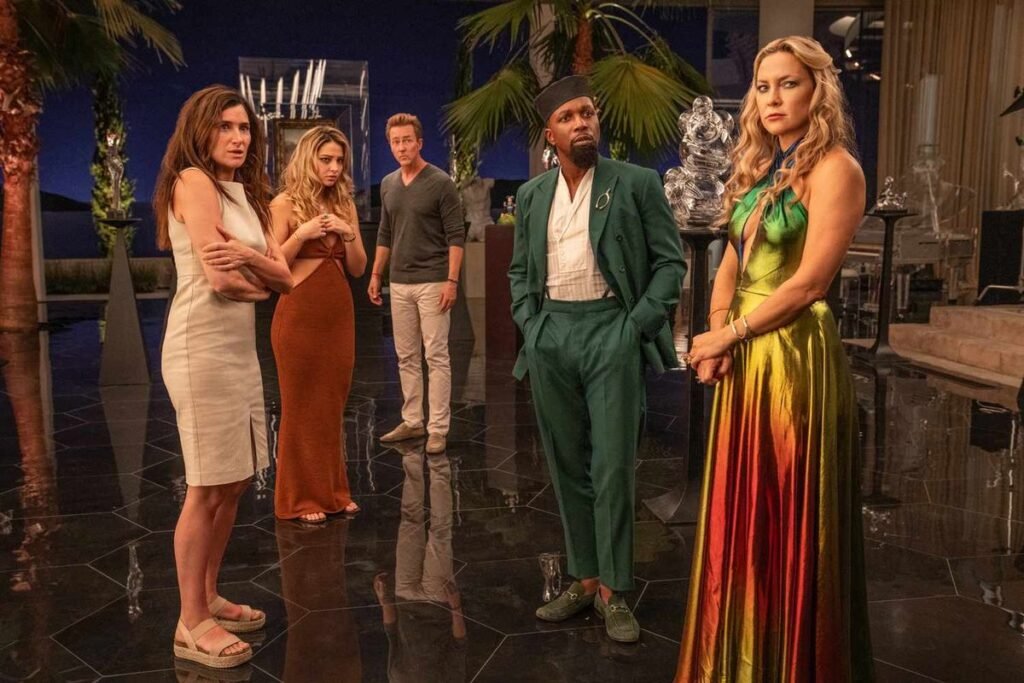 Honorable Mentions
I know I said I'd narrow the casting talk about just a couple of people, but it'd be criminal to let this entire review slide by and not mention Leslie Odom Jr. and Kathryn Hahn. Claire Debella (Kathryn Hahn) and Lionel Toussaint (Leslie Odom Jr.) stand out from the jump, and bring a sort of nervous humor that makes them so intriguing. Claire is a stay-at-home mom running for the governor of Connecticut, and Lionel is a genius scientist/engineer striving to make advances in the field of space travel. Miles has both characters in a financial chokehold, funding their respective campaigns and research, allowing him to be the true benefactor behind the curtain making the decisions. The inevitable disagreements that arise only serve to cause more tension, and I dare say the performances thrive inside the chaos.
Glass Onion: Conclusion
Whether you're looking for something fun to do with the family, or want to escape from the in-laws for a few hours, Glass Onion: A Knives Out Mystery is a must-watch over the Thanksgiving holiday. Knives Out was a delightful Thanksgiving experience, one of the last good movie memories I have before COVID-19 took movie theaters away from us for over a year. Glass Onion captures all the same magic with a delightful new setting that gives it such a crisp feel. It's unfortunate the film has such a short theatrical release in limited areas, as seeing it in a theater surrounded by people laughing and having a good time was a delightful addition to the holiday weekend.
Check out Glass Onion: A Knives Out Mystery in theaters now for a limited time, and streaming on Netflix on December 23. Did you enjoy the movie? Share your thoughts with me on Twitter!
'Glass Onion' Review
'Glass Onion' Review
The Good
Super funny
Daniel Craig is awesome
Great ensemble
The Bad
A bit predictable
Not as much rewatch value as the original