Isn't it incredibly fitting that the coolest game on earth also has one of the most epic forms of postseason competition? I'm referring to the Stanley Cup Playoffs, of course, which begin Monday evening for the sixteen qualifying National Hockey League franchises.
Over the next two months, Hockey fans around the world will watch with bated breath as their favorite teams compete for the right to hoist a 60-year-old, 34.5 pound chalice made of silver and nickel alloy. Their collective blood pressures are sure to rise in the process.
Why are all of these teams' fans equally nervous, you ask? Surely there must be an overwhelming favorite to win it all. Well, yes and no. Out of the four major sports leagues' respective postseason formats, the Stanley Cup Playoffs tend to have the most parity throughout. Imagine an eight seed getting out of the first round of the NBA Playoffs, much less winning a Championship? Well, in the Stanley Cup Playoffs, that's happened fairly recently.
That being said, however, there are definitely a handful of teams that are far more likely to make a deep playoff run this spring than the rest of the field. The Boston Bruins, who just broke the league's all-time regular season record with 65 wins, are absolutely one of them. The Colorado Avalanche, who enter these Stanley Cup Playoffs as defending champions, are another. A select few other teams that we'll touch upon shortly have a great shot to bring it home as well. First, for anyone in need of a refresher, let's dig into the NHL's postseason format.
Contents
Gary Bettman, your postseason seeding system is broke—fix it!
Although I just gushed about how balanced and epic the Stanley Cup Playoffs are, that doesn't mean they're perfect. In fact, the NHL has one of the most frustrating postseason formats in terms of how matchups are determined. For casual viewers, or fans who simply choose not to get bogged down by details and just tune in to see the action on the ice, here's how the NHL maps out teams' respective paths to the Cup Final:
The top 3 teams in each division (Atlantic & Metropolitan divisions in the Eastern Conference and the Central & Pacific divisions in the Western Conference) all qualify for the Stanley Cup Playoffs. Each division's second place team faces its third place team in a best-of-seven series, with the second place team gaining home ice advantage (Games 1 & 2 at their home arena, along with games 5 & 7, if necessary).
The first place teams from each division face a wild card team, which may or may not be from their own division. The two teams from each conference who finish with the most regular season points (each win is 2 points, while overtime/shootout losses count for a single point and regulation losses net zero points) while also being worse than third place in their respective divisions earn the two wild card spots.
Confused? Good, you should be! It's dumb and makes very little sense, especially considering the NHL once went by the much simpler 1-8 seed format that the NBA uses. To make things a little more clear, let's take a look at the visual of the Eastern Conference final postseason standings:
In this scenario, the first place team with the better regular season record (Bruins) will play the lower of the two wild card teams (Panthers). The other first place team (Hurricanes) will play the higher seeded wild card team (Islanders).
The aforementioned first place teams will also have home ice advantage in their respective best-of-seven series. The Atlantic division's second place team (Maple Leafs) will play the third place Lightning, while the Metropolitan division's second place team (Devils) will play the third place Rangers.
It would be much simpler to return to the 1-8 postseason seeding format, which re-seeds the advancing team after each round, in the event of an upset. It works in the NBA and would work if the NHL reverts to it as well. Speaking of the NBA, over the past few seasons, they actually improved upon an already effective framework by adding the Play-In Tournament to their postseason. Both the Eastern and Western Conferences are seeded 1 through 6, while teams 7 through 10 compete against one another for the final two spots.
Unsurprisingly, the NBA's Play-In Tournament has been a smashing success, with fans loving the prime-time playoff appetizer it provides. The NHL would be smart to explore adding its own version of the Play-In to the postseason, especially considering how often team owners grumble about wanting to "generate additional revenue." Sadly, however, Commissioner Gary Bettman recently confirmed that the league has no plans to alter the Stanley Cup Playoffs.
Enough whining! Tell us more about this year's Stanley Cup Playoffs
Ask and you shall receive! Keep scrolling for a breakdown of each team who qualified for the 2023 Stanley Cup Playoffs. Who could be their unlikely postseason hero? What are the keys to making a run deep into May or June? What's each squad's Achilles heel that could send them to the golf course earlier than anticipated? Let's start off by taking a look at the Eastern Conference matchups before we head out west.
---
Is a Cup run 'Bruin', or does the President's Trophy curse live on?
The first matchup to highlight is between the President's Trophy (best regular season record) winner, the Boston Bruins, and the Florida Panthers. Look, full disclosure here for anyone who doesn't know me or has the misfortune of following me on socials: I am a diehard, obnoxious Bruins fan. So if I am overly effusive in my praise of this year's team, just know that it's completely intentional and I don't apologize for it whatsoever.
On paper, this series is an overwhelming mismatch. The Bruins just completed the most dominant regular season in NHL history and ride into the Stanley Cup Playoffs on an eight-game winning streak. The Panthers, meanwhile, are a far cry from last year's version, which shocked everyone after compiling a league best 58-18-6 record. While they did put themselves into a position to secure a playoff spot by winning six straight games down the stretch, they lost their final two regular season games and got in somewhat by default.
The Bruins enter the Stanley Cup Playoffs with a Power Play that recently found its bearings, as well as the league's best penalty kill and number two face-off win percentage. They've scored the second most goals this season with 305, while also allowing the fewest by a wide margin (177, compared to the next closest team at 213). So, the recipe for Florida to pull off what would be a massive upset is fairly simple: hope all of that suddenly changes.
I don't want to make it sound like the Panthers are without their own firepower; winger Matthew Tkachuk and center Carter Verhaeghe each scored 40+ goals this season, and center Sam Reinhart added 31 of his own. Florida can score with the best of 'em, as their 290 goals were 5th in the NHL this year. The problem? They've allowed more goals than any other playoff team (273), and are now relying on journeyman goaltender Alex Lyon and his 39 total games of NHL experience to take them to the promised land. Unlikely.
Boston, as mentioned earlier, is no one-trick pony; they'll have Vezina Trophy favorite Linus Ullmark (40-6-1, 1.89 GAA, .938 SV%) between the pipes for them in this series. They also boast Norris Trophy candidate Hampus Lindholm and a stud in Charlie McAvoy, who headlines a defense corps that make it difficult to get secondary chances on Ullmark once he's made an initial save. Then there's David Pastrnak and his 61 goals waiting to put his team ahead on the other end. Boston rolls all four of its lines with confidence, and justifiably so. Florida does not have the depth to keep up with Boston over seven games.
Prediction: Bruins win series, 4-1
---
'Cane you dig it? Carolina is primed for another lengthy postseason
Our next series pits the Metropolitan Division champion Carolina Hurricanes against a wild card entrant, the New York Islanders. I'll say this right now: if you're looking for a wide open, high-scoring track meet of a series here, you've come to the wrong place. Carolina (266 goals) and New York (243 goals) were the two lowest-scoring teams of all Eastern Conference qualifiers for the Stanley Cup Playoffs. The games in this series should prove to be fairly low-scoring, with neither team having too much margin for error.
I don't want to make it seem like I'm underselling the Hurricanes by any means. After all, they compiled the NHL's second best record this season, behind Boston. They're well coached by franchise legend and former player Rod Brind'Amour and their core has a great deal of experience in the Stanley Cup Playoffs. However, a huge factor in how far they can advance is whether they can overcome the absence of star winger Andrei Svechnikov, who suffered a season-ending knee injury on March 11. Since that time, Carolina has lost 10 of its last 19 games; their record was 43-12-8 prior to the loss of Svechnikov.
Conversely, while the Hurricanes enter the playoffs looking for someone to provide them with a boost, the Islanders appear to be getting one. Center Mathew Barzal, who has missed the last two months due to injury, returned to practice this past Friday and appears ready to be activated for this first round matchup. Barzal is the Isles' second leading scorer despite missing nearly one third of the regular season, not to mention one of their best playmakers. If he's at or around 100 percent, things could get fairly interesting.
The Islanders have the edge in net on paper, as Ilya Sorokin is a legitimate Vezina Trophy candidate this season. Frederik Andersen, who is back in the postseason for the first time in 3 years, had a fairly average season and seems to be a far cry from the net minder who took the Ducks deep into the Stanley Cup Playoffs back in 2015. Carolina will lean on Andersen to make big saves in what will surely be a "grind-it-out" style series. I believe that this matchup will wind up being a lot closer than many people think.
Prediction: Hurricanes win series, 4-2
---
Winning this Tri-State tilt should prove to be a Devil of a time
This isn't quite the same as a subway series, but a first round matchup between the New Jersey Devils and New York Rangers is a fantastic way to kick off the first round of this year's Stanley Cup Playoffs. The Devils nearly snagged the Metropolitan Division title away from Carolina, which would have pitted the Canes here against the Rangers and had Jersey taking on the Isles. The way things shook out will be a lot more exciting for neutral fans, as I fully expect this series to go the distance. And whether they admit it or not, these two teams have been preparing themselves for this exact matchup all year long.
Let's start with the Devils, who are one of this NHL season's biggest surprises. They completed the regular season with a record of 52-22-8 after finishing with an abysmal 27-46-9 mark a year ago. It was expected that they'd show improvement this season as their young foundational pieces in Jack Hughes, Nico Hischier, and Jesper Bratt continued to develop; the summer acquisitions of goaltender Vitek Vanecek and defenseman Dougie Hamilton also figured to help. But no one expected a turnaround quite like this.
The Rangers, meanwhile, didn't sneak up on anyone. They reached the Eastern Conference Final last season, signed crafty center Vincent Trocheck over the summer, and have reigning Vezina Trophy winner Igor Shesterkin between the pipes. This team is battle-tested and full of star power; in addition to cornerstones Artemi Panarin, Mika Zibanejad, and Adam Fox, the team swung for the fences mid-season with the acquisitions of Stanley Cup Champions Vladimir Tarasenko and Patrick Kane. Don't take the Broadway Blueshirts lightly.
Why did the Rangers load up? Because they expected what eventually came to pass: the Devils trading for star winger Timo Meier, who adds another dynamic to an already explosive New Jersey attack. These teams knew that they'd have to face each other at some point—it just winds up being right away instead of the later rounds. Shesterkin, who had a somewhat disappointing season compared to a year ago, will have his hands full in this series. However, in the end, I expect New York's extensive experience in the Stanley Cup Playoffs to help them push past a young Devils squad that might still be a year away.
Prediction: Rangers win series, 4-3"
---
"I think you should Leaf"—does Toronto finally break its curse?
Out of all first round matchups, this one might be the spiciest. The Toronto Maple Leafs, who have gone 19 years without making the second round of the Stanley Cup Playoffs, face off against the Tampa Bay Lightning, who have made three consecutive Cup Finals.
This is a rematch of last year's first round, where these teams played seven grueling games against each other. The dichotomy that exists here is not lost on anyone: the Leafs famously can't get out of their own way once the playoffs roll around, and the Bolts have seemingly had a horseshoe planted firmly up their metaphorical buttocks for three years.
Now, anyone who's gotten to know me as a hockey fan even a tiny bit knows that there are few things I despise more than saying nice things about the Toronto Maple Leafs. I'd much rather talk about that epic 2013 Game 7 collapse, or share fun facts like how anyone who was born around the last time the Leafs made it past the first round of the Stanley Cup Playoffs can now legally drink in Canada. You know, things of that nature. So it pains me to utter what I'm about to say: Leafs fans, this is the year. You're making the second round!
What Tampa has done over the last three years is remarkably impressive, and they deserve kudos for it, despite some of the sketchy salary cap circumvention stuff. This year's squad, though? I just don't see it creating more magic. They still have firepower, no one will deny that; Nikita Kucherov and Brayden Point are stars who can carry a team, and Steven Stamkos and Brandon Hagel each scored 30+ goals this season. Beyond that, their forward depth is sketchy. One of their attempts to solve that problem, Tanner Jeannot, will not be available as the Bolts begin the Stanley Cup Playoffs, further complicating things.
The Leafs certainly have flaws of their own, however. They shuffled a lot of pieces on their blue line at the trade deadline, and I'm genuinely not sure if it was for the better. Toronto's defense is its weakness, as well as a stark contrast to the depth that the team has in its group of forwards. Additionally, while the team has become comfortable with Ilya Samsonov in net, I'm inclined to lean towards Tampa in the goaltending portion of this matchup. Andrei Vasilevskiy hasn't been as dominant as he's been in years past, but he's an all-world goalie.
Everything laid out above is why this particular postseason pairing confounds me so much. Both teams have weaknesses that could spell disaster for either of them in this series; additionally, though, the Leafs and Bolts share some intriguing similarities. They both have fantastic Power Plays (second and third in the NHL, respectively) and very underwhelming Penalty Kills (12th and 15th, respectively). Maybe Tampa can flip that switch again out of nowhere, but I just don't see it. My gut is telling me that the Leafs finally do it.
Prediction: Leafs win series, 4-2
---
Before we head over to the Western Conference to analyze that tightly packed field, let's take a look at the below visual and see their final Stanley Cup Playoffs standings:
---
Does the road to the Cup Final go through Sin City?
Finally, we move out west! Our first matchup is a cross-divisional fixture between the Western Conference top seeded Vegas Golden Knights and the second wild card entrant Winnipeg Jets. You know the parity in the Stanley Cup Playoffs that I talked about earlier? This is where it really comes into play, because I don't think this is your typical 1v8 matchup. Just like the Rangers and Devils, I see this series going the full seven games.
I'll happily eat crow here if I'm wrong, but I don't see the Golden Knights going on a deep postseason run. I don't love their goaltending setup as the playoffs begin; this isn't like a couple of years back, when they had that stellar duo of Marc-André Fleury and Robin Lehner. Vegas began the season with rookie Logan Thompson in net, and the young net minder was very productive for them, making the All-Star Team. However, he's played in just one game since February 9 due to a nagging lower body injury, forcing the team to turn to journeyman Laurent Brossoit and veteran trade deadline acquisition Jonathan Quick.
Brossoit has actually been quite stellar since joining the team in late February, going 7-0-3 with a 2.17 GAA and .927 save percentage. However, this sample size is small and, when taking his career track record into account, appears to be an outlier. Although Stanley Cup Playoff experience can sometimes be overrated, Brossoit has only one game of it to his name. Vegas could always turn to Quick, a two-time Stanley Cup winner, if things go south. At this point in his career, though, he doesn't appear to have the "it" factor anymore.
Winnipeg, on the other hand, has a horse in net with former Vezina Trophy winner Connor Hellebuyck. Prior to sitting out Thursday night's regular season finale against Colorado, Hellebuyck played 13 consecutive games to help clinch a playoff spot. He played some of his best hockey during that stretch, and if he can stay hot, he will steal multiple games in this series. To enjoy an extended postseason, the Jets will need someone besides the usual suspects (Kyle Connor, Mark Scheifele, Josh Morrissey, and Pierre-Luc Dubois) to step up and provide scoring punch. Look for Nikolaj Ehlers to be that guy.
Prediction: Jets win series, 4-3
---
"What's Kraken?" Can Stanley Cup Playoffs newcomer Seattle dethrone the defending champs?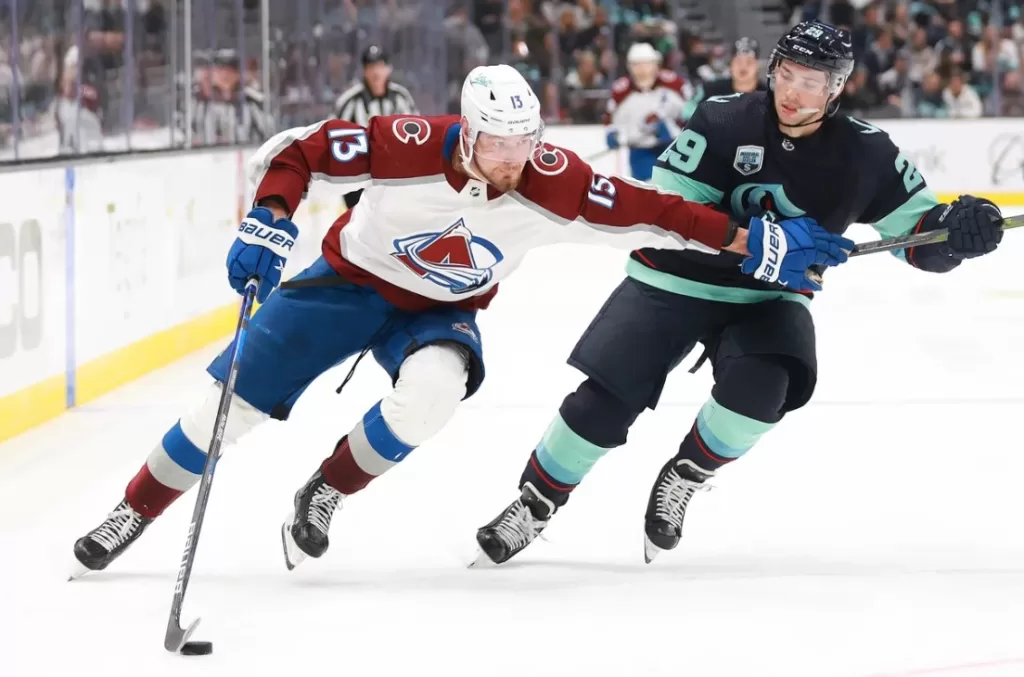 It's been far from a glamorous season from the Colorado Avalanche, who take on the upstart Seattle Kraken to kick off their title defense. They've dealt with constant nagging injuries throughout their roster all year long, and on Friday evening, they learned they won't be getting the boost to their lineup they'd been hoping for. Captain Gabriel Landeskog, who missed the entire season following knee surgery, will not be ready to return for the Stanley Cup Playoffs. Still, Colorado managed to win its division and secure a top seed.
This series marks the first postseason matchup between the Avalanche and the Seattle Kraken, primarily because this is only the second year of the Kraken's existence. It's a bit of a tall task for the upstart Kraken to try to take down the defending champs in their first trip to the Stanley Cup Playoffs, but stranger things have happened! Adding a layer of irony is the fact that Seattle will likely turn to former Avs goaltender Philipp Grubauer to win this series. Grubauer has struggled this season, but posted a 1.40 GAA in his last five starts.
Seattle has a balanced attack offensively, with six different players tallying 20 or more goals during the regular season. Winger Jared McCann (40 goals) and youngster Matty Beniers (57 points) are who the Avs will look to neutralize in order to slow the Kraken down. The biggest question is whether Seattle's depth-based approach can keep up with Colorado's star power. Center Nathan MacKinnon (111 points in 71 games) and winger Mikko Rantanen (55 goals) are likely to put up gaudy numbers against Seattle's suspect goaltending.
Seattle reaching the Stanley Cup Playoffs in just their second year of existence is a fantastic accomplishment, and I won't dismiss their appearance or label them as "happy to be here." This just isn't a good matchup for the Kraken, unfortunately. Colorado has multiple blue liners who can produce for them offensively in Cale Makar, Devon Toews, and Samuel Girard. They also have a lethal Power Play. If Seattle want to hang, they're going to have to try to stop the Avs in transition, which is easier said than done. I don't see it happening.
Prediction: Avalanche win series, 4-1
---
Hockey's scoring King vs. a literal team of Kings: a true battle for the Crown!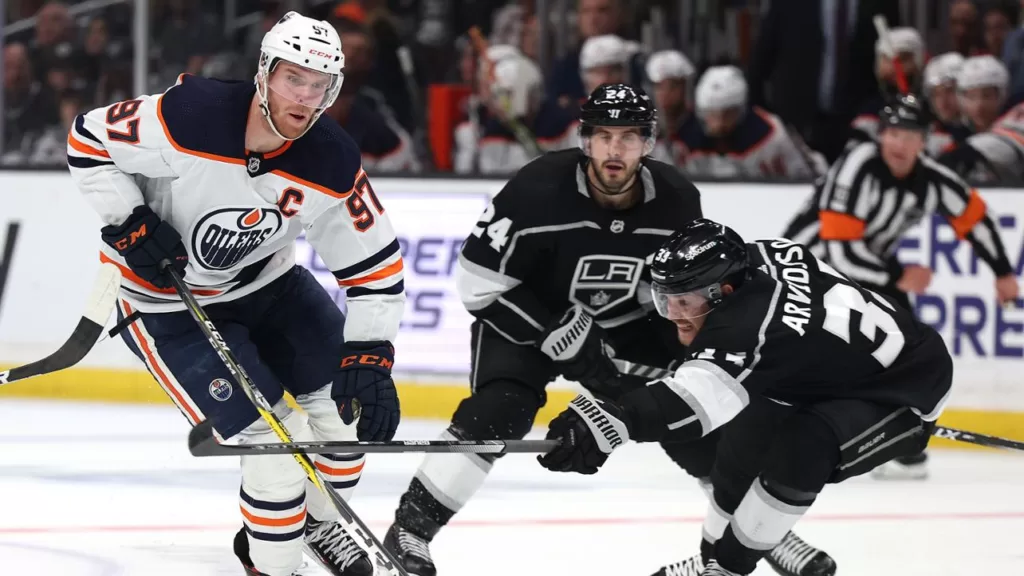 In a rematch from the 2022 Stanley Cup Playoffs, Connor McDavid and his Edmonton Oilers take on the scrappy Los Angeles Kings in our next matchup. This series should be a treat for east coast hockey fans who don't get a chance to watch these teams often. Or, simply put, it'll be nice for the best player on the planet to actually be televised.
Not to rant here, but imagine if the NFL never put Patrick Mahomes in prime time games? Or if the NBA only showcased LeBron in the occasional random TNT broadcast? The NHL needs to do a better job marketing this transcendent talent. We shouldn't only see him come playoff time.
The prevailing theory here is that the Oilers will mop the ice with the Kings and make quick work of them. After all, Edmonton enters the Stanley Cup Playoffs on a nine-game winning streak, has three different 100 point scorers on its roster, and also boasts four players who scored 36 or more goals this season. And yeah, the fact that Connor McDavid and Leon Draisaitl can each take over a game by themselves is a reality that the Kings will have to deal with. That being said, though, I don't foresee this being as much of a cakewalk as others.
In order to make a deep Cup run, you need to be able to stop the puck from going into the net, too. That's something Edmonton hasn't done a great job of in recent Stanley Cup Playoffs appearances—or this season in general. Edmonton allowed the second most goals of all playoff qualifiers this year; youngster Stuart Skinner wound up taking over as the team's starter this year and has performed admirably, but can they count on him to continue that play? If not, will Jack Campbell and his limited playoff experience be much better?
The big question for the Kings reamins in net, as both Pheonix Copley and trade deadline acquisition Joonas Korpisalo have gotten time down the stretch heading into the Stanley Cup Playoffs.
I don't think that LA can win this series, let's not get that twisted. The Oilers have too much firepower for the Kings to handle, considering they have plenty of issues defensively themselves. But if Korpisalo, who had a fantastic postseason run for Columbus back in 2020, winds up starting for LA, I think they can push this to a competitive 6 games.
Prediction: Oilers win series, 4-2
---
Well…this is awkward! Past and current Minny franchises do battle
And finally, we reach our final first round matchup of the Stanley Cup Playoffs, as the Dallas Stars prepare to square off with the Minnesota Wild. For anyone who's not a hockey history buff, the reason for the "awkwardness" here is that the Dallas Stars used to be the Minnesota North Stars. The franchise moved to Dallas in 1993, and the hockey-crazed Minnesota market went seven years without a pro team—until the Wild entered the NHL as an expansion team in 2000. This is the second time these teams have met in the postseason, with Dallas emerging victorious from their 2016 first round series in six games.
The Wild are led by young stars Kirill Kaprizov (25) and Matt Boldy (22), who each scored 30+ goals this season; as well as 24-year-old goaltender Filip Gustavsson, who posted a 2.10 GAA and .931 save percentage. Gustavsson supplanted veteran Marc-André Fleury in net over the course of the regular season, which was an unexpected surprise for Minnesota. Gustavsson doesn't have any Stanley Cup Playoffs experience, as opposed to the 167 career playoff games in which Fleury has partaken. Will that matter? We're going to find out.
Dallas is led by a young stud of its own, as 23-year-old winger Jason Robertson put up 109 points this year. Playoff veterans Jamie Benn, Joe Pavelski, and Tyler Seguin will be just as vital to Dallas making another run to the Cup Final, which they did back in 2020. The biggest X-factor for the Stars, though? Goaltender Jake Oettinger, who was one of the standouts of the 2022 Stanley Cup Playoffs, despite only playing seven games. In Dallas' first round series against the Calgary Flames last year, he posted a 1.82 GAA and .954 save percentage.
If you haven't picked up on it by now, I'm a goaltending enthusiast and appreciator. I love watching fantastic goalie play, and this series has the best matchup, with Oettinger taking on Gustavsson. This series could go either way, and is one of the toughest matchups in these Stanley Cup Playoffs for which to pick a winner.
Ultimately, though, I think that Dallas will make the most of its home ice advantage and squeak out a first round victory. Whoever wins this will likely give Colorado all it can handle, too. Goaltending matters!
Prediction: Stars win series, 4-3
---
Okay, it's prediction time: who's the 2023 Stanley Cup winner?
I plan on doing both a second round and Conference Finals preview, so we won't touch on the next two rounds in depth. Instead, we skip ahead to the end! I promise that I'm doing my best to be impartial here as a rabid, diehard Bruins fan and give you all an objective take on who will be left standing at the end of the postseason. If I were writing this Stanley Cup Playoff Preview a year ago, there would have been no Black & Gold biased spin on it. In fact, I probably would have told you that Boston would lose in the first round (which they did).
With all that being said, however, over the course of this NHL season, there isn't a single team that has shown me it's capable of beating this Boston Bruins squad four times. Once or twice? Sure! These are all excellent hockey teams—in no way is this being said with a dismissive tone. But Boston has been the NHL's best team wire-to-wire this season; their depth can't be matched, their defense and goaltending is superb, and they have the league's best goalscorer not named Connor McDavid in David Pastrnak.
I know what some of you might be thinking: "You've talked all throughout this piece about how much parity there is in the Stanley Cup Playoffs! How a hot goalie can take a team on a run, and how postseason experience can be overrated!" Yeah, I did say that. Let me ask you this, though: what team is more likely to have its goalie get hot than the team that allowed the fewest goals all season long? Also, what team is best equipped to overcome facing a hot goalie? How about the team that scored the second most goals this season?
I would have said the same thing about last year's champion, by the way. The Avalanche were my pick from the start in those Stanley Cup Playoffs because they were just flat out better than the rest of the field. That's not me gloating; just about anyone could have seen that Colorado was the cream of the crop. Sometimes, the underdog just doesn't have his day and the runaway favorite takes the cake. I expect that to be the case this year.
---
Official Stanley Cup Final prediction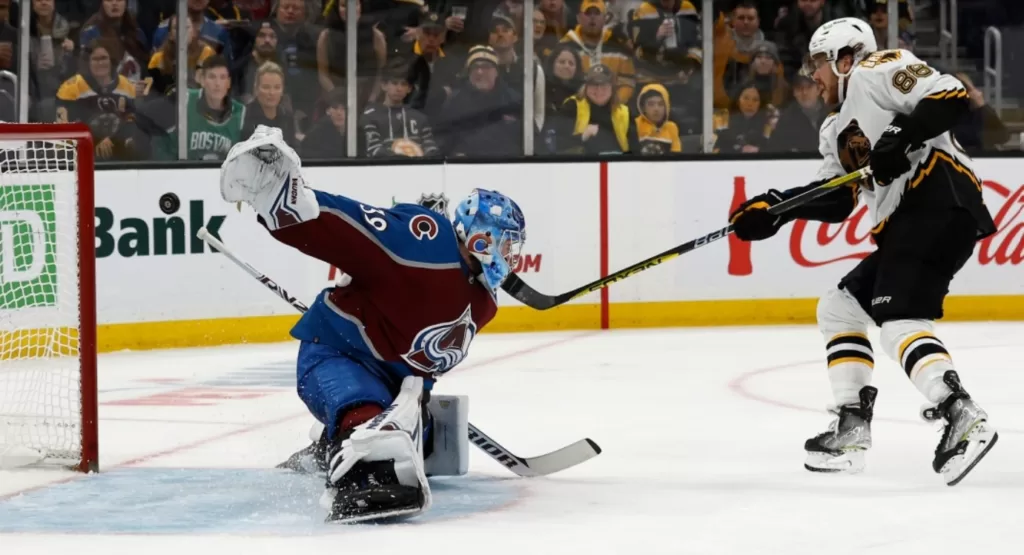 Bruins over Avs in six games.
There you have it, folks! There will be no title defense for Colorado, but I do have them getting all the way back to the Cup Final before ultimately falling to Boston. I'll be holding myself accountable for these first round series picks (B's, Canes, Leafs, Rangers, Jets, Av's, Oilers, Stars) as well, as I'm sure to get a good deal wrong. Check back here after the first round concludes, as I'll be previewing each stage of these Stanley Cup Playoffs!
If you clicked here because of your love of hockey, but you also love movies, streaming shows, and other forms of entertainment media, be sure to check out what else we have to offer at Agents of Fandom and stay tuned to our socials for the latest news, reviews, and interviews!