A Kate Bishop MCU return may be on the horizon, if a recent tease from the actress who brought her to life is any indication. Hailee Steinfeld made a surprise appearance at CinemaCon on Tuesday to promote Sony's highly anticipated Spider-Man: Across the Spider-Verse.
While speaking with Entertainment Tonight's Ash Crossan, Steinfeld teased Kate Bishop's future in the expansive cinematic universe while standing alongside her Across the Spider-Verse co-stars Shameik Moore and Issa Rae.
When Crossan asked Steinfeld if she knew when audiences will see the purple-suited archer again, Steinfeld paused before dropping a coy "maybe."
Steinfeld's Kate Bishop was last seen in the 2021 Marvel Disney+ series Hawkeye, which sees Bishop team up with her idol, Clint Barton (Jeremy Renner), to take on the Tracksuit Mafia and Kingpin (Vincent D'Onofrio).
Kate Bishop MCU Return/Gwen Stacy team-up?
Kate Bishop's MCU return wasn't the only topic Steinfeld discussed with Crossan.
"Anything's possible," Steinfeld said when asked if Stacy and Bishop could potentially meet in a future MCU project. "I think they have quite a lot of similarities."
"They're both incredibly witty and badass, independent young women who have a very strong point of view and are very good at what they do and can take on just about anything," she continued. "So I'd say they'd get along pretty well."
Hailee Steinfeld on Jeremy Renner's recovery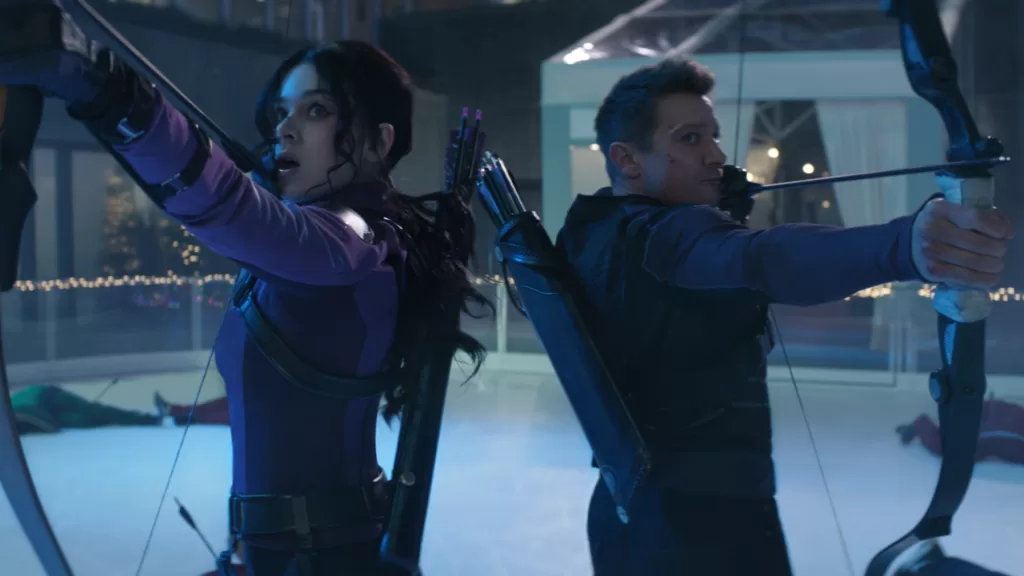 After speaking about Kate Bishop's MCU return, Steinfeld also spoke candidly about her Hawkeye co-star Jeremy Renner's remarkable recovery following life-threatening injuries he sustained in a snowplow accident on New Year's Day, including blunt chest trauma and upwards of thirty broken bones.
The actress confirmed that she has spoken with Renner since the accident and expressed her gratitude for his recovery.
"I'm going to get emotional talking about it," Steinfeld said. "I'm so grateful that he's okay, and he has made a truly miraculous recovery." She then drew parallels between her own excitement about working with Renner to Kate Bishop's reaction to teaming up with her idol, Clint Barton. "I go back to thinking about how excited I was just to meet him…as Kate Bishop is to Clint, I'm that way with Jeremy."
"I just couldn't be more grateful that he's okay, and he's more than okay," Steinfeld continued. "He's such a fighter. I don't know if you guys know this man, but he is the most inspiring, and not that I already didn't already feel that way about him. I feel that way times a million. He's amazing."
Kate Bishop in the Young Avengers?
Kate Bishop is one of several young heroes introduced in Phase Four of the MCU who is part of the Young Avengers in Marvel Comics. Fans have speculated that the MCU is planting seeds for a team-up in the future, and that Kate Bishop's MCU return may come in a Young Avengers show or movie.
Other members of the Young Avengers include Billy and Tommy Maximoff (seen in WandaVision and Doctor Strange in the Multiverse of Madness), Elijah Bradley (last seen in The Falcon and The Winter Soldier), and Cassie Lang, who plays a prominent role in Ant-Man and the Wasp: Quantumania.
Spider-Man: Across the Spider-Verse hits theaters on June 2, 2023.
Are you excited to see Kate Bishop's MCU return? Where would you like to see her next? Hit us up in the comments or on our socials and let us know!