Money wins.
The wait is over, the final season of Succession is off to the races. The Roy's are one of the most complex families in television history. Their entire lives have been full of nothing but deceit, toxicity, and unimaginable wealth. What happens when four kids are so hungry for power that they can't stay out of their own way, and their father won't stop them from tearing each other apart?
*Warning: Spoilers ahead for the Succession season 4 premiere*
Where do we pick up in the Succession season 4 premiere
When we last see the Roy's at the end of season three, most of them are in a bit of a tough spot. Logan (Brian Cox) cuts his kids off once he learns of their plan to stab him in the back from television icon Tom Wambsgans (Matthew Macfadyen). The children are forced out of the business they've been working their entire lives to inherit.
Some time has passed since the end of season three, but it's unclear how much. The children have had time to formulate and lay the groundwork for their own up-and-coming business—but as always with the Roy's, emotion gets in the way of logic.
A new power dynamic in the Succession season 4 premiere
Naturally, following their removal from the family company, the children decide to start their own business: The Hundred. This idea is laughably short-lived. As quickly as their investment rises, it wanes when the group learns that Shiv's (Sarah Snook) soon-to-be ex-husband Tom is dating Kendall's (Jeremy Strong)'s ex Naomi Pierce (Annabelle Dexter-Jones).
The children quickly abandon their own plan, and form a plot to acquire the Pierce family corporation instead. This is classic Roy behavior. They can pitch all they want that a more established operation is a better investment, but all they're really doing is throwing their money around to cover up their emotions.
Roman (Kieran Culkin) tries to push back on this idea, but he's outnumbered 2-1. All we've seen for three seasons are these kids trying with every fiber of their being to tear each other down. Even when all three of them are working under the family umbrella, they can't stay out of each other's way. It's been a mad scramble for power from the jump.
If you're wondering why I'm only talking about three children when I previously mentioned four, it's because the eldest son, Connor (Alan Ruck), is an absolute basket case. He's running for President of the United States, and he's fighting a losing battle. His inner debate (pun intended) in this episode revolves around whether to spend $100 million dollars to stay at 1% in the polling. Yes, you read that right, 1%.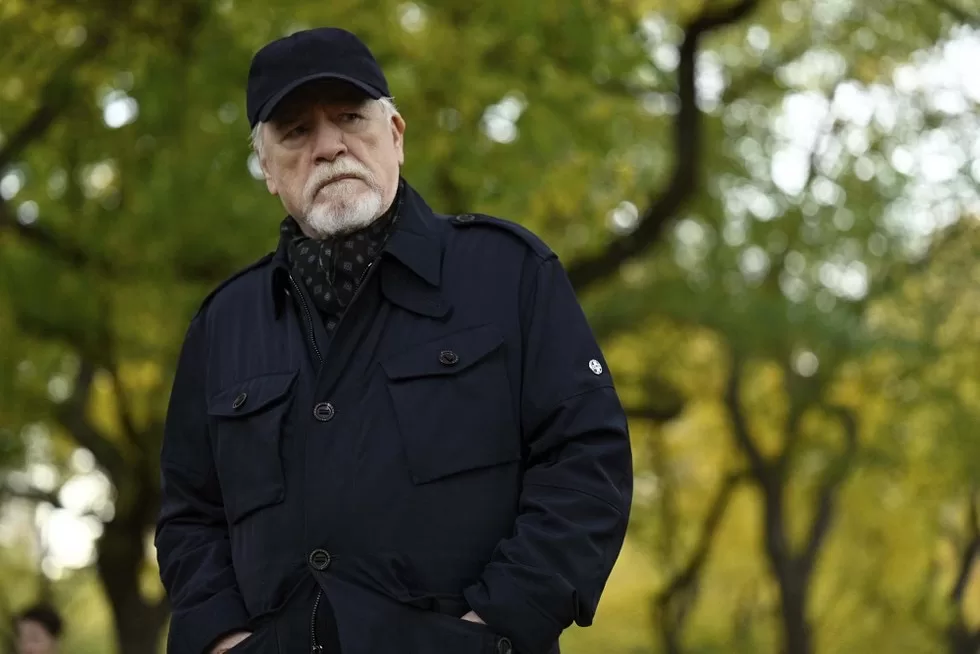 Unrivaled performances in the Succession season 4 premiere
The Succession season 4 premiere continues the series' trend of stellar performances. Everyone is fighting themselves on the inside and shows it in different ways. Logan's birthday party is a huge set piece within the episode, and he looks miserable throughout the event. He won't ever admit it, but he misses his children.
Brian Cox's ability to portray not only anger, but longing for his children and the relationships he's unable to reconcile, is unparalleled. There's a reason he's got two Emmy nominations for his performance as Logan Roy. While he's yet to take home the gold for his performance in Succession, this season could very well be the end of the "nomination without a win" trend.
Every cast member gives an A+ performance, but as per usual the other standouts are Tom Wambsgans (Matthew Macfadyen) and cousin Greg Hirsch (Nicholas Braun). Their bond continues to grow in peculiar ways. They've gone through multiple stages of the mentor/mentee, bully/victim, and good friends over the course of their relationship. Both of them convey their unease and dissatisfaction, but also affection, with each other like it is second nature to them. There are very few duos that have this level of on-screen chemistry.
Next in line for Succession
The question on everyone's mind: who's going to be running the show when this final season comes to a close. Fan theories are flying all over the place, and right now it's almost impossible to tell with any certainty.
It seems that the one most likely to take over is whoever is least expected, but what happens when the least expected becomes the favorite? By this point, most Succession talking heads are confident that this season will end with cousin Greg on top. He has the least experience and the least amount of power, but he's also the most likable. So far in this show, likability hasn't carried anyone very far, but it seems fitting that Greg could end up on the throne.
The three kids are all likely candidates to end up taking over. I say three and not four because Connor is a complete nincompoop who's never done anything in his life except coast off his father's accomplishments. Tom would be a solid choice, but at this point he almost seems too obvious. He's estranged from his wife, now right by Logan's side, it's too good to be true.
The Succession season 4 premiere is perfect television
Succession is unquestionably one of the best TV shows of all time. The season four premiere is a flawless episode of television that gives us a lot to be excited about as we move forward. There is no doubt this show will wrap things up satisfyingly, but we're sure to have a tension fueled, anxiety inducing race to the finish line.
The Succession season 4 premiere is now streaming on HBO Max. Follow the Agents of Fandom socials for all the latest Succession coverage.
'Succession' Season 4 Premiere
'Succession' Season 4 Premiere
The Good
Seeing the children work together is so compelling
It's episode 1 and we already have a big corporate battle lined up
Every performance brings a massive amount to the table