*The following review for The Out-Laws is spoiler-free*
The Out-Laws on Netflix is now streaming in the United States as well as internationally. The film follows Owen Browning (Adam Devine) as he's set to marry the love of his life Parker (Nina Dobrev). Unfortunately, when Parker's parents, played by Pierce Brosnan and Ellen Barkin come to town, wedding plans go downhill and the chaos ensues.
Adam Devine teamed up with Adam Sandler and Happy Madison Productions for the film and although some of the acting is really great, The Out-Laws struggles to figure out what kind of movie it wants to be. Devine, Brosnan and Barkin all shine while delivering some questionable dialogue, however it's not enough to save the film. While there are many entertaining aspects, The Out-Laws won't be winning any comedy awards anytime soon.
The Out-Laws review: Adam Devine and Pierce Brosnan shine
Despite the odd script, Adam Devine and Pierce Brosnan truly have some incredible chemistry. It's rare to find a project where these two don't shine, despite the quality of the movie or series. Their bickering and banter throughout is a highlight of some very messy dialogue.
This is the case for Brosnan and Ellen Barkin as well. The two make a great couple that, for the most part, made for believable "Out-Laws". While the cast in its entirety is pretty great, even Guardians of the Galaxy's Michael Rooker and Devine's Workaholics compatriot Blake Anderson can't save the mess that is The Out-Laws.
Unfortunately, Nina Dobrev isn't given much to do in the film. Even when she's present, the character lacks depth and seems to just be there for the purpose of being Adam Devine's partner or Brosnan and Barkin's daughter.
The film also struggles with its inability to pick a narrative style. Although the raunchy comedy is in full rebirth mode right now, The Out-Laws struggles to balance whether it wants to fit that mold. The film feels incredibly unsexy, which is totally fine in a vacuum. However, there's also a large amount of "dirty talk" throughout that comes out of nowhere and finds itself to be quite off-putting given the situations in which they're delivered.
The Out-Laws struggles to find an identity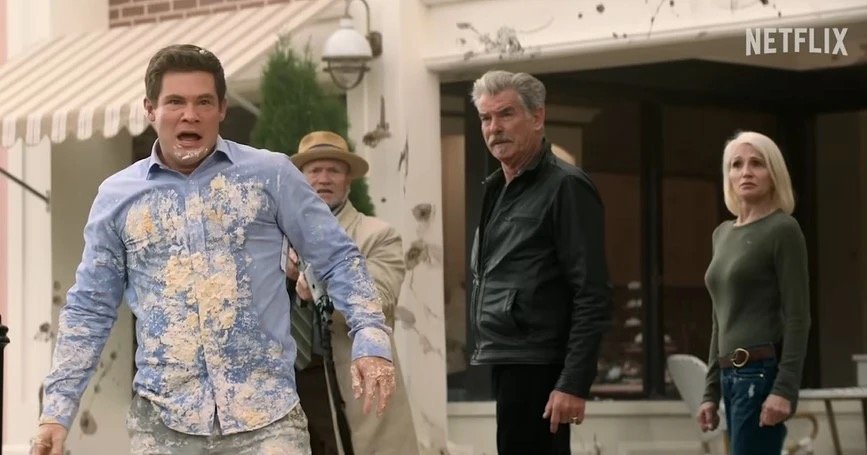 The Out-Laws can't quite figure out if it wants to be an action film or a blend of romantic and raunchy comedies. While some jokes from Devine and Brosnan definitely land, the attempt to jam a large amount of humor and obscure action doesn't quite mask the poor dialogue and story. Thankfully, this isn't one you have to spend money to go see in theaters and is worth a watch when you feel like turning off your brain.
For more coverage of Netflix projects and all of your favorite TV and movies, make sure to follow the Agents of Fandom socials!
'The Out-Laws' Review
'The Out-Laws' Review
The Good
Wonderful cast creates some funny moments
The Bad
Cringey dialogue
Unable to determine if it wants to be cute or raunchy
Felt like a film that tried to capitalize on trends as opposed to being original