This piece was written during the 2023 SAG-AFTRA strike. Without the labor of the actors currently on strike, the series being covered here wouldn't exist.
After a well-placed, slow-paced character exploration the previous week, Ahsoka Episode 7 ramps up the drama and action. Although the runtime feels short leaving multiple questions unanswered, there isn't a moment throughout the episode where viewers won't be on the edge of their seats.
Ahsoka Tano (Rosario Dawson) has limited screen time for a second straight week, however, the story doesn't suffer. Grand Admiral Thrawn (Lars Mikkelson) and Ezra Bridger (Eman Esfandi) take center stage for a nostalgia-filled adventure Rebels fans will love. Ahsoka Episode 7 also provides additional context to Thrawn and Ezra for viewers who aren't familiar with the animated series.
*Warning: Spoilers ahead for Ahsoka Episode 7*
Leia Organa's Presence Is Felt Throughout Alongside Hera and C-3PO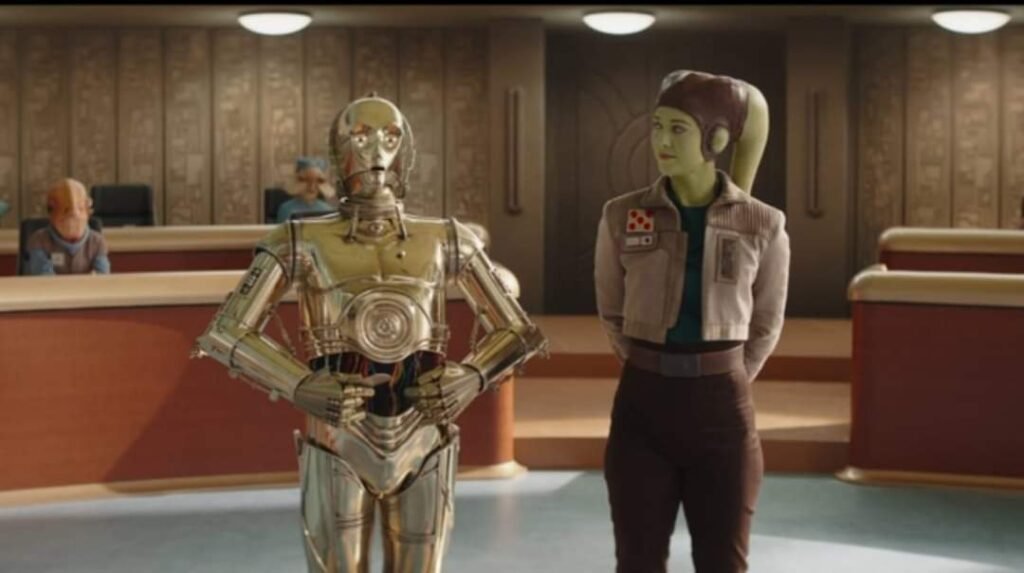 Although the side plot of Hera Syndulla (Mary-Elizabeth Winstead) and the Galactic Senate has been the least interesting part of the series, the resolving scene is nothing short of a masterpiece. Anthony Daniels' iconic voice as C3PO is a welcome surprise, representing the leader of the Defense Coucil, Senator Leia Organa. The droids' presence is a wonderful choice to highlight Leia's presence without using deep-fakes of the late, great Carrie Fisher.
The back-and-forth between the incompetent (or corrupt) Senator Xiono (Nelson Lee) and Hera Syndulla is brief but hard-hitting. Hera's confidence with the support of Leia and Chancellor Mon Mothma (Genevieve O'Reilly) makes for excellent television and provides one of the best quotes of the series.
"I don't know what frightens me more, the possibility of what might happen or your unwillingness to see it."

— Hera Syndulla to the Galactic Senate of the New Republic in Ahsoka episode 7.
Hera's words are powerful and relevant to not only the Star Wars universe but real life as well. Although she references the return of Grand Admiral Thrawn, it can be applied to climate change, gun control, or any number of factors that plague society.
Hayden Christensen Returns as Anakin Skywalker in Ahsoka Episode 7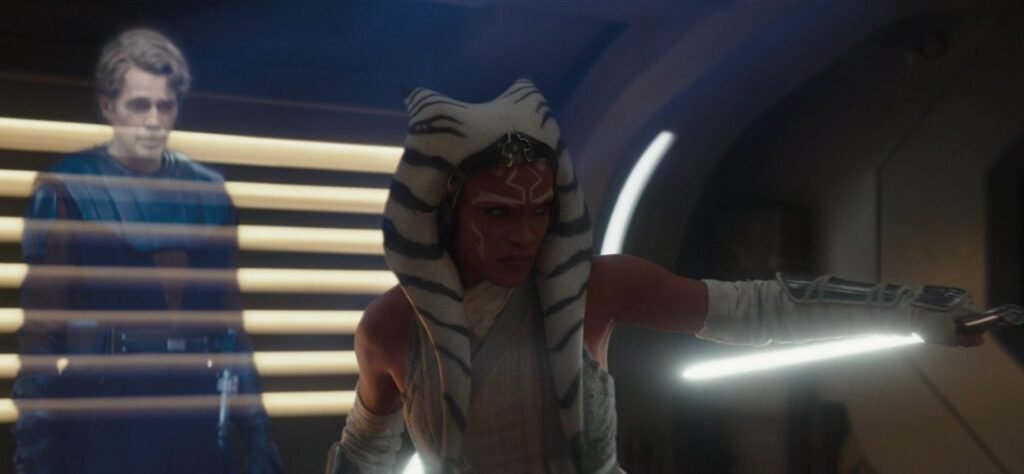 While Ahsoka Episode 7 doesn't feature much of the titular character, the brief period of screen time doesn't disappoint. The training scene between Ahsoka Tano and her former Master Anakin Skywalker (Hayden Christensen) provides a pleasant moment for fans of Christensen and the prequels. It also functions as a reminder of the relationship between Anakin and Ahsoka that develops throughout The Clone Wars.
Now that Ahsoka finally has a handle on her trauma and has reconnected spiritually with Anakin, fans are beginning to see the same beloved character from animation shine through to live-action. Ahsoka's reconnection with The Force allows her to return to the confident, light-hearted, and powerful Force-User she always has been.
Eman Esfandi Proves To Be the Perfect Ezra Bridger in Ahsoka Episode 7
Ahsoka Episode 7 provides larger roles for Ezra Bridger and Grand Admiral Thrawn. The characters have been teased throughout the series and are finally front and center. Thrawn's menacing, calculating nature is on full display throughout the episode as he carefully analyzes each situation, sacrificing individual battles to win the war.
While Thrawn strategizes from afar, the action throughout Ahsoka episode 7 focuses on Ezra Bridger and Sabine Wren (Natasha Liu Bordizzo). Dave Filoni could develop an entire series on the two of them catching each other up on what they've missed, but unfortunately, one scene will have to do.
The pair fight side-by-side with intense chemistry that looks fresh out of an episode of Rebels. Ezra has clearly leveled up as a Force user during his time away and wants to show off for Sabine. He displays incredible skills in defending from lightsabers while attacking with various Force push techniques. Esfandi nails Ezra Bridgers's characteristics in both dialogue and action sequences. The future of this character is in phenomenal hands.
Sabine Wren, Baylan Skoll, and Shin Hati Are Sure To Have Large Roles in the Ahsoka Finale
The penultimate episode sets up the finale almost perfectly, with only a few threads left to be tied. There are still many questions about Baylan Skoll (Ray Stevenson) and Shin Hati (Ivanna Sakhno), including why they separated, that the final episode may choose not to answer. However, Ahsoka Episode 7 ties up the rest of the story and leads directly into an epic showdown in the finale between Ahsoka, Sabine, and Ezra as they oppose Grand Admiral Thrawn.
New episodes of Ahsoka are released every Tuesday at 6 pm PST/9 pm EST exclusively on Disney+. Be sure to check out the Agents of Fandom socials and subscribe to our podcast network where we break down each episode of Ahsoka in depth.
'Ahsoka' Episode 7 Review
'Ahsoka' Episode 7 Review
The Good
Exciting and action packed from start to finish
Additional context for the characters of Ezra and Thrawn
Leia Organa's presence is felt, C3PO is back!
Eman Esfandi is a perfect Ezra Bridger
Quick Hayden appearance!
The Bad
Too many interesting side plots that likely won't be resolved by the end of the series
More Ezra and Sabine catching up would be great, there's just not enough time
Still no Zeb