This piece was written during the 2023 SAG-AFTRA strike. Without the labor of the actors currently on strike, the series being covered here wouldn't exist.
---
Loki Episode 2 follows the aftermath of the rogue TVA hunters as they track down Sylvie (Sophia Di Martino) in pursuit to stop her once and for all. Bringing back the iconic, yet challenging relationship between Loki and Sylvie, Mobius (Owen Wilson) undergoes some struggles with his own temperamental behavior, providing further context to his oftentimes questionable decision-making.
The villainous Loki (Tom Hiddleston) makes his return through his not-so-polite integrations with the outlying X-5 (Rafael Casal), as the devious Renslayer (Gugu Mbatha-Raw) continues her journey to restore the TVA alongside Miss Minutes (Tara Strong). Loki Episode 2 gives a spotlight to some of the newest characters with a splash of nostalgia for longtime MCU fans.
Three Loki's is Better Than One
Loki Episode 2 leaves no time to answer questions as Mobius and Loki dive straight into 1977 London to track down the rogue X-5, now disassociated from the TVA hunters to live a normal life as Bradley Wolfe. This fast-paced, time-traveling aspect is what makes this season of Loki so spectacular, constantly moving the narrative, delivering action-packed sequences, and raising countless questions as to what could happen next.
Loki and Mobius dress in their fanciest clothes, in a sense to blend into the surrounding setting — a delightful and dashing addition to this episode. As tensions rise at the sight of them for X-5, he makes a swift but not-so-subtle getaway, but the escape doesn't last long. A swift, action-packed chase leads Loki to capture X-5 taking him as a prisoner back to the TVA.
The addition of Loki's abilities/magic within the first 10 minutes of Loki Episode 2 reminds us how devious, intelligent, and talented he truly is. This series continues to display why he is one of the greatest MCU villains, something that is lacking within episode one.
Back at the TVA headquarters, Loki and Mobius attempt to work on a corrupted tempad, and the bickering back and forth between the two continues. As always, it is a refreshing and joyful insight into their dynamic friendship. Casey (Eugene Cordero) discovers in a shocking turn of events that the talented AI Miss Minutes has been helping Ravonna Renslayer during her exile from the TVA.
The God of Mischief Features As More of a Villain in 'Loki' Episode 2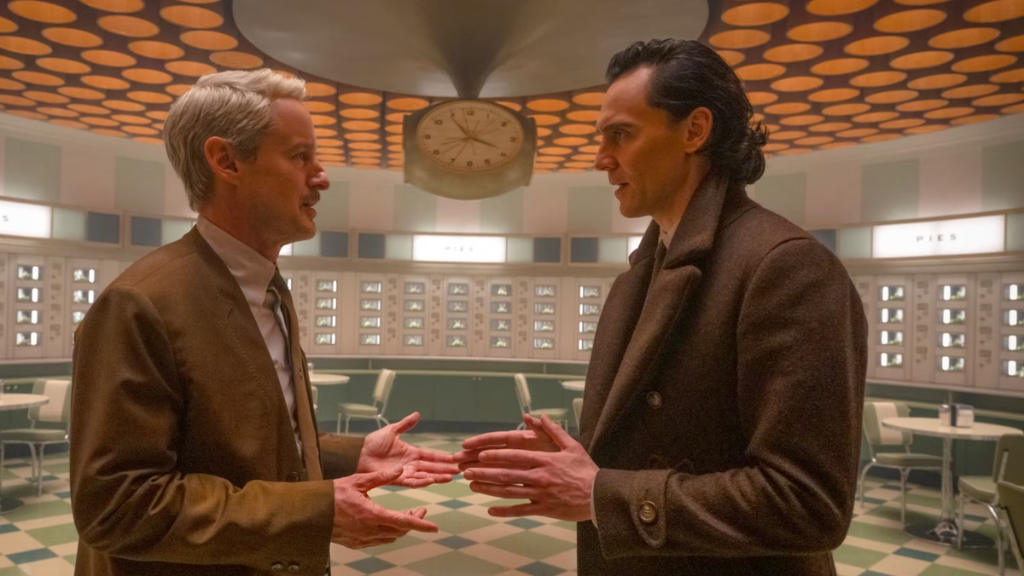 After the surprising developments on Renslayer, Mobius and Loki focus their attention on finding Sylvie. Loki taps into his villainous side during an interrogation with X-5 to feign any information he knows on Sylvie's whereabouts, and a reality check raises tension between Loki and Mobius. Fans have been longing for more appearances from this sinister version of Loki since his debut in Thor and The Avengers. Seeing him tap into his inner evil after the enormous character development he undergoes during Loki Season One is a breath of fresh air.
Loki Episode 2 offers a glimpse into a different side to Mobius when he snaps. This is one of the highlights of the episode allowing audiences to see a natural and raw look into his emotions and temper, which is a great way to further connect with his character. Owen Wilson's portrayal of this temperamental side of Mobius is truly wonderful, capturing every emotion that has been coursing through him ever since he found out the truth about the TVA in season one. Wilson's acting within this scene supports the argument that he is one of the strongest talents with Loki, as he flashes his technique for the better.
The friendship between Loki and Mobius is enchanting, and more specifically how easily Mobius is able to put a smile on Loki's face just by calling him the God of Mischief, despite his anger. This subtle, yet heartwarming moment between the two further enforces their great relationship as Mobius helps Loki through these troubling times when faced with the problems of his past.
Mobius and Loki's plan for the second round of interrogation goes much more smoothly. The performance from Tom Hiddleston during this sequence is outstanding and truly one of his best. Hiddleston continues to captivate and channel his talents masterfully, charming his way to the hearts of audiences, and exploring the deeper depths of his character. Hiddleston has a sizeable challenge through this sequence, showcasing Loki's inner evil whilst also staying true to the development Loki has undergone over his time at the TVA.
Ke Huy Quan and Sophie Di Martino Further Expand Already Large Roles in 'Loki' Episode 2
Elsewhere in Loki Episode 2, O.B. (Ke Huy Quan) attempts to fix the temporal loom, and he and Casey share a touching moment. All of O.B.'s scenes are heartwarming and to see both him and Casey have large amounts of screen time and impactful storylines in Loki Season 2 is wonderful!
Disastrous news hits Loki Episode 2 as O.B. realizes that as he had to close the containment doors in episode one, only the person who designed them, He Who Remains (Jonathan Majors), can open them. Once again, even though his presence has been lacking so far in season two, his aura and legacy remain relevant. The overwhelming, looming return of He Who Remains storms both episodes one and two, perfectly building up his importance for further episodes.
Loki and Sylvie's Relationship Remains Complicated
Loki Episode 2 continues as the three head to 1982 where Sylvie was last seen by both X-5 and the audiences in episode one's end credits. An awkward reunion between Sylvie and Loki showcases Hiddleston and Martino's chemistry. Their ability to portray unease and concern about their reconciliation is a rare talent, yet is on display effortlessly here.
The constant addition of comical moments between X5 and Mobius within this episode works heavily in this show's favor. Although the story and events happening are serious, the lightheartedness scattered throughout makes it an easy and enjoyable watch.
The action unfolds as Mobius, Sylvie, and Loki attempt to stop the rogue TVA hunters on their mission to destroy the timelines and ultimately millions of lives. Although successful in their pursuit, many are already destroyed as they return to the TVA, and sadness is cast among all. The complexity of Loki and Sylvie's relationship is broadcasted throughout this sequence, their inability to agree on how to handle this situation, and ultimately all problems, is what drives their relationship.
'Loki' Episode 3 Is Set Up To Be a Massive Multiversal Ride
Loki Episode 2 ends perfectly setting up the adventures for episode three, as the long wait is over, they get a successful hit on Renslayer's tempad and her whereabouts. Loki Episode 2 is jam-packed with excitement, but some bumps in the road for the TVA crew set up exciting possibilities for the rest of the season.
New episodes of Loki Season 2 stream every Thursday at 6 PM PT/ 9 PM EST exclusively on Disney+. Follow the Agents of Fandom socials to stay up to date with the latest entertainment news.
---
'Loki' Episode 2 Review
'Loki' Episode 2 Review
The Good
Deeper insight into X-5
OB is as cute as ever
Villainous Loki makes his return
Establishes He Who Remains importance to the saving of the TVA