*Warning: The following review contains spoilers for Asteroid City*
---
Wes Anderson is famously known as a unique, colourful director. He possesses a distinct style that audiences have become accustomed to identifying him with from films like The Grand Budapest Hotel and The French Dispatch. In his new film Asteroid City, Anderson further showcases his iconic style while tying it with elements that thrill viewers to enjoy the magic of cinema.
Set in 1955, Asteroid City is a desert city in the United States, and in typical Wes Anderson fashion, we uncover many storylines from each of the film's characters. In this film, Anderson shows audiences an exploration of the uncertainty of one's future, the definition of grief, and the mysteries of extraterrestrials living among us. The traditional stage theatre concept, aesthetic visuals, and excellent performances from the A-List ensemble cast are the reasons to admire Wes Anderson's deep, busy, and different narrative that is Asteroid City.
'Asteroid City' features a new level of storytelling
The film opens with a concept different from what's featured in the film's trailers. Asteroid City is actually a fictional televised stage play, meaning most of the film's cast portray dual characters—the actor and the actor's character.
The meta of it all is complex; though it is quite interesting to witness as the film unfolds, I'll admit it took a bit for me to fully digest what happened on screen. The use of a 4:3 black and white screen to visually differentiate the real world from the widescreen pastel-coloured play enables Anderson to tell two stories in one movie.
The "Asteroid City" play tells the story of the Junior Stargazers/Space Cadet convention that is organized to bring families together for a competition before being disrupted by a world-changing event. The other story involves the process behind the production of the science-fiction space play. The narrative is visually organized with the use of title cards for the three-act structure and an epilogue, and it is narrated by Bryan Cranston's "The Host."
The new level of storytelling reveals thematic layers such as the uncertainty of life, understanding grief, and the life-altering space event that is woven into this dark-humoured film. However, Anderson could execute the concept of Asteroid City more smoothly because it's a lot to take in on the first watch.
The ensemble cast of 'Asteroid City' is stellar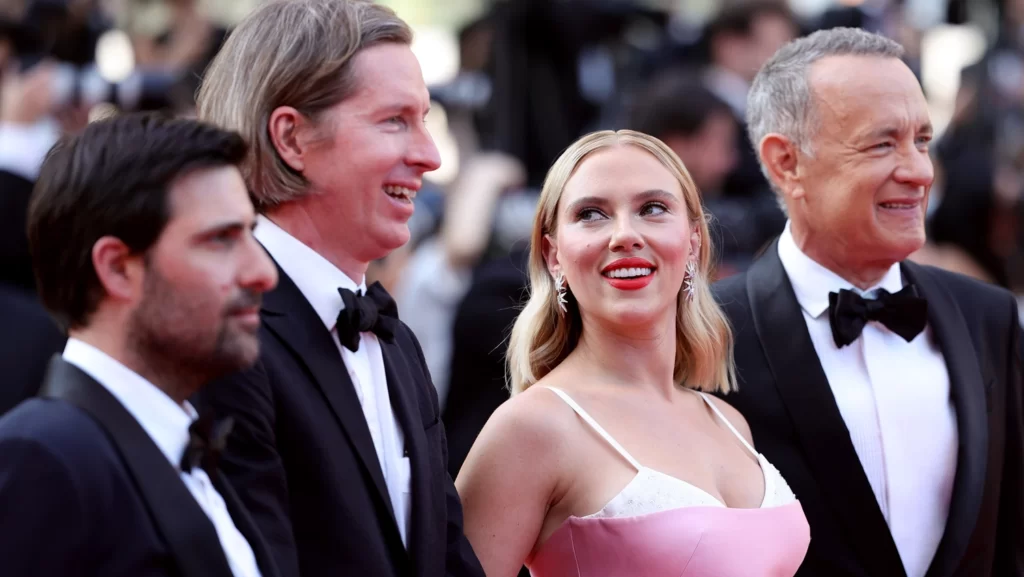 Huge ensembles are common in Wes Anderson's films, so he brings back actors from past projects. Jason Schwartzman is one of those reoccurring actors, and he leads Asteroid City confidently. Schwartzman's performance as Augie Steenbeck, a widowed father of four and war photographer, is compelling. He silently portrays the uncertainty in his character's life as Augie deals with the death of his wife. Augie is raising four children who are unaware that their mother died three weeks ago, and he is waiting for the right moment to tell them—as if there is a right moment.
In full control of her Hollywood star power is Scarlett Johansson, who brings out the best performance this film has to offer. As Midge Campbell, the famous 1950s movie star, Johansson plays an actress who takes her career a little too seriously—even to the point of developing a romance with Augie who lives a window away. Johansson performs with such vulnerability, showcasing the talent that audiences are used to seeing, while leaving them in awe. Schwartzman and Johansson have great chemistry as they share the bond of two broken single parents.
Jake Ryan, best known for his performance in Bo Burnham's Eighth Grade, plays Woodrow Steenbeck, the smart "brainiac" son of Schwartzman's Augie. For an actor under 20, Ryan is able to hold his own, even standing out amidst the cast of Hollywood's best.
Tom Hanks is a newbie to Anderson's filmography. He plays Stanley Zak, the grandfather to Augie's children. His character shares love for his family, yet has an open hatred for his son-in-law. Maya Hawke radiates with so much energy when playing the protective school teacher June Douglas. However, when she shares scenes with Rupert Friend's cowboy, Montana, his light romance turns her soft.
Hong Chau and Margot Robbie are also newcomers to Anderson's world of cinema. Unfortunately, they both have limited screen time, appearing in just one scene each. Despite this underutilization, Margot Robbie shines while she convincingly embodies her character as if she was present in the movie the entire time.
Wes Anderson's other reoccurring actors, including Adrien Brody, Edward Norton, and Willem Dafoe, are great additions to this film. Jeff Goldblum has a small role as well, and audiences will find it hilarious. The cast as a whole brings their best despite Anderson's busy script—it doesn't stop them from performing stellar individually.
'Asteroid City' visuals are aesthetically pleasing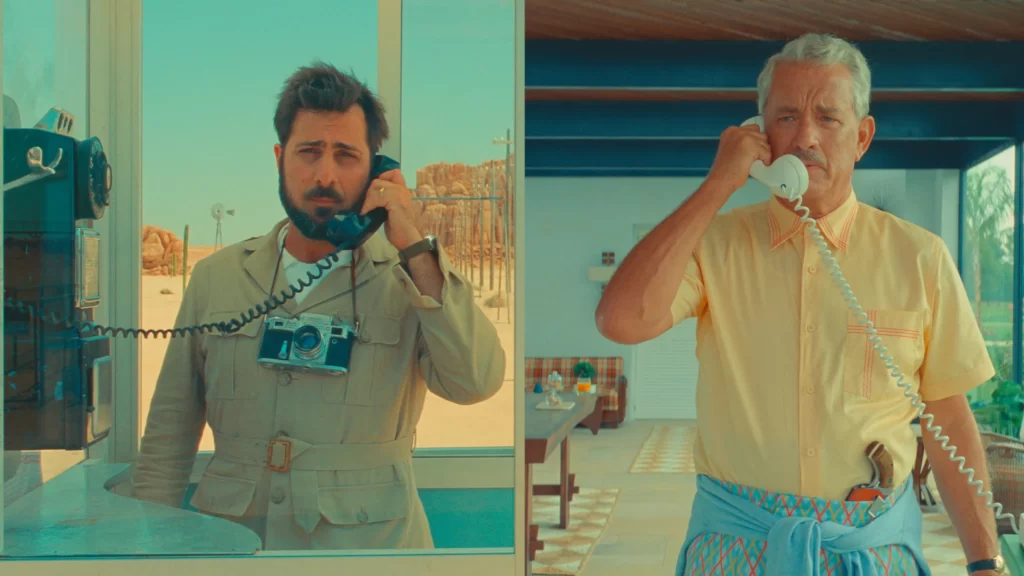 Aside from the complex narrative, Asteroid City is flawless in its visuals and appearance. Wes Anderson uses pastel colours to create a clean and stunning look for the lone desert, resembling an image from a picture book or postcard. It goes to show how much Anderson loves attention to detail, and it is demonstrated through the unique sets this film contains.
The yellow and blue filter shines throughout the film, illustrating Asteroid City as a place you can't keep your eyes off of. Anderson's clever editing also plays a role that keeps audiences intrigued to look at this film for its visual beauty because most scenes are shot symmetrically to create a balance between tensions and emotions. Asteroid City's production design team deserves major credit—their contribution to making this film visually appealing cannot go unnoticed.
If you like Wes Anderson movies, 'Asteroid City' is for you
Wes Anderson's movies aren't for everyone. I kept an open mind when entering this film, and I enjoyed the creativity Anderson crafted for the story of Asteroid City. However, I do believe that viewers who cherish Wes Anderson's distinctive style of direction were in mind when he made this film.
If you're left questioning the whole point of the film like I did, admiring the level of creative effort Anderson puts in for his most dedicated fans can leave everyone satisfied. This comes from the ensemble cast's compelling performances, the beautiful visuals, and the new level of storytelling that this film possesses.
Asteroid City releases in select theatres on June 16 and in theatres worldwide on June 23. Follow the Agents of Fandom socials for all the latest movie news and reviews.
'Asteroid City' Review
'Asteroid City' Review
The Good
Captivating performances by its cast
Aesthetically pleasing visuals are beautiful to look at
Wes Anderson's creativity is appealing
The Bad
The complexity of the narrative may frustrate and confuse viewers