Chris Evans. I believe the whole world knows that name by now. He's Captain America, Dodger's dad, Lizzo's (and everyone's) internet boyfriend, 2022's People's Magazine Sexiest Man Alive, and one of the creators behind the civic engagement website A Starting Point.
Ever since he hung up the 'Captain America' shield and began starring in films such as Knives Out, The Gray Man, as well as the upcoming Ghosted, Red One, and Pain Hustlers, he's been diving into different film genres. For that reason, here are our takes on four movie genres where we'd love to see Chris Evans.
1. Chris Evans in a… horror film?
I know it's a big push, but it would be interesting to see him in an Ari Aster, Jordan Peele, or Robert Eggers-type film. Chris Evans starring in a horror film would be a major step away from the rom-coms and the action-thrillers we're used to seeing him in.
He'd even make a great horror villain! He nailed that aspect as the vile Lloyd Hansen in The Gray Man, Ransom Drysdale, the spoiled brat who's always yelling "eat sh*t" to his family members in Knives Out, and the furrowed brow, skateboarding actor Lucas Lee in Scott Pilgrim Vs. The World.
Furthermore, he is fantastic in heroic scenarios, as seen by his portrayal as Steve Rogers over in the MCU. It would be thrilling to see him in a heroic role, but where he ends up hysterically screaming and on the floor, which he can do. His jump-scare videos with his brother Scott say so!
2. How is Chris Evans so dramatic? (In a good way)
I'd be lying if I said that his performance in Gifted wasn't criminally underrated. Evans plays the loving uncle, Frank Alder, alongside a young Mckenna Grace, who plays his niece Mary. The pair are so beautifully heartbreaking to watch, and we wish to see Chris in a role like that again.
Nonetheless, he plays the husband and father role as Andy Barber in the Apple TV+ limited series Defending Jacob, where his performance is highly acclaimed by film critics and the general audience alike. Having Evans work with drama directors such as Damien Chazelle and Greta Gerwig would be captivating to witness.
The dream drama film to see Chris Evans in though? A romantic-drama. Somewhere along the lines of La La Land or The Notebook (Yes, I did reference two Ryan Gosling movies). We all just need a good cry and yet another outstanding, memorable performance from Mr. Evans.
3. Rogers: The Musical? No, it's Chris Evans in a musical!
Hardcore Chris Evans fans know that he'd love to put his tap shoes back on and sing show tunes. Since the cancellation of the highly-anticipated remake of the 80s classic Little Shop of Horrors, also starring Evans' Avengers co-star Scarlett Johansson and Rocketman's Taron Egerton, it isn't likely Chris Evans will star in a musical in the near future. (But I'm not giving up hope, he must be in a musical eventually!)
We can only hope he'll be on the big screen very soon playing Orin Scrivello, singing "Dentist" like the iconic Steve Martin. In the meantime, let's just watch him sing Journey's "Don't Stop Believin'" in 2010's The Losers, or rewatch his beautiful piano playing skills on his Instagram Stories.
4. Dear Mr. Evans, give us more rom-coms!
It's been nine years since Chris Evans stepped away from the rom-com genre, but like come on? We need Chris Evans in more rom-coms! From films like The Nanny Diaries to What's Your Number? along with his natural charm, his adorable laugh and that Boston accent—it's clear that he's meant to be in them. However, if he wants to explore other genres, we can respect that. He doesn't have to be the Hollywood heartthrob we all know and love.
A suggestion for a rom-com? Put Chris Evans, Margot Robbie, Zoe Saldana, Henry Golding, and Top Gun: Maverick's Glen Powell in a Crazy, Stupid, Love-like scenario. That would be crazy fun to watch in theatres! It's just a matter of time before we see him as a romantic lead.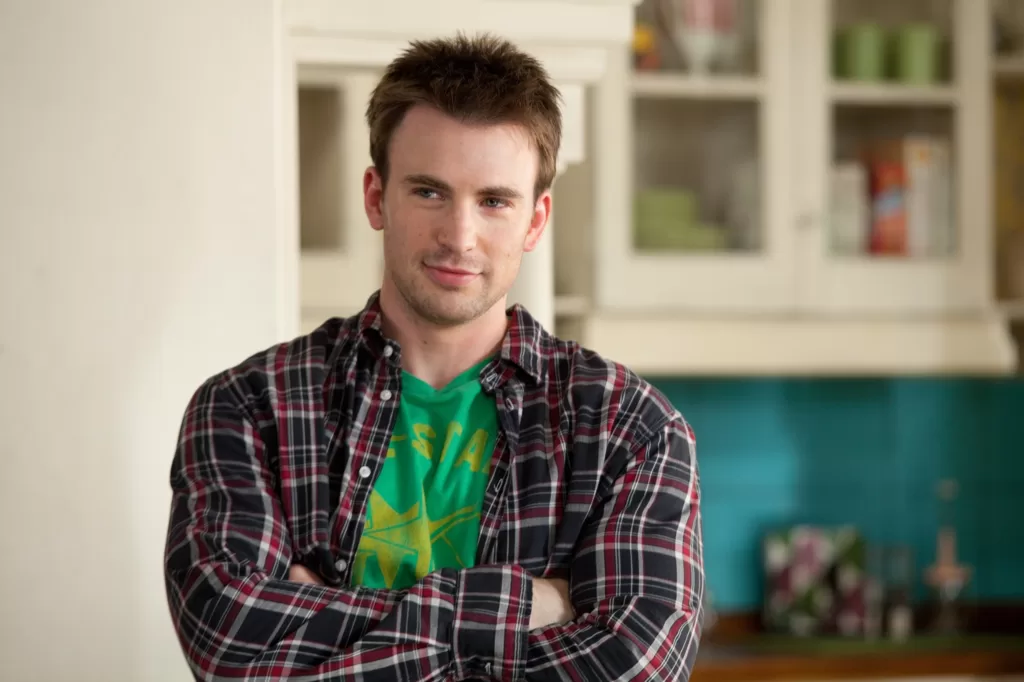 Evans in a new movie? Let's talk!
We all know that Chris is a talented individual, and we can't wait to see what he does next in his remarkable acting career. With that in mind, what other movie genres would you love to see our guy Chris Evans in? Everyone has their thoughts, considering Evans does have a passionate fan base!, let us know on our socials and hit me up on Twitter. I'd love to hear them!