Disenchanted, the sequel to Disney's Enchanted (2007) is finally here and filled with whimsy, charm and a copious amount of music.
If there's one thing you should know about me, it's that 2007's Enchanted is one of my all-time favorite Disney movies. When I watched it for the first time, I became enthralled with the characters of Andalasia. I loved the idea of going from classic animation to transforming those same characters into live-action on the streets of New York City. Enchanted has been a comfort film of mine for many years. Additionally, "How Do You Know" is considered a Disney classic in my household. When Disenchanted was first announced, I danced around my home in my prettiest dress, gleaming with joy as if I was Princess Giselle herself.
---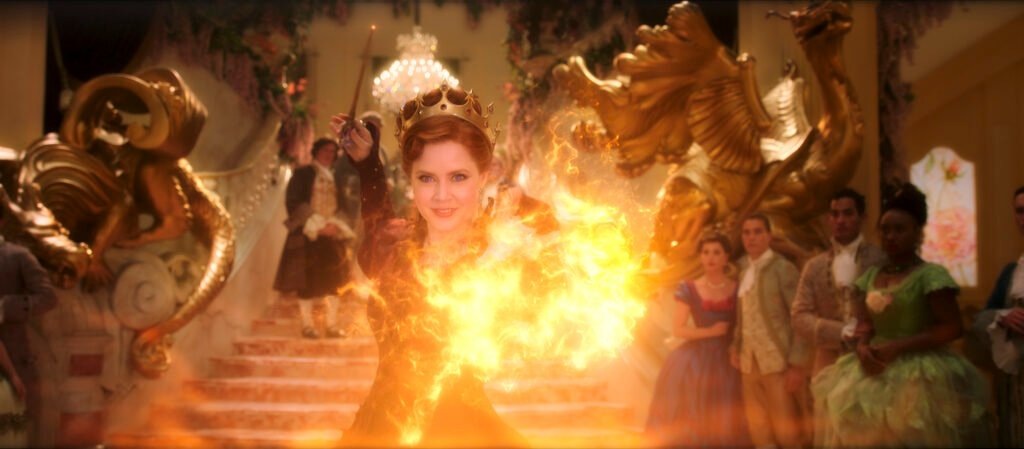 ---
Directed by Adam Shankman, Disenchanted graces our screens on November 18th on Disney+. The film features most of the original all-star cast. Powerhouse Amy Adams reprises her role as Princess Giselle. The lovely Patrick Dempsey is back as the ultra-charming Robert Philip. The fabulous Idina Menzel fulfills her role as Nancy, and James Marsden plays the dashing Prince Edward once more. Disenchanted has also given us new and hilarious additions such as Maya Rudolph, who plays a small-town Queen Bee named Malvina Monroe. Joining Rudolph is Yvette Nicole Brown who portrays Rosaleen, Jayma Mays as Ruby, and a more grown-up Morgan, played by Gabriella Baldacchino.
New Beginnings in Andalasia
We first meet back up with Giselle (Adams) and her family as they embark on a new adventure. It's time to leave the concrete kingdom of New York City. Giselle and her teenage daughter Morgan (Baldacchino), don't exactly see eye to eye as they once did. A fragile reality has caught up with the Princess, and real life is not the perfect fairy tale she once lived.
When the not-so-happily-ever-after family moves to Monroeville, Giselle is heartbreakingly reminded that the grass isn't always greener on the other side of the Hudson River. The suburb town adds a different family dynamic and newly introduced frenemies. A frustrated Giselle struggles to find balance within her daily life. Determined to live her happily ever after, Giselle resorts to using magic. This, of course, leads to a well of chaos.
Using magic to fix all your problems… What can possibly go wrong?
Musical Enchantment
Alan Menken returns with a symphony of new Disney classics. The amount of music and dance numbers are a massive part of what made me fall in love with the original, and the sequel knocks this out of the park as well. Expect to see a lot more singing and dancing than we saw in Enchanted (and that's a good thing!).  Idina Menzel gets to showcase her stunning voice in live action in the song "Love Power." I'm not sure where Queen Idina's song was in the original, but the addition in the sequel is miraculous. My favorite musical performance goes to the duet sung by Amy Adams and Maya Rudolph called "Badder." There are so many amazing songs, it's difficult to choose a number one. Musical fans should rejoice!
Disenchantment in review
Watching Disenchanted for the first time was like seeing all my best friends after 15 very long years. You know those friends who you don't have to see very often, but when you do, it's like you never missed a beat? For a similar feeling, be sure to check out Disenchanted on Disney+. The magic was kept alive through amazing storytelling, sparkling performances, and a heap of memorable musical acts.
(Did I mention Patrick Dempsey sings? Because Patrick Dempsey sings, and it's wonderful!)
The cast, crew, viewers, and characters within Disenchanted all lived happily ever after. THE END.