The long-awaited and highly anticipated threequel to 2018's Spider-Man and 2020's Spider-Man: Miles Morales has finally arrived. After months of gameplay trailers and developer interviews revealing new details about Marvel's Spider-Man 2, it's apparent the creators at Insomniac Games had only just scratched the surface with what they chose to unveil in the build-up to the release.
It was never going to be an easy task following up the two critically acclaimed and universally beloved games that precede the newest installment. There is bound to be some aspect that misses the mark with such a widely expanded world, perhaps a miscalculated story beat or maybe a poor gameplay mechanic, right? Wrong. Spider-Man 2 effectively builds on everything previously established in this universe while bringing new additions to the combat and story, collectively culminating in the best superhero game of all time.
'Spider-Man 2' Review: The Combat and Traversal Goes Above and Beyond Anything You've Ever Experienced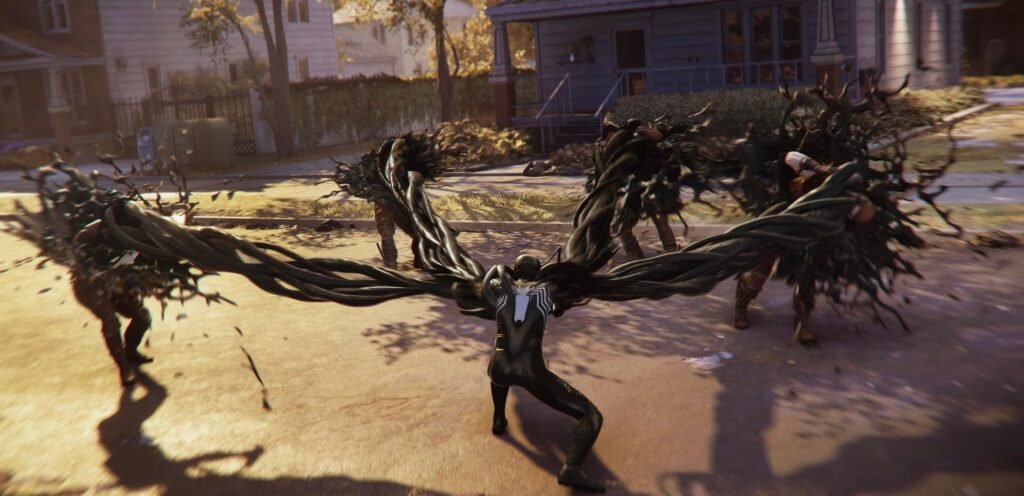 The combat from the first game in Insomniac's Spider-Universe, focused on Peter Parker (Yuri Lowenthal), relies heavily on the use of gadgets and a bunch of button mashing. The second game, focused on Miles Morales (Nadji Jeter) draws back on the use of gadgets by introducing Miles' signature Venom (bio-electricity, not symbiote goop) powers and camouflage abilities. The third game flawlessly incorporates new gadgets and abilities for both characters, with an updated R1/L1 menu to improve accessibility and flow.
The addition of new abilities like the symbiote and Spider-Arms for Peter, and more shocking Venom powers for Miles, makes for an immensely satisfying combat experience as you take down the enemies of New York. The new L1/R1 system works fluently in collaboration with both Spider-Men, ensuring gadgets and abilities don't clash at all. Instead, they manifest as more of a symbiotic relationship, with one enhancing the other progressively more as you invest more points into their respective skill trees. It's easy to get distracted swinging around and stopping crime, constantly discovering new ways to play.
However, Spider-Man 2 takes things to the next level with the way it allows players to traverse the expanded city. The addition of things like the Web Wings and slingshot launches allow you to cross Manhattan and the two new boroughs, Queens and Brooklyn, in record times. It's truly cathartic to hit the perfect combo of a point/slingshot launch straight into a Web Wing glide that carries you into a wind tunnel, and before you know it, you're eons away from where you started. The traversal in this game is nothing short of revolutionary, and it simply never gets old. You'll find yourself choosing the furthest objective to tackle next just to spend more time traveling.
'Spider-Man 2' on PS5 Pairs an Emotionally Impactful Main Story With Exciting New Side Quests
From a narrative perspective, Spider-Man 2's main story is stronger than both of the first two games, masterfully hitting the mark on several potent twists and turns, along with hard-hitting emotional moments. The pacing and execution throughout the 30+ main missions, and development for new characters like Kraven the Hunter (Jim Pirri) and Venom (Tony Todd) are simply brilliant. Both villains effectively escalate the stakes and tension to unbelievable new highs for Peter and Miles, while simultaneously putting Sony's upcoming Kraven movie to shame with this terrifying (not animal lover) portrayal of Sergei Kravinoff.
Despite the many developments in gameplay mechanics and a powerfully poignant new story, the side quests in Spider-Man 2 are perhaps the biggest improvement from the first two games. The friendly neighborhood Spider-Man app, introduced in Spider-Man: Miles Morales, is loaded with new requests from those who call New York home. Side quests now feel far more gratifying and important, oftentimes playing directly off main story events or teasing potential appearances in a future project. Gone are the days of saving cats out of trees or swinging around collecting pigeons for the sake of reaching 100% completion.
The customization from top to bottom in Spider-Man 2 goes above and beyond anything ever seen in a superhero game, incorporating tons of new suits and familiar classics — many with three to four distinct color styles. Aside from unlocking new suits as you level up, some can be unlocked at various points by progressing through the main story and completing different side quests. Three new standouts are Andrew Garfield's much-desired suit from The Amazing Spider-Man 2, Tom Holland's new red and blue suit from the end of Spider-Man: No Way Home, and Miles Morales' updated suit from the recently released Spider-Man: Across the Spider-Verse.
Marvel's 'Spider-Man 2' Is the Undeniable Favorite for Game of the Year
Every so often a particular project comes out, be it a movie, TV show, or video game, that completely revolutionizes its genre, and occasionally the medium as a whole. Spider-Man 2 is one of those projects. Superhero games and action-adventure RPGs in general will now be held to a higher standard thanks to this masterpiece. If you consider yourself a fan of the webhead, and you have a PlayStation 5, make it your priority to get your hands on a copy of this game and strap in for the ride of your life.
Follow the Agents of Fandom socials for all the latest Spider-Man 2 news and updates.
---
Marvel's 'Spider-Man 2' Review
Marvel's 'Spider-Man 2' Review
The Good
Unforgettable gameplay from a superhero game.
A delicately crafted story that improves on the previous installments.
Amazing customization, from suits to gagdets to skills.
'Spider-Man 2' is a rewarding and satisfying gameplay experience.
The Bad
You can only play it for the first time once.