Spider-Man fans rejoice! Following the electric gameplay reveal, and intriguing details unveiled shortly after, fans were still left unsatisfied and Kraven more. Lucky for us, Insomniac Games delivered—as they often do—and announced the PS5 Spider-Man 2 release date and tons more info at Summer Game Fest.
Between Spider-Man: Across the Spider-Verse and the build-up for Spider-Man 2, there's never been a better time to be a Spider-Man fan. Since learning about the character switch dynamics and map size, more information regarding the release date and new suits for Peter and Miles has been highly sought after. Summer Game Fest brought all this information, along with some exciting new concept art and pre-order details.
Spider-Man 2 pre-order information and release date
We didn't have to wait long for a date! The initial reveal closed out with a "Fall 2023" release date, which had some fans speculating about a potential delay. Thankfully this is not the case, and Spider-Man 2 is set to release on October 20, 2023, with pre-orders opening on June 16!
Standard Spider-Man 2 pre-order bonuses will include three skill points, a web-grabber gadget, and a new caped suit for both Peter and Miles—with three color variations for each! This is a new feature, as the Spider-Men could don many suits in previous games but had no option for different colorways.
Insomniac stepped up their game for the digital deluxe edition pre-order, adding five new suits for both Peter and Miles, two extra skill points, and additional photo mode items. All of this to pair with the standard edition pre-order bonuses is an undeniably sweet loot package, one that many fans (including myself) will surely swing for.
The game's beautiful cover art can also be seen on the left-hand side, highlighting Miles and Peter working in tandem. Pre-orders can be found here.
Spider-Man 2 concept art reveals fresh looks at Venom and Kraven
During the Summer Game Fest presentation, Creative Director Bryan Intihar took to the stage to discuss two of the game's feature villains: Venom and Kraven. He made sure to note that the Venom we see in this game is not Eddie Brock, but didn't allude to whom it might be. The most obvious answer is Harry Osborn—given the tease at the end of Spider-Man, the symbiote's healing nature could be what's keeping Harry alive.
The symbiote will obviously not be a focused villain throughout the game, given that it bonds with Peter at some point to give him a plethora of awesome new abilities. These powers will surely prove useful in the fight against Kraven and his hunters, who appear to have completely taken over New York, based on the concept art below.
We know the Lizard (Curt Connors) will also be featured as a villain in this game, at least for part of it. It's unclear whether Connors will work as a foe for the game's duration, or make a switch back over to help the Spider-Men at some point.
Given that the original Spider-Man features an unbelievable villain lineup consisting of Doc Ock, Mister Negative, Vulture, Electro, Scorpion, and Rhino, Spider-Man 2 will surely offer more than just the three aforementioned villains confirmed for the sequel.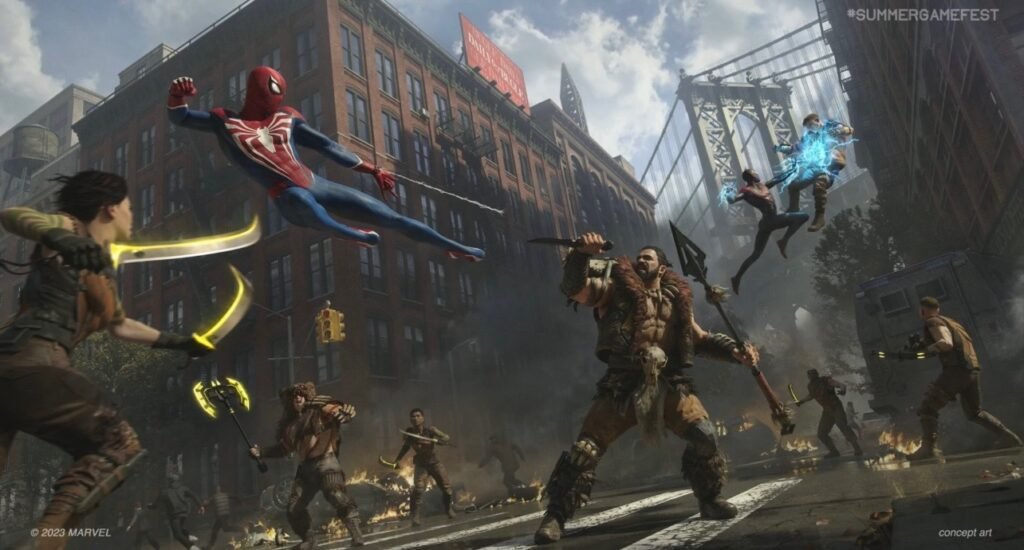 Spider-Man 2 gets closer and closer each day
The wait for Spider-Man 2 gets simultaneously easier and harder with each passing day. Although the waiting period is in steady decline, impatience grows as we learn exciting new bits of information. Now that we have an official release date and pre-order bonuses, expect the remaining promotional material to consist of mostly trailers and new bits of gameplay. Chin up folks, what may be the best superhero video game will be here before we know it.