Whether it be great music, movies, or sports teams, the '90s were the golden era for many aspects of pop culture. Movie stars like Tom Cruise, Leonardo DiCaprio, Meryl Streep, and many others were among the world's most powerful and influential people. Although the time of movie stars is all but gone, their legacies live on through many of the best '90s movies.
If you were a movie fan in the '90s with easy access to a movie theater, chances are you got to experience some all-time great flicks on the big screen. If you missed the window of seeing the many great movies this period has to offer, streaming services have made everything easily (and expensively) accessible. As we close out what has been an unbelievable year for movies in 2023, let's look back and appreciate the classics that laid the groundwork by highlighting the 10 best '90s movies.
10. 'The Lion King' (1994)
It speaks volumes to the quality of this list that a movie as iconic as The Lion King lands at number 10. Rob Minkoff and Roger Allers teamed up to direct the family-friendly animated masterpiece, which stars Matthew Broderick, Jeremy Irons, James Earl Jones, and Whoopi Goldberg. In this beautiful story, Simba (Broderick) leaves his family behind after being wrongfully accused of his father's murder. He returns home years later to find his evil Uncle, Scar (Irons), who has taken his rightful place on the throne.
While many people view animated movies as children's entertainment, The Lion King is the perfect example of why animation is a medium everyone can enjoy. The movie won two Academy Awards for Original Song and Original Score and was nominated for two more. It beautifully tackles important themes of family and self-discovery, which still ring true to this day. Although Disney remade this classic as a live-action movie in 2019, the original animated film remains superior.
9. 'The Big Lebowski' (1998)
The number nine entry on the list may come as a surprise, but anyone who's seen it knows it belongs. Director Joel Coel has 26 directorial credits on IMDb, but his best movie is perhaps his seventh, The Big Lebowski, which boasts a cast of Jeff Bridges, John Goodman, Steve Buscemi, and Julianne Moore. The movie follows The Dude (Bridges) as he embarks on a journey for compensation after a group of thugs breaks into his house and pees on his rug. The Dude joins up with his bowling buddies Walter Sobchak (Goodman) and Theodore Donald 'Donny' Kerabatsos (Buscemi) where they're roped into a hilarious kidnapping scheme that sees them travel across Los Angeles.
Although The Big Lebowski didn't receive any love at the Oscars, it's still Jeff Bridges at his finest, and it's easily one of the best '90s movies and one of the best comedies of all time.
8. 'The Matrix' (1999)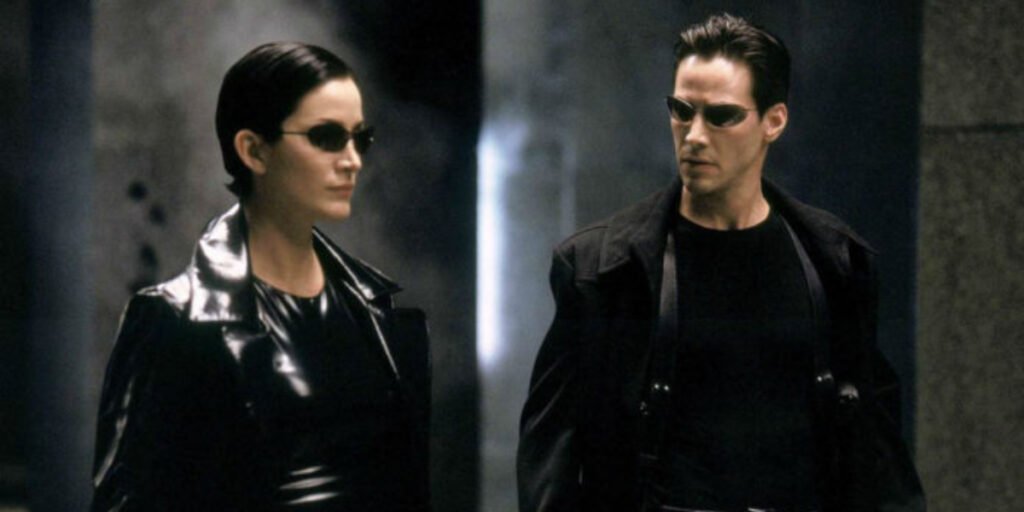 It's easy to forget just how ground-breaking The Matrix was when the three sequels to come after failed to recreate the magic of the original. After joint-directing the 1996 crime thriller, Bound, Lana and Lilly Wachowski changed the world in their second project together starring Keanu Reeves, Carrie-Anne Moss, Laurence Fishburne, and Hugo Weaving. In this epic sci-fi adventure, a computer hacker named Neo (Reeves) quickly discovers the world isn't what it seems. Everything he thinks is real is a computer simulation created by machines to suppress humanity into becoming more obedient. Neo discovers his true identity as The One and begins training to save all humans.
The Matrix contains stunning visuals inside and outside the simulation and also boasts some of the most unique action sequences in movie history. It won four Academy Awards for Best Film Editing, Best Sound, Best Effects Editing, and Best Visual Effects, and is one of the most memorable and influential movies ever.
7. 'Fight Club' (1999)
Some would argue Fight Club should be much higher on the list, but just outside the top five out of a pool of thousands of movies is a great achievement. Director David Fincher is known for his noir and monochromatic style, and he stamps his legacy proudly on this action-drama starring Brad Pitt, Edward Norton, and Meat Loaf (Michael Lee Aday). The movie follows the magnetic soap salesman Tyler Durden (Pitt) and an unnamed narrator (Norton) as they bond to form an underground fight club, Project Mayhem.
This intense, mind-twisting story of identity struggle was nominated for an Academy Award for Best Sound Effects Editing, is well regarded as one of Brad Pitt's best performances, and is unquestionably one of the best '90s movies. Fight Club has developed a cult following in the years since its release for its unorthodox approach to storytelling and intrepid style.
6. 'Toy Story' (1995)
Two animated movies on the list prove the '90s was a defining generation for the genre. John Lasseter hadn't directed anything longer than four minutes when he agreed to helm Toy Story, and his debut may very well be his magnum opus. In this lovely animated adventure comedy, starring Tom Hanks, Tim Allen, and Jim Varney, Woody (Hanks) and Buzz (Allen) find themselves at odds, fighting for their new owner Andy's (John Morris) attention.
The pair go on a beautiful journey that teaches both them and the audience that friendship can sometimes be found in unlikely places. The movie won three Academy Awards for Special Achievement, Screenplay Written Directly for the Screen, and Best Original Song. It has a compelling case for being the best animated movie of all time, and no list of the best '90s movies would be complete without it.
5. 'Jurassic Park' (1993)
This isn't the first on the list, but it is the last that was so successful it spawned several sequels and spinoffs that flounder in comparison to the original. One of the most acclaimed directors in the history of filmmaking, Steven Spielberg proved the perfect person to tackle Jurassic Park after his success with the Indiana Jones franchise.
This striking story starring Sam Neill, Laura Dern, Jeff Goldblum, and Samuel L. Jackson and detailing the consequences of tampering with natural order won three Academy Awards for Best Sound, Sound Effects Editing, and Visual Effects. The film's influence on pop culture remains unrivaled to this date. Ask anyone what movie they associate with dinosaurs, and the answer will most likely always be Jurassic Park.
4. 'Saving Private Ryan' (1998)
We've arrived at the four movies that elevate to a higher tier than the rest. The second movie from director Steven Spielberg on this list is further proof of his prowess as one of the most talented directors to ever live, especially considering its vastly different tone than Jurassic Park. Saving Private Ryan stars Tom Hanks, Matt Damon, Tom Sizemore, Vin Diesel, and several more like Nathan Fillion and Paul Giamatti who have gone on to become massive Hollywood stars.
All hell breaks loose when Captain Miller (Hanks) and his squad venture deep behind enemy lines to search for Private James Ryan (Damon) and bring him home after his brothers were killed in action. The movie won an astounding five Academy Awards for Best Director, Best Cinematography, Best Sound, Best Film Editing, and Best Effects Editing, and was nominated for six more. Saving Private Ryan is not only one of the best '90s movies but one of the best films ever made.
3. 'Pulp Fiction' (1994)
We've given Steven Spielberg his flowers for the last two movies on this list, and deservingly so, but it's time to talk about another superstar filmmaker. Quentin Tarantino is on the short list of the best directors of all time, and Pulp Fiction is easily his greatest work. Pulp Fiction is a gritty, no-holds-barred crime thriller that stars John Travolta, Uma Thurman, Samuel L. Jackson, Bruce Willis, and Tim Roth. This non-linear story uses multiple timelines to unravel a complicated narrative that dives into important themes like unexpected consequences and redemption.
It also won an Academy Award for Best Screenplay Written Directly for the Screen and was nominated for six more. Famous for its soundtrack and breathtaking cinematography, the movie was an Oscar snub that most definitely should have more than one trophy. Pulp Fiction helped reinvigorate independent filmmaking and is one of the most unique and brilliant films ever.
2. 'Forrest Gump' (1994)
With his third entry on the list of the best '90s movies, it's safe to say Tom Hanks was one of the most sought-after actors working at the time. He teamed up with director Robert Zemeckis, who was famous for his work on the Back to the Future trilogy, for this hard-hitting romance drama. Forrest Gump stars Hanks, Robin Wright, Gary Sinise, and Sally Field, and while the terms "feel good" and "comfort" movie are pretty common descriptors, no movie is more of a heartwarming treat to watch.
It won six Academy Awards in total for Best Picture, Best Lead Actor (Hanks), Best Director, Best Adapted Screenplay, Best Film Editing, and Best Visual Effects, and was nominated in seven other categories. Tom Hanks brings this earnest look into the human experience together with a career-defining performance to help create perhaps the most touching film ever assembled.
1. 'The Shawshank Redemption' (1994)
Escaping from prison to the top of our list, of all the pictures released from 1990-1999, the best '90s movie is The Shawshank Redemption. Released in 1994 and directed by Frank Darabont, the film stars Tim Robbins, Morgan Freeman, William Sadler, and Clancy Brown. Darabont accomplished the unthinkable in his feature film directorial debut and crafted what is arguably the greatest movie ever.
The masterpiece follows Andy (Robbins) and Red (Freeman) as they form an unlikely friendship, while Red unknowingly assists Andy in escaping from prison. The film was nominated for seven Academy Awards and somehow didn't win a single one, which is one of the biggest mishaps in the history of Oscar voting. The Shawshank Redemption is the clear choice for number one, as it not only tops the other movies on this list, but nearly every movie ever made.
The Best '90s Movies Are Universally Acclaimed and Infinitely Rewatchable
After presenting the evidence, it's clear the '90s have the best to offer everyone who loves good movies. Whether you're a fan of animation, feel-good flicks, or intense war epics, this period produced something to satisfy you. If the studios decide to re-release any of these movies back into theaters to appreciate on the big screen, it's a guarantee the seats will fill up faster than they can sell them.
Follow the Agents of Fandom socials for all the latest entertainment news and reviews.