Kat Graham (The Vampire Diaries, Love In The Villa) is a Swiss-born actress, singer, model, and dancer. This past weekend, Kat flew halfway across the world to Cape Town, South Africa for the inaugural Comic Con Cape Town. During her Q&A session with the audience, Graham expressed interest in playing Monet St. Croix in the Marvel Cinematic Universe.
Mutant and proud
The panel was hosted by global Comic Con DJ, DJ Elliot. When asked by an audience member which other roles she would like to get into, Kat said she's interested in joining the Marvel Universe. She then flipped it around and asked the audience which Marvel character she should play, the crowd shouted "Storm" in unison. Kat had other ideas, which stands to reason that she's given this one a lot of thought. With Marvel Studios bringing mutant's into the MCU, Kat Graham would like to step into the role of Monet St. Croix.
Monet St. Croix is a mutant super heroine who is initially a member of the mutant group Generation X, but eventually ends up with the X-Men. Born in Bosnia, she is the daughter of the rich Liberian ambassador Cartier St. Croix and Jamila St. Croix, who is of Algerian royalty. She was raised as a Muslim and has three siblings. Her brother, Marius, is the mutant known as Emplate. Her younger sisters, Claudette and Nicole St. Croix, are mutants as well.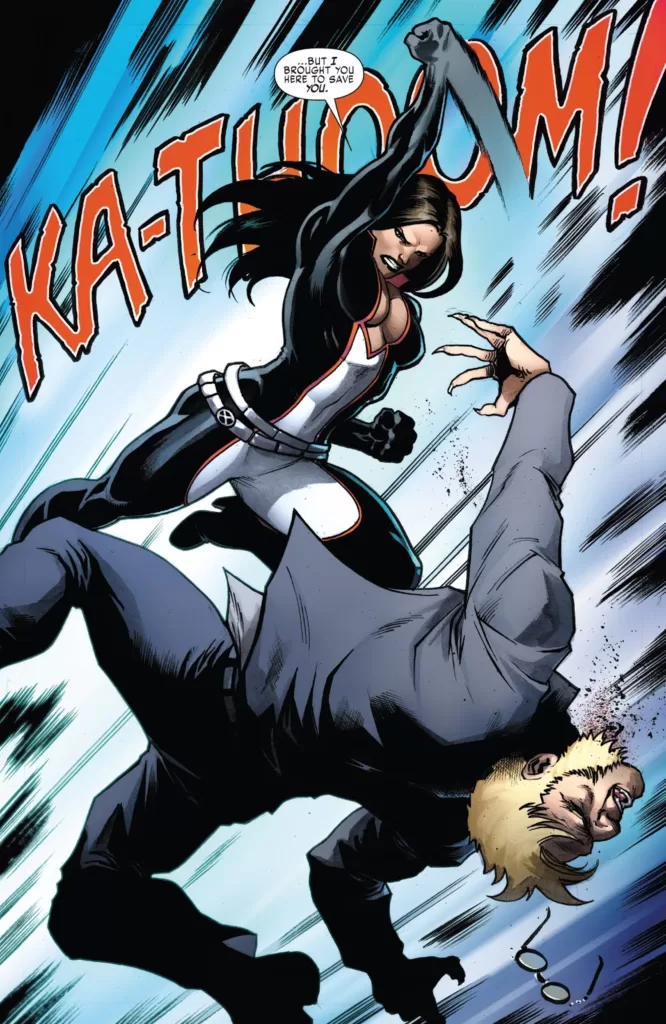 A mirror image
Kat Graham further detailed the reasoning for the possible portrayal as sharing similarities with Monet. They were both born in Europe (Kat in Switzerland and Monet in Bosnia) and are both daughters of a diplomat.
"Since we're going into some deep cuts, there's a…character by the name of Monet St. Croix. So she's kinda like me, originally from Europe, she's got a lot of similar things like her father was a diplomat and all of these very similar things to me. I always felt I was more like her than anybody else."

—Kat Graham, Comic Con Cape Town 2023
Kat Graham is a real-life hero
Kat Graham also spoke about her work as a Goodwill Ambassador for the UNHCR, The United Nations Refugee Network. Kat noted that she travels more often than not because of all the work she is doing for the UNHCR. She uses her platform to assist refugee communities all around the world by giving them a voice. She's been to camps in Jordan, Ethiopia, and the Mexican-Guatemalan border, to name a few.
If you would like to donate to the UNHCR cause, click here.
When will we see mutants in the MCU?
Marvel Studios is currently in the middle of The Multiverse Saga, and the possibilities of The X-Men from the Fox-Verse entering the Marvel Cinematic Universe is quite high, with Kang Dynasty and Secret Wars on the horizon. Marvel has already introduced several mutants in the MCU: Kamala Khan was first unveiled as a mutant in her Disney+ series Ms. Marvel, and Namor's mutant backstory plays heavily into the plot of Black Panther: Wakanda Forever.
If you want to see more of Kat Graham, all eight seasons of The Vampire Diaries are streaming on HBO Max, and Love In The Villa is on Netflix.
Do you think Kat Graham would be great as Monet St. Croix? Let us know in the comments, and make sure to follow the Agents of Fandom on socials for all the latest news and reviews.