What's your favourite scary movie? If your answer overlooks any of the five-run Scream movies, we recommend you keep reading for a full breakdown of the franchise's ongoing slashers. Let's highlight why they remain so iconic after 27 years in the business with an abundance of competition.
Without a doubt, Scream has been re-inventing the horror genre since 1996, whilst playfully poking (or not so much) fun at Hollywood's ride-or-die horror tropes. The first four films supply gruesome slasher themes, which are an ode to Kevin Williamson's screenplay alongside Wes Craven's directing.
They are respectfully self-aware in a way that you can't resist laughing. Now, Kevin Williamson returns for Scream VI after the widespread success of the fifth instalment in the franchise, Scream (2022). Matt Bettinelli-Olpin and Tyler Gillett (Ready or Not's power duo) are also involved in the film. If you're struggling to remember the original killer(s), or all the intertwining plots prior to Scream VI, Agents of Fandom is here to break down Ghostface's most ghastly kills.
*Warning: Spoilers ahead for the entirety of the Scream franchise*
'Scream' Instalments
Hide
Scream (1996)
Scream is indisputably the most acclaimed film in the franchise, perhaps even the genre. The impact it has on the tone for future slashers in the years following its release cannot be understated.
Plot: Ghostface sets the tone for the sequels by instigating the deaths of teenagers across the town of Woodsboro, California. These string of murders are subject to the "rules" of classic slasher movies—rightly pointed out by the resident high-school horror expert, Randy.
Here, we are introduced to protagonist Sidney Prescott (Neve Campbell) and her group of close-knit friends. The high school students are navigating their way through these serial murders. Sidney is grieving from the passing of her mother the year before, whose death was (wrongly) alleged to local man Cotton Weary (Liev Schreiber). Sidney gathers the help of clumsy cop Dewey "His name is Dwight!" Riley (David Arquette). Self-seeking TV reporter Gale Weathers (Courteney Cox) also returns in upcoming instalments to unmask the killer(s).
Killer(s): Scream deviates from the classic slasher and exposes two killers in the film. The main antagonist is Billy Loomis, portrayed by Skeet Ulrich, who plays Sidney's sleazy boyfriend. Because of his suspicious behavior, Billy almost seems too obvious to be the killer. But he later reveals that his family fell apart because of Sidney's mother, who is having an affair with his father, setting him onto a hateful spree of revenge.
The twist is superb as it's discovered Billy is not working independently, but is enlisting the help of his best friend, Stu Macher (Matthew Lillard, whose performance is cherished by horror fans). The students frame Cotton Weary for Mrs. Prescott's death, but ultimately both meet their fate at the end of the film.
Scream 2 (1997)
Plot: Following the events in Woodsboro, the release of Stab (a horror film taking inspiration from the incidents in the small town) sweeps the college in which Sidney finds herself residing, triggering a new wave of murders.
The newly acquitted Cotton Weary is back on the scene, but instead is seeking to profit from his time behind bars. Gale Weathers witnesses an opposition in the investigation of the new massacres in up-and-coming reporter Debbie Salt (Laurie Metcalf) who is central to the story.
Killer(s): Sidney is of course involved with a new group of friends in the second instalment of the franchise. The set-up leads us to believe that the killer is Sidney's new boyfriend, Derek. However, this route seems to be entirely too obvious following Billy's fate in the first film, and is, of course, disproven later on. Rather, Ghostface is revealed to be Derek's best friend, Mickey (Timothy Olyphant) who, despite the outcome, has very little screen time throughout the film.
Repeating the pattern of the first film, Mickey is conspiring with Debbie Salt. The rival reporter exposes herself to be the mother of Billy Loomis, who is pursuing revenge for the death of her son and her husband's infidelity. Meanwhile, Mickey blames his violence on "screen violence."
While it's a fun couple of hours, the killers seem to be rather arbitrary. Both are written out of the story and are murdered by Cotton Weary and Gale Weathers, who save Sidney Prescott.
Scream 3 (2000)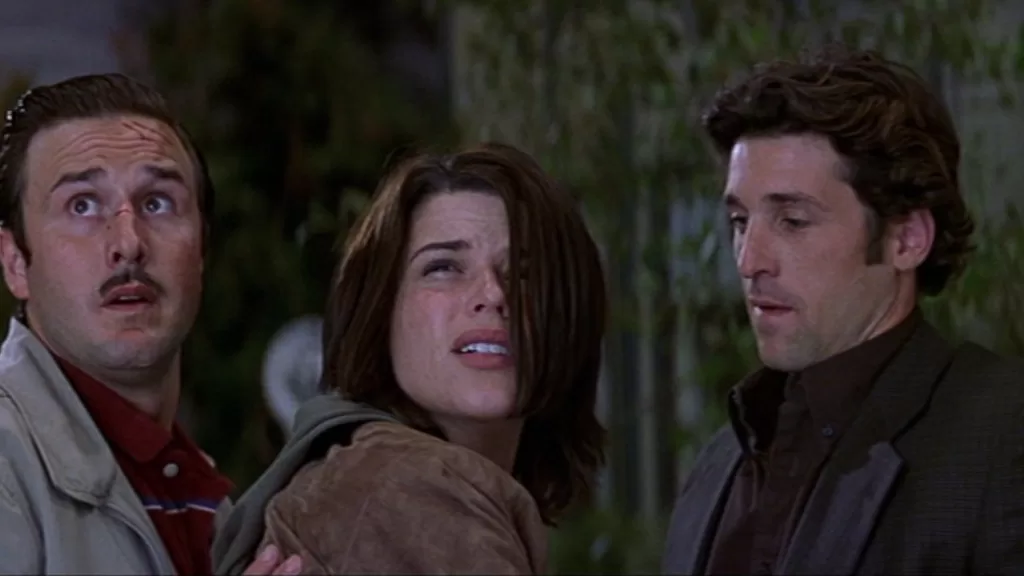 Plot: We're back again! And this time, Sidney takes precautionary measures to break away from the serial murders (murderers?) that are chasing her over the states. She is living in isolation at a secret location and spending her spare time working on a crisis hotline that helps young victims of assault. Ghostface returns with an onslaught of murders that open with the brutal killing of Cotton Weary and his girlfriend.
The Stab franchise within the film is now onto its third film, and the killer uses the order of kills in the script to work through the cast in real life. Gale (who just keeps delivering in these films) begins investigating the murders and is joined by Mark Kincaid (Patrick Dempsey).
Dewey is working on the movie rather than in the police force (unfortunately there's no Detective Dewey in this instalment, but don't worry because he's back in full force in the next!) Sidney's mother is a major influence again in this film, and is utilized as a plot device by the killer, who leaves evidence of her secret life at the scenes of the crimes.
Killer: Breaking away from the traditional Scream blueprint, this time Ghostface is one individual acting alone. In a twist of fate, the killer is Roman, who is the director of the in-universe Stab 3 film.
The payoff doesn't feel as strong here, and it doesn't have as much of an impact as previous killers, as we aren't given much reason to develop any relationship with his character. His motive? He is Sidney's half-brother, who is given up for adoption after Mrs. Prescott is raped and falls pregnant during her time in Hollywood. He is later rejected by his mother after tracking her down. It is this anger that leads to his revenge.
Scream 4 (2011)
Plot: It's been over a decade since the first onslaught of Ghostface attacks. Just when you may think the dust is settled, there's a new string of slaughters targeting Sidney's family; overlapping with Sidney's return to Woodsboro to promote her book entitled Out of Darkness.
It is nice to be back in the familiarity of Woodsboro though. Sidney's cousin Jill (Emma Roberts) and her friend Kirby (Hayden Panettiere), Dewey and Gale (who are now spouses), work together to hunt the killer and unmask Ghostface together.
Killer(s): Despite the last killer's solo performance, we resume the usual programming in Scream 4 and return to a two-killer streak. The mastermind behind it all is Sidney's cousin Jill, who is jealous of the fame her elder cousin receives, and is desperate to take it from her.
The second accomplice is Charlie, a die-hard horror fan who resembles Randy from the first film, and who dreams of creating his own scary story. Charlie is stabbed in the back, (yes, pun intended) by Jill, who wants the spotlight for herself. It's a strong turn of events in comparison to the previous list of killers, and Jill is later killed by Sidney after unsuccessfully framing her for the serial killings.
Scream (2022)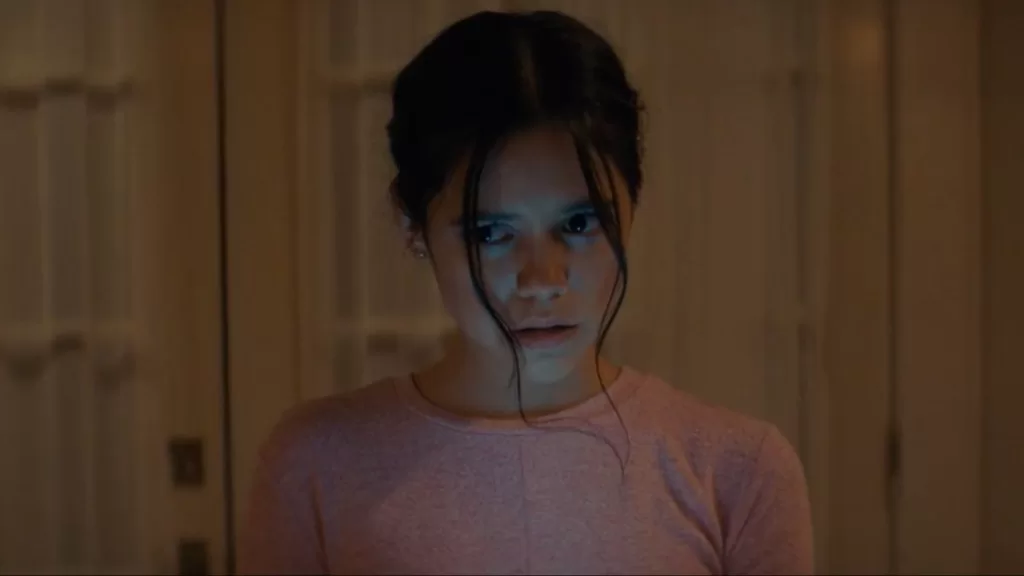 Plot: As one of the most anticipated projects of last year, Scream (2022) uses "requel" elements and provides the meta-commentary that this franchise has become renowned for.
At the heart of the new cast is Sam Carpenter (Melissa Barrera) who must return to Woodsboro when her family are implicated in a fresh string of murders. Past characters such as Dewey Riley return. Dewey is living in a run-down trailer on the outskirts of town following his divorce, after the police force "ask" him to step down as Sheriff.
Ghostface's first attack is on Sam's estranged sister, Tara Carpenter (Jenna Ortega), whose franchise debut comes in the midst of an unsuccessful murder. Reuniting with Tara, Sam reveals a big family secret that she believes to be the catalyst for these murders.
After finding out from her mother's old diary that she had an affair in high school, Sam discloses that her father is serial killer Billy Loomis. Recruiting the help of Dewey, he contacts Sidney and Gale, who hesitantly return to Woodsboro to assist with the (more noticeably extremely gory) homicides.
Killer(s): Predictably, the first killer is revealed to be a friend of the close friendship group Amber Freeman (Mikey Madison). Amber is keen to recreate the original ending of Stab with her fellow co-conspirator. For the first time since the 1996 film, the second Ghostface replicates the events of Sidney's trauma–Sam's boyfriend, Richie Kirsch (Jack Quaid).
The pair believe the franchise has taken a wrong turn and aim to provide new material that can be used for a new movie. Amber and Richie both meet their fate through Gale and Sam. (Yes, I will forever hold a grudge against them for killing Dewey.)
Now that you're up-to-date on every killer and their motivations, are you ready to seek out the new Ghostface in theatres? Scream VI is out on March 10.
Head to our socials to let us know what you think of the Scream franchise. (But remember, no spoilers!)