It's David Byrne's world – and we're just living in it. That's how it's felt this past year. Byrne's name is everywhere, all at once (pun entirely intended.) Former lead and collaborator in the rock band Talking Heads, you're most likely to recognise the singer for the hits 'Psycho Killer' (1977), 'Burning Down The House' (1983) and 'This Must Be The Place' (1983). Byrne now performs as a solo act and solidifies his accreditation in Hollywood with his recent accomplishments.
David Byrne's Hollywood hits
Picture yourself sitting in Spider-Man: No Way Home, ready to be transported to a world of superheroes and chaos. Peter Parker is unmasked, and the city is hounding him—then that beat kicks in. That guitar riff and bass drum is all too familiar to Talking Heads fans. 'I Zimbra' sets the tone for the beginning of Spider-Man's third instalment perfectly. But what's more noteworthy is why this is the front-running song for Jon Watt's final piece to the trilogy.
Outlined in Spike Lee's 2020 film of the Broadway Show (which we will discuss later in the article) and stars the Talking Heads frontman, 'I Zimbra' has a far more profound meaning. Despite David Byrne's performance, and the Talking Heads, the lyrics are written by German author and poet Hugo Ball. On first inspection, the words may not make much sense—and this is exactly the point. Byrne describes it as nonsense poetry, "to make sense of a world that doesn't make sense."
Ball's artistic aim for the song is to – "remind the world there are people of different, independent minds… who live for different ideals." Completely fitting to the situation Peter Parker finds himself in, it can not have been a coincidence this song is chosen for the opening title.
Most recently, the rock artist features on the Academy-nominated song 'This Is A Life', collaborating with Son Lux and Mitski. Written for Best Picture, Everything Everywhere All At Once, Byrne performed the single at the event alongside Stephanie Hsu. Although, it is not Byrne's first recognition at the Academy. In 1988, he took Best Original Score for co-composition on Best Picture Winner The Last Emperor.
David Byrne and A24
After his recent success with A24 and Everything Everywhere All At Once —which is now the most-awarded film across all ceremonies—A24 made an announcement on March 16th. After acquiring the rights to Stop Making Sense, the entertainment company is set to re-release the concert film in 4K to theatres worldwide.
In the 0:42-second promo clip, Byrne is seen taking a ticket into a launderette to pick up his legendary oversized suit. A true staple of his reputation. Jonathan Demme directs 1984's Stop Making Sense, and is the filmmaker of the classic Silence of the Lambs. Demme's Stop Making Sense is categorized as one of the greatest concert films of all time.
The re-release of Stop Making Sense is a celebration of the 20th anniversary of the concert film's original release. In further honour of one of the most iconic performances of all time, Rhino Records will release a deluxe version soundtrack of the unique and creative music. This will be available on vinyl as well as digital platforms on August 18th. It will feature the complete concert for the first time – so new audiences can immerse themselves in the memory of the renowned band.
David Byrne's American Utopia
Circling back around to the 2020 film directed by Spike Lee – American Utopia is a documentation of Talking Heads' 2019 Broadway show, based on Byrne's recent album and tour of the same name. It's a sensational, entrancing experience that cements Byrne's position as a champion of human rights.
American Utopia focuses on embracing differences and creating a new experience that connects the people. The rock singer stands in the spotlight during his performance and asks, "what if we could eliminate everything from the stage, except the stuff that we care about?" One particularly poignant moment from the show is a cover of Janelle Monae's 'Hell You Talmbout'.
This song is a protest feat in which the group recites the names of the black men and women that were lost to police violence. This was in the wake of the heart-breaking loss of George Floyd in May 2020.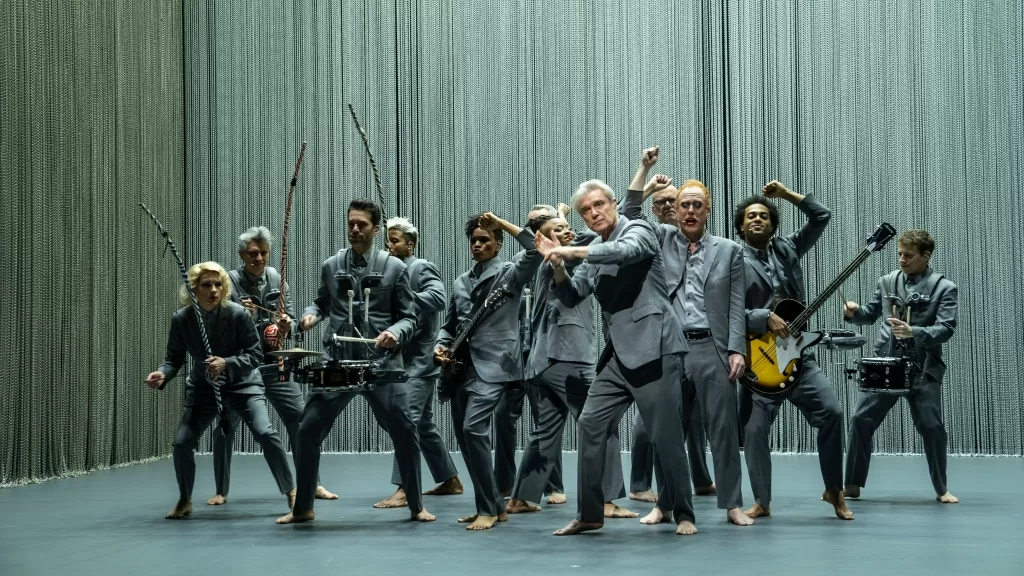 Where can I catch Byrne next?
Stop Making Sense will be in theatres on August 18th, and the vinyl is now available for pre-order.
John Mulaney also announced he will return to Netflix with his new special John Mulaney: Baby J, which features music by Byrne himself. This will premiere globally on April 25th. Byrne features on Mulaney's former Netflix special John Mulaney & the Sack Lunch Bunch.
There's no doubt that Byrne has an array of talents up his, sometimes rather large, sleeve. With a large catalogue for both new audiences, and returning fans, there are so many options to enchant yourself with. But if you're waiting to see the man back in his white suit, presenting his iconic dance to 'This Must Be The Place' then you need to hold on for another five months.
Let us know what you think of David Byrne and his ventures over on our socials!